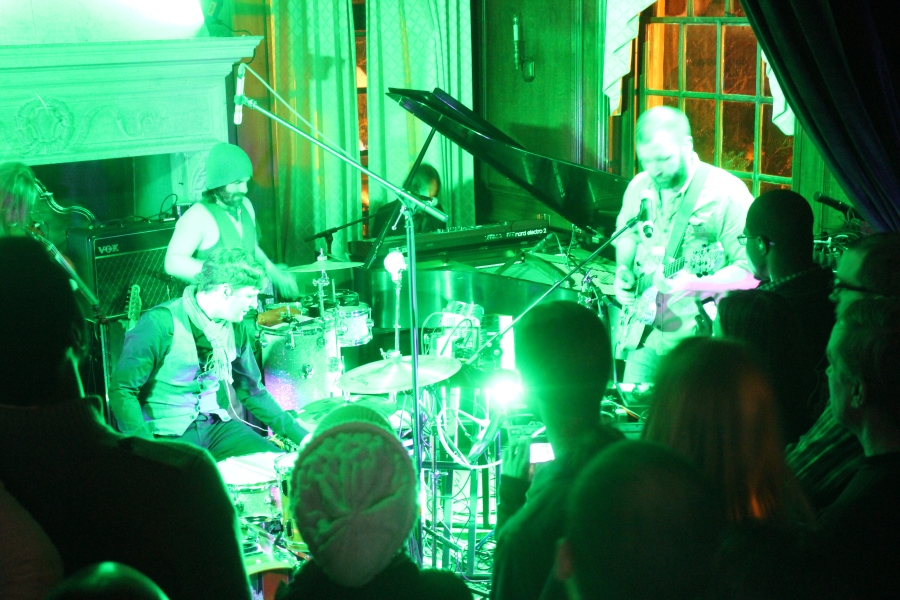 It's Friday night in Bethesda, what better way to spend it than at a live art exhibition at The Strathmore Mansion. To call it an exhibition would be a little bit too formal. It was more like a social gathering amongst artist. There were Dancers, Painters, Actors, Musicians, Photographers, Writers; every artistic medium was pretty much covered. It was going to be a night of performances, acts and demonstrations from people who love to do what they do.
I referred to it as a party because that was the atmosphere embellished. There was a flurry of activity surrounding the bar, with plenty of cans of Pabst Blue Ribbon Beer in circulation. This wasn't an event where the artists were backstage waiting to perform, but out amongst the crowd talking and socializing. Speaking of stage, there wasn't just one stage, but multiple stages; in fact you could even call the entire mansion the stage. I mean, upon entering the party the band, the Ten Thousand, was performing in the Main Hall Mansion Staircase. The Ten Thousand featured artist and writer Goodloe Byron. They were a two piece outfit, guitar and drums. It was a gritty sound, not exactly punk rock, but very loud and fast. They reminded me a lot of the band Death from Above, a good way to kick off the night. Goodloe Byron also had a number of paintings on display in the gallery. His painting style is unique, colorful caricatures in a semi-abstract form. Good stuff!
The next band to perform was Typefighter. They played with a lot of energy. To say they were loud would be an understatement. They featured tracks from their latest EP release "Fall Winter Fall". I didn't have any complaints on my end, their upbeat tempo and driving guitar riffs was enough to keep my head nodding and toes tapping.
There weren't just bands performing but musical dance numbers as well. One of them that I saw was the Beth Elliott Dance Group. They were very fluent with their movements, making elongated gestures and displaying great posture. They would trade places with each other on stage, usually forming elaborate poses with all the dancers. It was entertaining; I thought it was both modern and formal.
Exitclov was the next band to take the Music Room Stage and they were really excited about their new album "Jailbird" which was released that day. So I guess you could call this a record release party of sorts for Exitclov. Most bands performing tonight were showcasing new material. Exitclov was a great act. They maintained a fast tempo that accompanied melodic and harmonizing vocals. They were lead by Em and Sue two multi-talented musicians who at times would switch off between Em playing violin and guitar and Sue playing violin and keyboard. It was an extraordinary show; it gave off plenty of good vibrations.
We then moved back to the Main Hall to watch another staircase performance. It was by The Echo Wall and they too were releasing a new album "Navigable Darkness". This was a unique ensemble. It was sort of a mix between folk music, chamber music with a touch of some sort of electronic synth. Pretty far out combination. It was atmospheric; I caught myself lending my ear to each one of these sounds. A unique performance quite like nothing I have ever heard.
It was now time for the most anticipated performance of the evening, for me at least. No disrespect for any of the previous bands, but I personally became a Bellflur fan after hearing "Shooting an Elephant". I was really excited about them. Their sound reminded me a lot of the band Muse. Unfortunately, they didn't include that particular track in their set list, but it was for a good reason. It was because they were premiering new music from their recently released album "Twelve Vagrant Monologues From the Last Living Star". Just to note this album features remarkable art work from Ben Tolman who had a number of drawings featured in the gallery. Bellflur's sound was amazing; there were so many blends of different sounds and instrumentations.
It was like my ears were divided and given each their own individual performance that was then combined. It was really smooth at times with what I refer to as "Rock n Roll explosions" long melodic build ups that apex with powerful guitar riffs, drum rolls and keyboard melodies. Some of my favorite songs from the performance included "Atoms" with a guest appearance from Em from Exitclov and the song "Country" which was absolutely amazing. The concert also featured a projector displaying random imagery. It really gave it an artsy feel.
All in all the Friday Night Eclectic at Strathmore was a blast! There was so much going on, I didn't have a chance to catch all the performances. I negated to mention Grain of Sand Theatre; unfortunately I missed their performance. I also missed Bearshark. So much to try to take it in for one night, but it was a lot of fun to attempt to do so. It started at 9pm and I didn't leave until nearly two in the morning. It was a very fun party. I would highly recommend listening to any of these aforementioned albums; I know I'm going to pick up my copy of "Twelve Vagrant Monologues From the Last Living Star" today.