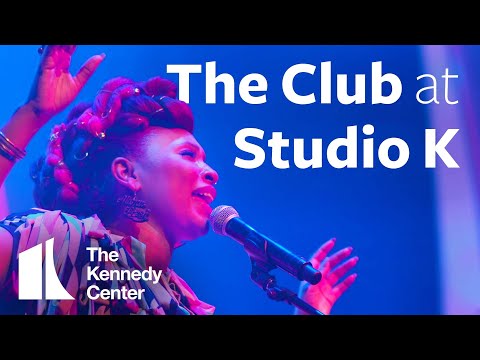 The John F. Kennedy Center for the Performing Arts announces initial programming for the 2024 season of the Club at Studio K, a cabaret-style lounge concept offering world-class performances and events in an up-close-and-personal setting. Located in the REACH, the Club will offer performances Thursdays, Fridays, and Saturdays from February through March 2024.
One of D.C.'s best destinations to witness artists at the top of their craft in a unique and intimate venue, the Club at Studio K returns for a fourth season featuring an array of programs crossing the worlds of comedy, classical new music, contemporary music, jazz, and hip hop.
In February, JAJAJA (February 16, 2024) brings an evening of Latinx stand-up to the Club with Fabrizio Copano, Carmen Lynch, and Jesus Trejo. The 7:30 p.m. set will be in English and the 9:30 p.m. set will be performed in Spanish. Jazz at the Club begins with Grammy Award® –winning bassist and composer Linda May Han Oh's newest project, The Glass Hours (February 17, 2024), a collection of works based on the fragility of time and life. Pianist Myra Melford and drummer Allison Miller draw on their shared passion for nature and life-giving light with their Lux Quartet (February 22, 2024). Then, Downtown at the KC Cabaret returns for two nights of uproarious comedy as artists come together for bespoke cabarets with hilarious original songs. Hosted by Murray Hill with music direction by Henry Koperski, Downtown at the KC Cabaret is headlined by Amber Ruffin (February 23, 2024) and Riki Lindhome (February 24, 2024) with additional casting to be announced at a later date.
March kicks-off with Fortas Chamber Music Concert Series Artistic Director Jennifer Koh performing with her longtime friend and musical collaborator of more than a decade, acclaimed composer Missy Mazzoli, in a full program of Mazzoli's works (March 1, 2024). On March 7, 2024, jazz musician Lakecia Benjamin brings her electric stage presence and fiery sax work to the Club. Tony Award® winner John Gallagher Jr. (March 9, 2024) then takes the stage for a special concert as a part of the Renée Fleming VOICES series.
Bringing an important story to light through music, Kennedy Center Composer-in-Residence Carlos Simon will perform his Grammy®–nominated Requiem for the Enslaved (March 14, 2024)—a piece honoring the stories of the 272 enslaved men, women, and children sold in 1838 by Georgetown University, where Simon is assistant professor of music—with a small ensemble and Hub New Music.
On March 16, 2024, drummer and composer Clarence Penn hits the Club moving seamlessly through numerous styles with Penn Station. The Catalyst Quartet (March 21, 2024) commemorates its 10th anniversary with CQ Minute, a collection of new one to two-minute works; nine commissioned works by the group's favorite composers, including Paquito D'Rivera, Jessie Montgomery, Kevin Puts, Angélica Negrón, Caroline Shaw, Joan Tower, and others, along with two works by the winners of Catalyst's own national composing competition. In addition, the Quartet will perform works by Maurice Ravel, Terry Riley, Anton Webern, and John Cage. March closes out when Colin O'Brien and Michael Wolf bring Literati: A Comedy Show About Books and the Idiots Who Write Them (March 22, 2024), their hit show about the greatest American novels never written, to the Kennedy Center for one-night-only with an all-star cast including Karen Chee, Eugene Mirman, Josh Sharp, and Ike Ufomadu.
Additional programs, including performances by exciting voices in hip hop and contemporary music, will be announced at a later date.
SCHEDULE OF CLUB AT STUDIO K PERFORMANCES
Performance Dates

Show

Series

February 16, 2024

JAJAJA

Comedy

February 17, 2024

Linda May Han Oh: The Glass Hours

Jazz

February 22, 2024

Allison Miller and Myra Melford's   Lux Quartet

Jazz

February 23-24, 2024

Downtown at the KC Cabaret

Comedy

Renée Fleming VOICES

March 1, 2024

Jennifer Koh & Missy Mazzioli

Classical New Music

March 7, 2024

Lakecia Benjamin

Jazz

March 9, 2024

John Gallagher Jr.

Renée Fleming VOICES

March 14, 2024

Requiem for the Enslaved

Classical New Music

March 16, 2024

Clarence Penn: Penn Station

Jazz

March 21, 2024

Catalyst Quartet

Classical New Music

March 22, 2024

Literati: A Comedy Show About Books and the Idiots Who Write Them

Com