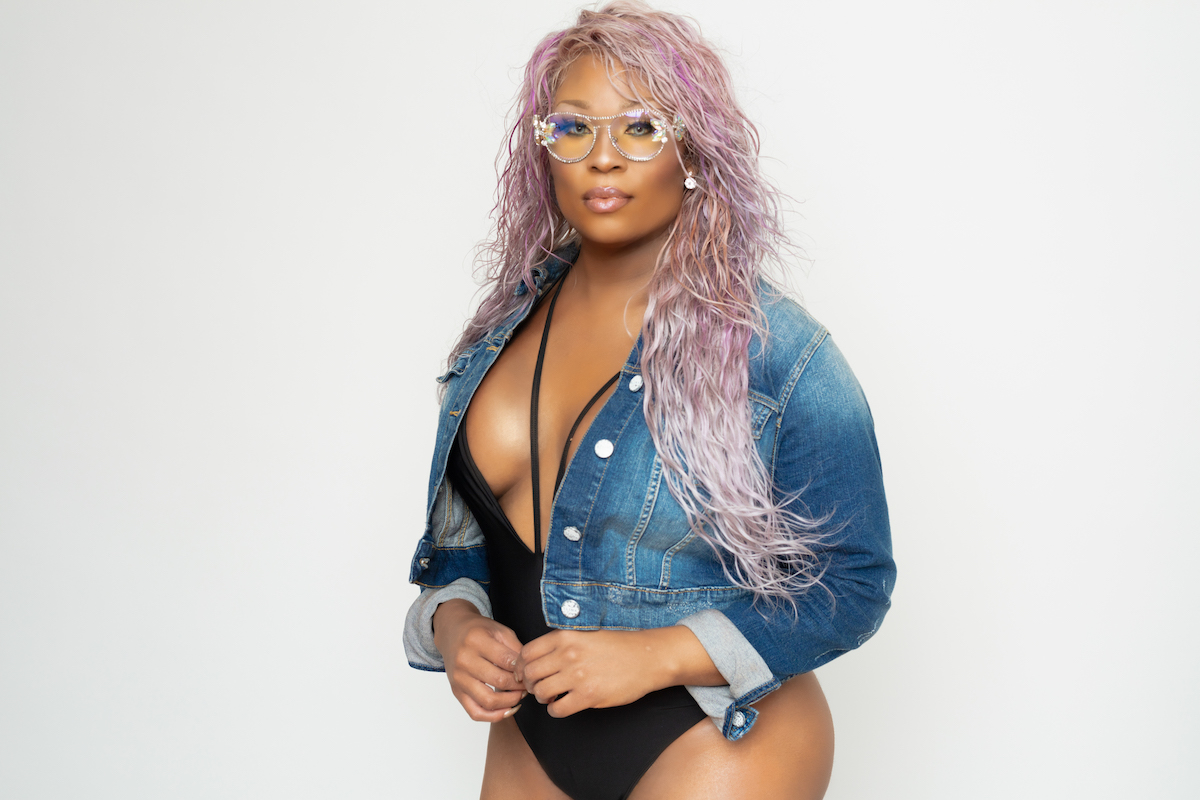 On this edition of THE INTERVUE, she has recently released her new single "Best Sex" from her new album "A Girl Like Me: Letters to My Lovers" set for release this FRIDAY October 16th but you know her as the Season 9 runner-up and the first out trans contestant on RuPaul's Drag race
She's New York's Sweetest Diva, activist, trans entertainer. Tonight, let's meet the amazing Peppermint on the INTERVUE!
I am excited to have you on my show since you mentioned Oxon Hill! Unless you're from the Washington Metro area, you really don't know Oxon Hill. We can talk about my hometown later on but let's talk about your new album which drops Friday. It's such an amazing album when I listened to it. I was in tears with some of the songs that I heard the Carole King cover. King is one of my favorite artists of all time and you have the classic "Will You Still Love Me Tomorrow?" On your album. I love that song and I am glad that you brought into the 21st Century with your cover. Why did you choose to cover this classic song and are you a fan of Carole King?   
Excuse me if I say so, but I think most people who are into American pop music, are probably fans of Carole King and don't even know. I mean that the truth right?
Oh Yeah!
[embedyt] https://www.youtube.com/watch?v=Pw8rYdlBENA[/embedyt]
Her musical talent and record are indisputable. Yeah, I am a fan but then I think I fell in love with her more and I didn't know how much I was a fan of hers until I saw the Broadway musical about her life and times called "Beautiful". Of course I knew many of her songs that she had written. I knew about "Tapestry" but seeing the show and seeing someone's life being played out in front of you truly brings this to a whole new level.
So I had the chance to fall in love with her all over again and really had a more understanding a little bit about Carole King the person instead that of the name that was just on all of the liner notes. You would notice who the song was written by and I was never able to put a face to the name or even the voice necessarily.
Long story short, I am a Carole King fan. I know many of her songs but this song is just so universal. I think the lyrics just hit home. Many people had experiences with one-night stands and romances that were short lived but I think these days it seems like we're more together now that hook up culture has now become a term and a thing. Everyone's on the go and the world would move so much faster but it seems like relationships are a lot more fleeting and quick. So we have a whole lot of one-night stands but we don't know where or when it ends. I think that it takes on a new meaning in the 21st Century. So, I was really happy to do it and I wanted to put a little of my spin on it. I'm just in love.
I appreciate your spin and it made me appreciate the song a little more. It's a timeless classic – no matter if you listened to it sixty years ago or today. Thank you so much! Let's go onto the single "Best Sex". Where did you come up with the idea of this song?
All the songs on this album are from my personal diaries of my love life set to music. I was in a relationship to pass the time. It was about a yearlong and we went thru all the ups and downs of it. After the relationship ended, I decided that I wanted to write an album because I have so many feelings about it. All the songs on the album are for the most part are really taking the listener through my experience. So this album, is kind of the beginning of the relationship. We wrote so many songs that we needed to be a beginning, a middle and an end to the relationship. So the middle and the end come out next year. This is a trilogy so people can come and share the experience with me.
"Best Sex" falls towards the beginning of my experience with this relationship. I had been in a situation where I was going on dates and having great connections that really didn't go anywhere after that. So, this is that song that would go before like linearly. It would probably set before "Will You Still Love Me Tomorrow? because it was guy after guy after guy. It seems like there are a lot of folks out there looking for instant connections but not really going deep. So Best Se is all about the fuckboys, you know "FUQBOIS".
We had gigolos back in the day but gigolos are now the new term and it's like a new breed of them or something. And now these boys are more woke. Before, we used to think of gigolos as more of chauvinistic or at least I would o having lots of qualities that are extremely desirable but these days these fuqbois, they are more woke and progressive. They just have a lot of undesirable characteristics. Unfortunately, the best thing that they have going for them is the sex.
A lyric from the song A Girl Like Me goes "A girl like me know how to live her truth. A girl like me can dream but sometimes that's all she can do." Tell us the meaning behind this powerful lyric. I bet when people listened to this lyric, they say that it spoke to them as well. 
I am really happy to hear that. This song is definitely the heart of the album, the heart of the whole project. I love these lyrics like earlier we were talking about Carole King. The popular songs which feature music that really fills our souls but I never really heard music from another queerperson singing about their queer experience whether they were gay, transgender or what have you. So, I really wanted to provide that. At the same time, I wanted to be honest about my own experiences that I had.
I think ten or twenty years ago, artists that we love, artist who are legends and staples & icons who we know now are queer. Obviously, we didn't know then that they were queer until they come out. Almost all of their catalogues of music don't speak to their queerness directly. It was spoken in code or they had to change the gender of the person that they are singing to in the writing. I wanted to be able to have something that focus truly and honestly directly and be the album or the song that I wanted to hear as a little trans girl growing up. The song deals with a lot. It deals with a quest for love as someone who's trans and I think it's really universal. Everyone wants love or at least knows what it is. It also speaks to that lack of access to not only love but also companionship> these things are very real to many trans people.
Right now, we are marking thirty-two trans people murdered. Twenty of them are transwomen of color I think twelve of them are under the age of twenty-five. Yesterday, a young woman was murdered. As ed up as I was this summer seeing the murders of unarmed black men and women, I am equally as outraged of seeing and hearing about the murders of transwomen that took thirty-two in 2020 It is the highest year on record and every year it gets higher. As a black transwoman, I understand these experiences because I have been trans all my life, that's how I identify and I understand a lot of these experiences.
Now I have been on RuPaul's Drag Race, my life has changed. I am very grateful for the experience that I have. So I really wanted to tie those two things together. It took me to get on TV to get to this point. If I hadn't been on TV, there's definitely the reality that I may had to engage in survival sex work or I could have been number thirty-three on that list. It's a possibility. We lost Monica [Roberts] who was brilliant write of trans lit two days from a hit and run. The investigation is still happening. We don't know why or who? The point that she was an adult in her prime. This could take any of us at any age and it seems sometimes that our life is less valued and that can affect your dream. So you can be the most talented, the most well-meaning, the biggest hearted person as a transwoman but the discrimination that one the books from our President and his administration all the way to this anti trans violence can dash those dreams. I really wanted to talk about that.
I am glad that you talked about this for it leads to my next question. This new justice that is being pushed through by the Republicans recently and it's possible that they are targeting LGBTQ rights. As citizens of this country, what do we need to do protect the very rights of the LGBTQ community?
I feel what we have to do is clearly resist the urge that enact anti LGBTQ discriminatory policies and understand that telling someone that they can't come and get a job or get healthcare or enter a type of bathroom or be on a sports team. These are all things that we can fire them for just for being who they are. People need to understand that this is wrong. These were all on the books last year and were presented in courts by the Trump Administration or conservative groups. I feel that's the first thing. Understanding that is the definition of discrimination to do that.
The second thing is that we want to reverse those laws. It needs to be illegal to kill someone. It is but unfortunately it happens. We should focus on being more inclusive in our everyday lives with everyone we know. This goes both ways politically. We should have conservative people in our circles for when we have conservatives in our circles on the flip side, they are welcoming and connecting with someone who on the left or progressive. It's really important that we have these things in real life.
Also when it comes to industry with television, Broadway and music when it comes back, we need to focus on bringing black, brown, IPOC and LGBTQ stories, characters, directors and behind the scenes people to the forefront. We need to color it up and queer it up!
Hell yeah, congratulations are in order for I heard that you are Peeptalks on the Twitch channel and it was launched recently.
Darling, its brand new huney and I am so excited about it! There are so many experiences that I have but a lot of people didn't have or didn't understand from being a black queer person. I wanted to be able to highlight some black culture. Let's just say 2020 has changed a lot of people's perspective when it comes to blackness and queerness. Before that, people were happy to not engage in any of that stuff. They didn't want to identify with it and didn't need to. I remember being so upset with one of my good girlfriends who will go nameless because she decides that she wasn't going to see "12 Years a Slave". I think that she didn't identify with it. I think a lot of people view black history as not a part of their history. So many of our stories are brought to life through movies and television. I feel that it is important to engage with that even if you're not Black or whatever group you're in. I really wanted to bring black movies that I grew up with to my audience and also talk about two of my favorite things – makeup and hair with some of my good girlfriends.
Speaking of Black films, since I am a film critic, what are some of your favorite black films that you enjoy?
One of the ones that are floating around at the top of my list are Poetic Justice. Unfortunately, black films aren't usually recognized. Some of the most influential black films really have a hard time breaking through until Black Panther came along. Before that, I think the film that people were riveted by was the Madea series. There's not a lot of black films that get into the mainstream in the way that BP did but we're changing that when Hollywood resumes. One of the films that I would like to see again is the film version of "I Know Why the Caged Bird Sings". It's basically her (Maya Angelou's) story as a little girl. These are very important things that I feel people need to get to know.
You mentioned that it is so important to destigmatize the relationship between trans people and their partners in one interview. I would like for you to tell us why this is very important for us to do this.
I feel that it's important for people to understand who trans people are. It has obviously changed over the years hopefully it will continue to change for the better. I think that a lot of people who didn't know much about trans people to begin with after knowing about people like Laverne Cox and other trans people. We are now able to see more trans people in Hollywood and all over. Danica Roem was the first transgender official…
In Virginia, you're right!
Andrea Jenkins in Minneapolis. (Editor's Note: She first black openly transgender woman elected to public office in the United States) So now we are able to see more transgender people living every day and doing great things but people still don't have a necessary understanding of who they are. I think people are just like the ones in the 1980's who associate gay people with AIDS. Not that all gay people had AIDS but it was certainly the negative connotation that people made the connection.
It took a long time for someone to say "I'm gay but I don't have AIDS and a lot of people were trying to get that message across in film, television and in real life. Eventually, they had to convince people of that. Next, people were able to see that this is a nice person, they just happen to be gay but they really didn't dive into the person's relationships. People were OK having that gay preference but didn't want to know who was loving them. I feel that this is the threshold that trans people have to cross. Right now, the reason why it's so urgent is that because of these many violent acts and murders that are committed against trans folks, particular people of color, are crimes committed by their intimate partner. And it's not because they hate them or don't love them but they don't want anyone else to know.
In their minds, they feel it is safe and better for them to kill this person rather than anyone finding out. It's because we really do have this homophobia towards the partners of many trans people especially transwomen. If it's a man dating a transwoman, people call him "gay". That's not necessarily accurate hat he's in a relationship with a woman and he's identifies himself as a male, then it's by all intentional purposes, a heterosexual relationship. To stigmatize him and calling him gay, what that does is put a negative spin on it and it makes them want to murder us. That's why there are thirty-two of us dead. We need to really show that they are a potential trans person but we want to show them who they love, who loves them and who cares about them. How their families feel about them? How does the people in their lives? That's really important.
That's spot of why it's important. It's still tragic that stigma of AIDS is still present in some people's mind. It's so sad that we still have to fight this to this day. Nonetheless, we will still fight this until we are all equals.
100% Dean. I do remember someone once said that its more difficult to hate someone when you know them. That's why we are seeing people on the other side, people who are not in favor of trans rights and queer rights, healthcare for people who are HIV positive, continue to dehumanize us. It's easier to keep us in the shadows and make it more difficult for our voices to be heard then people think of us as a bunch of heathens who aren't deserving of any rights.
National Out Day was this month. Do you feel it's been difficult for people to come out during the pandemic or not at all?
I am not going to underestimate how it's been difficult for people to do anything during these times. The pandemic has made things very difficult for people across the board. I am sure that it has affected people who have not come out yet but I do think that this is the world you live in and things are a little easier because of things like social media and the internet in general. Part of wanting to feeling safe while coming out is having to feel about the people you're around, the people who know you and it's a greater number when you find community. Right now, people are finding their community online. Ten or twenty years ago, people had to meet with people in person to go to an LGBTQ group or a LGBTQ center where they had environments for people to come out in their own time. Online has made it much easier. Granted that they are other things online that people are connected to. People are connected to their families online and sometimes they don't want to come out. There is online bullying.
I celebrated online with Eureka, Manila Luzon & Bob the Drag Queen. We put together a little message in partnership with World of Wonder & Barefoot Wines for National Coming Out Day!
What would you like to say to your fans for following your journey and encourage someone that if I can do it, you can do it! Being the first transgender contestant on Drag Race, album dropping diva. You are an icon. You can do it, don't let nobody stop you.
I would say just that. I feel really good to be able to celebrate your own truths, who you are and the things that bring you joy. That's what feels great for me. I feel loved and supported by that. Not only from my family and friends around me but also from supporters who have followed my career and with whom my story resonates. That's feels wonderful and I am so grateful for the support and the all the opportunities that I have from many people. There are so many people over the years. I mean, I have doing this over twenty years in New York City. There are so many people whose paths I have crossed along the way. They have supported and inspired me. I am grateful to all those people and for the new fans and new people that I meet every day.
A Girl Like Me: Letters to My Lovers is available everywhere where music sold!