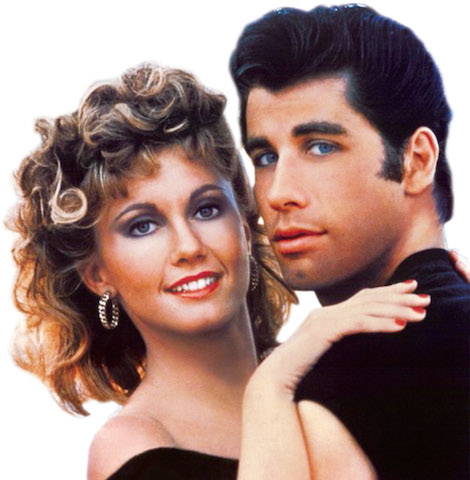 I am surprised that it wasn't a sold-out show. I say, plan early for 2014 because once the word gets out, this will be sold-out… "Grease, is the word"!! We had "Summer Lovin'", we were "Hopelessly Devoted, and we all were "Born to Hand Jive"!
Presented by Singalonga Productions, the "Grease Sing-A-Long" was started in 2011 and added to their already popular repertoire. "Grease" is the most requested movie by people who have been enjoying the sing-a-long format and now, I know why! I have seen that movie well-over a hundred times, but it was truly like I had never seen it before. Besides the large movie screen, the music quality is superior to even to best surround sound in a movie theatre. The groove of the theatre carried through the lawn and back. Young and not as young alike had a ball! People were in costumes, from a group of six Frenchie's, to some very clever headbands with silver "Beauty School Dropout" curlers, and a lot of T-Birds hangin' around! I love that Singalonga Productions gives out props to enhance the experience and really get everyone involved, if they want to be. The graphics that go along with the sing-a-long lyrics are hilarious, but don't overshadow the songs or the movie! I highly recommend this experience to all! Some of the lyrics are a little mature for kids, but most of that goes by quickly. For those who want the full family-friendly experience Singalonga will be bringing us the annual "Sound of Music" at the end of the season.
Production: A+, I was ready to watch it again, the second it was over.
Venue: A+, The screens are awesome and the sound quality is amazing. Parking has been very pleasurable this year and I have spoken to many that agree that everything seems to be running a lot smoother this year 🙂
For more of the upcoming seaso and to make reservations for "Sound of Music", go to 
www.wolftrap.org