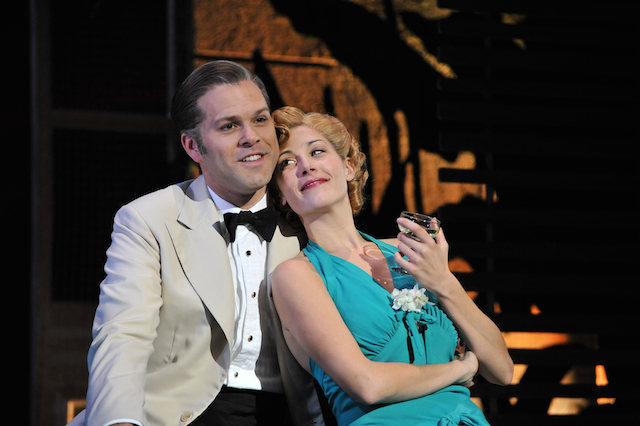 It was Some Enchanted Evening! The NETworks Presentations, LLC production of "South Pacific" is now playing at The Filene Center at Wolf Trap through Sunday (June 3rd). I will start off with my grading this time! As some of you know, usually I go through all of the details and then give the grade, but I felt that this particular cast deserved to have the suspense lifted!
Overall production: A+
Performance Grade: A+ Each member of the cast from the leads through the ensemble, earned this grade!
Overall experience: A+, with a special note that the buggies are out in full force and early this year, so don't forget to spray before you get to the theatre!! But as always, it is such a treat to see a show at Wolf Trap!
Now, on with the in-depth review… 
I will start out by saying that NETworks has a "grey" reputation when it comes to their "Broadway" productions! Some people get annoyed when they see "Broadway Tour" and then get to the theatre, after paying a lot of money for seats, only to find out it is a non-Equity tour of a show that ran on Broadway, with a completely different team behind it. They feel slighted and/or like the production they are seeing is not worth their time and/or money. This is not the case, it's a generalization. Equity is the union and doesn't guarantee you a good show, nor does non-Equity guarantee a bad show! What Equity guarantees is a level of experience and for some people that makes a difference. I, however know that you can be more talented than the person who won the Tony last year for "Best Performance by an Actress in a Leading Role in a Musical" and be a non-Equity actor (Sutton Foster btw). Some of this cast may very-well go on to become Equity members in the years to come, they just aren't right now! Barry Williams (Greg Brady) actually dropped out of the union over a decade ago, so that he could tour as Captain Von Trapp in a non-Equity tour (and he was great!)…things to keep in mind!
Now that I have straightened that out…
This production, with this cast, is a triumph! The sets are stunning, the costumes are spot on and flattering to all, the wigs are period, the choreography was very well-executed and the entire cast is up to snuff! As usual, I will not use my review to tell you the story of a classic Broadway show. If you don't know "South Pacific", watch the original movie or get off your butt and see this production and experience it the way it should be…LIVE 🙂
I haven't done this in a while, but they are all very good and I know how actor's love to see their names mentioned in reviews, as long as it's positive…so, I will do this the easy way:
Rachel Rhodes-Devey as Nellie has a glorious singing voice with excellent diction and carries herself through the show with spunk and heart! Each song she performed brought a smile to my face and the thought, "Thank God, a leading lady that I agree with what she is doing and I want to see her do more". If I'm being picky, which I tend to be and it could just be the night that I saw, I would have liked a tad more range of emotion from her in certain scenes. Some lower lows from her throughout the show would have been better. When she finds out Emile murdered someone, she isn't so troubled or when she is begging in the night for him to come back safely, it was a little robotic. I LOVED her exuberance for kissing Emile. She was so cute when she jumped up on her tippy-toes to kiss him, like a young girl would and then went running to him for more. She performed each song to the fullest with her voice and spirit. Every song had beautiful melody and she does her job as a leading lady. She is strong, but not over-bearing and plays drunk the best I have seen in a long time (which is hard). She was solid throughout and played off of everyone very well. She and her Emile have very good chemistry and you believe that they are in love.
Marcelo Guzzo as Emile de Becque has a thundering opera basso voice, but speaks softly and with great emotion when needed. A bold and quintessential leading man. He's tall and commanding and good looking…a triple threat! He and Rachel fit very well together. He has a very good range of emotions, showing that he is an actor as well as a voice to be reckoned with. Often times this part is cast solely on voice and the acting falls to the wayside, that is not the case here! He has exquisite diction when he sings and I really enjoyed his accent when speaking and singing. Both he and Rhodes-Devey were genuine with the children and I thought that played very well for the show. I especially took note of the end of the show, when Emile and Nellie sit with the children and feverishly grab hands under the table…wonderfully acted by both!
Shane Donovan as Lt. Joseph Cable was another fantastic casting as a leading man, just younger! Again, tall and very good looking, but he isn't just a pretty face (and bod). He brings a depth to Cable that is usually lost. You have to remember that even though this is a typically fun show, his character was on the front line in WWII and he struggles deeply with his love for Liat. All of which, I thought Shane conveyed beautifully. His singing voice is my favorite of this show and I usually don't like Cable's songs at all. For the first time ever I really felt, "Younger Than Springtime". I hope to see and hear him in other parts in the years to come.
Christian Marriner as Luther Billis…this guy made me laugh! What terrific comedic timing and the accent…HI-larious! Just what a Billis should be and more! You really got to see the softer side of Billis with Marriner's portrayal. You see a sweet crush that the character has on Nellie, that usually goes hardly recognized. I think that the whole cast works extremely well together and it's as if they came as group to auditions and said, "here we are", but if I did have to pick a standout it would be Marriner, but not in the typical way a Billis may steal the show. There was such a range of character here, not just the cheap laugh!
Robert John Biedermann as Capt. George Brackett is another one who took me by surprise! This part is always a throw away. As long as it's an older gentleman, directors are happy, but not here! He got a laugh on every joke that was written and added a few facial gestures to get a few more. Brilliant!
Yvonne Strumecki as Bloody Mary. She definitely goes along with the type that is usually cast for this part, but what separates Strumecki is her voice. I have heard people say, "Bloody Mary is one of those parts that you can cast with just a really good actor and she doesn't really have to sing, as long as she's funny." WRONG! It's a musical, they all have to be able to sing. You can have a character voice and do it that way, but you still need to know how to sing! She does! When she started to sing "Bali Ha'i", her voice was lilting and pretty. Not the typical! I would have liked a bigger character out of her acting and perhaps a little more "haunt" in the way that song was done, but kudos for having an actual singer, who was funny, playing the part.
Hsin-yu Liao as Liat. Watching her, I realized that I usually don't get too involved with Cable and Liat when watching "South Pacific" productions and that realization led to that it's who is playing them. Wow, their chemistry is HOT! I love the the size difference between Donovan and her and they use it to their advantage. Even though his character is "young", he uses his manly size to her petite, girlish size and they create fire! Their interaction during "Happy Talk" was actually eye-opening for me. I do not like that moment in the show, usually, but she interprets the scene so well and his reactions were so good, that now I love it! It was one of my favorite scenes in the whole show. They go through such a range together, but I really like her in that scene. I'm sure she hears this a lot, but what a beautiful, graceful woman she is! Liao's characterization was mesmerizing. You understand why Cable falls for her and you see that she falls for him deeply. With very few words, she makes a huge impact on this show! Her acting ability apparently doesn't need dialogue! Her bio says she was a dance major, her interpretation skills are being put to good use here!
Jake Bridges as Professor had me laughing the minute he and the rest of the Seabees came on! I was rifling through my playbill immediately to write his name down! Another great actor with comedic timing!
Erik Cheski as Stewpot. If this guy had been the Curly in the "Three Stooges" movie with Sean Hayes (another comedic genius) and they had a different script, it might have been a huge success! He isn't funny just because of his type. Although, I did see a little "Three Stooges" antics thrown in for fun! He hit lines and cues with natural ease!
I could really say the same thing about each lead all the way through the ensemble: great range, great comedic timing, terrific diction, so cohesive as group, you could have built more shows out of the extra effort that was being put into this show, with all of the subplot. Not only did Nellie have good chemistry with Emile and Cable with Liat, but Cable was good with Nellie, and Emile and Cable were good together, and Billis was good with Nellie and Stewpot and Professor and on and on. They all had extra subplot motivating their actions, even when they weren't the main focus of a scene. The ensemble did the same. I enjoyed the whole cast immensely.  Even as themselves they were fun to watch…during the bows (when out of character) Marcelo kissed Rachel's hand as the audiences view was shielded by the curtain. We gave the cast a well-deserved standing O and they seemed so touched, which touched me! I also have a special critique..usually the Conductor goes unnoticed by a reviewer, but Richard Dunn II made himself noticeable to me, just by being himself! After the Overture, when the stage came alive with the sounds of the show beginning, the two children came on. The adorable novices were ready to sing "Dites Moi", but before putting their acting faces on, looked to their Conductor, who was already looking toward them, ready to give them their starting "head nod". You know how you think you can tell someone is smiling when you're looking at the back of their head…I could see, in that moment, the smile on Richard's face and the relief it gave the children to know that they weren't alone up there! I knew it was going to be a good night, just in that instance and I was correct (got to love when that happens!)
Rodger's and Hammerstein would be proud of this production!
If you are able to see this show at Wolf Trap, I recommend it! For tickets to this and tons of other amazing shows go to www.wolftrap.org
And if you're unable to make it there this weekend, check out NETworks Presentations, LLC "South Pacific" website for their whole tour schedule at www.southpacificontour.com
And you can "Like" them both on Facebook, I did!