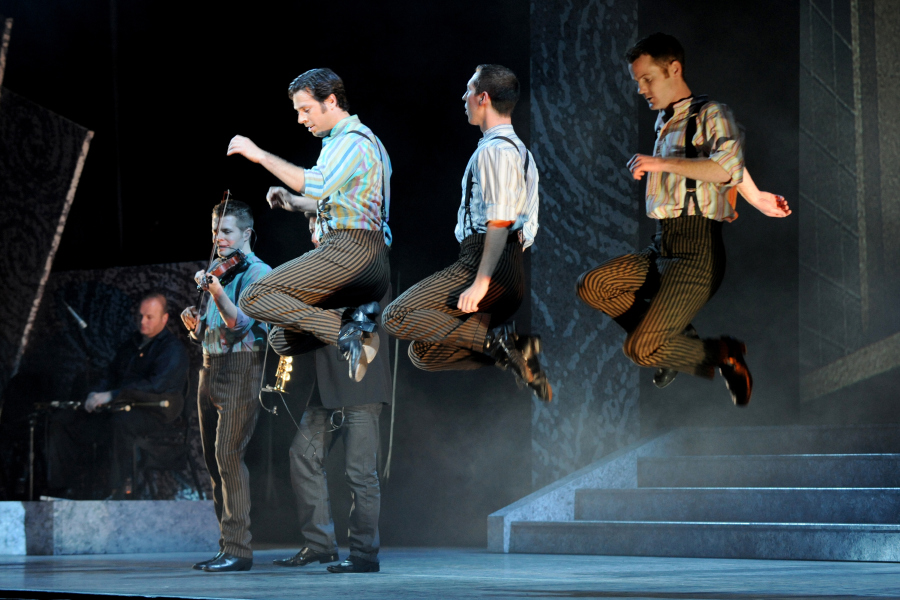 "Riverdance" is now playing it's final U.S. Tour and has chosen Wolf Trap as it's last stop before heading to Europe for good.
If you have never seen "Riverdance" live before, it is certainly worth going to see and if you have, see it again, before you have to cross the pond to do-so!
This is my favorite cast that I have ever seen! As usual, the group at large is a cohesive unit. The leads though….WOW! The leads for the franchise are always beyond talented, but this cast happens to have an extra spark. Mostly due to the charm and charisma of the lead, male soloist James Greenan. He glides across the stage so freely and fast, as if he is on wires. He has such presence on stage that I dubbed him, "The Tom Cruise of Irish Dance". The female soloists are brilliant as well. Alana Mallon, the only Scottish dancer ever to perform a lead for "Riverdance", high-kicks her way across the stage like a beautiful hummingbird. She is exceptional. She and Greenan have a chemistry while dancing and it spreads through the rest of the cast. Whenever they performed a group number, they would smile at each other and share smiles with the cast as each danced near another member. They all seemed like they were having a really good time. This is the first time that I have ever seen a "Riverdance" cast show such exuberance for what they are doing. It was great! The entire troupe is a very carefully selected group of champions and shining stars, most becoming professional Irish dancers because they saw "Riverdance" as a child. That says a lot! Tons of kids see shows that impact their lives, but this troupe is driven, a lot of them being in the top 10 in the world, at one point or another. For full details, see their bios at www.riverdance.com/the-show/meet-the-cast/usa-canada-cast
Each scene is well-defined and and of course, absolutely professional and luminous.. The costumes are stunning and retain the classic look of Irish dance that Riverdance is known for, while adding some glitz to make it even more interesting.
Now, if you're thinking that this type of show can get boring after one dance, think again! The show delights, with its Irish dance, but that's not all. To spice things up, there is a Flamenco dancer, Marita Martinez-Rey. A very accomplished dancer, she adds a flare to the show and dazzles with her Braceo movements and powerful stomps, known as Chufla. Dance scenes are followed or intertwined with tremendous music solos. Booming drum solos by Mark Alfred, a highly acclaimed European percussionist, ethereal woodwinds by Matt Bashford, unfaltering sax by Dave McGaurean, and rousing fiddling by Niamh Ni Charra, who made her way around the stage during her vigorous solos, like one of the dancers and was a joy to watch as well as listen to. All under the consummate direction of keyboardist, Declan Masterson. Benjamin Mapp sings, "Heal Their Hearts-Freedom" and then shows his range by tap dancing with fellow hoofer, Jason E. Bernard. A dynamic duo, they go head to head or rather toe to toe with Greenan and two other leads in the scene "Trading Taps", easily a favorite of the show, but honestly I could say that about any scenes in the show!!
A fusion of exciting, expert dancers, exhilarating choreography, beautiful singers, and true showmanship! In, of course, a wonderful venue. This is truly not to be missed! With the remaining U.S. performances at 2pm and 8pm Saturday and Sunday at The Filene Center at Wolf Trap. Tickets are available at www.wolftrap.org or www.riverdance.com
Overall performance: A+ Top-notch dancers, singers, and musicians. The production value is impeccable.
Performance at this venue: A Personally, I enjoyed Act II a bit better than Act I, only because it was darker outside and it was easier to feel a part of the show. I felt like altering the start time to 8:30, might have served better!?
**on a side note: if you can make time, Ovations-at Wolf Trap has a wonderful a la carte menu, as well as a tasty buffet that isn't overbearing and a terrific staff of perky, young-adults. All with beautiful views of the grounds. Reservations can be made by calling703-255-4017 or by going to www.wolftrap.org or www.opentable.com (search ovations-at-wolftrap)