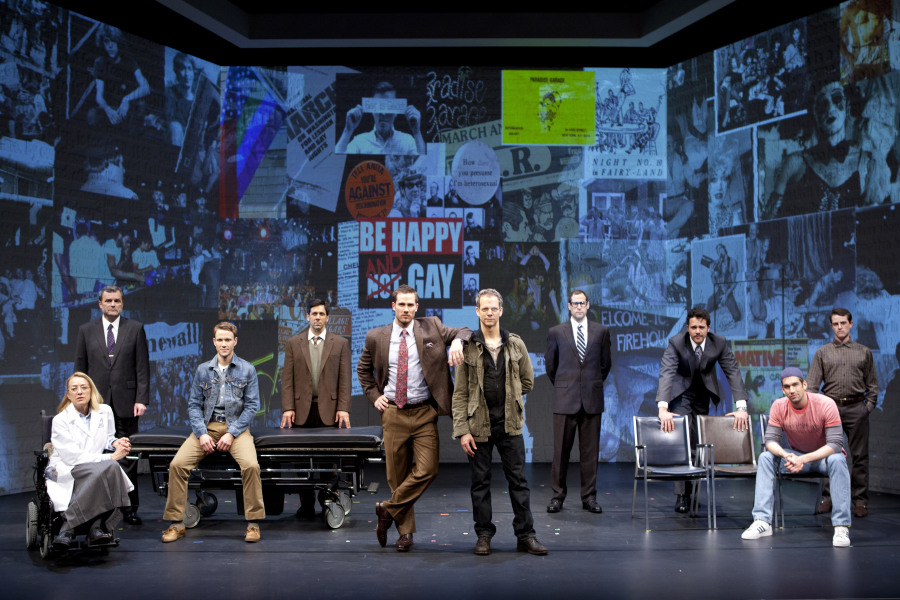 I had the absolute pleasure of watching pure genius and expert talent come together, the other night in the Kreeger Theater at Arena Stage.
What a thought provoking show! The combination of statistical information and facts combined with humor, rolled with brilliant acting, made for a play that is now on my, "everyone must-see list". I am already planning when to take friends back and when to take family! There are very few shows, if any, that have a serious subject matter that I would watch over and over again and come out feeling uplifted. This play is written in such a unique way. I really can't get over it! Having missed the show on Broadway last season, I only knew the synopsis. Which, as you all know, I won't give away here! I will say that because the play revolves around the beginning of the HIV/Aids epidemic in the early 1980's, it is easy to expect a somber evening. Playwright Larry Kramer has just the right amount of jocosity seamlessly braided through his story.  Alright, so you get my point!  On to the actors…
I will start with Patrick Breen. An accomplished stage and screen actor, Breen's portrayal of Ned Weeks gives a tremendous amount of dimension to a character who was written to embody an "everyman" ideal. Weeks is supposed to be recognizable, not only to gay men, or gay men in the 80's, but to every man fighting for a cause that he holds in high regard. Breen is dynamic. I saw him at first as the Woody Allen-esque leading man, who transforms into the love-sick boy, who then becomes the envelope pushing loudmouth, who becomes the strong lover. He does a true metamorphosis, so (seemingly) effortlessly right in front of the audience. Onstage for most of the performance, Breen moves from scene to scene with ease, victoriously encompassing the right level of emotion, no matter what it is. Excellence!
Which brings us to Luke MacFarlane. Many of you may know him as the hottie, Scotty from ABC's "Brothers and Sisters", as I do. *side note* that show should never have been canceled…but don't get me started on that!! Luke is a fantastically talented actor. I loved him as Scotty, but his talent really shines here. He too, transformed in wonderful contrast to Breen's portrayal as Weeks. The Julliard trained actor made his entrance as the adorable and confident, but still sweet Felix Turner and quickly pounced on his character's subplot and stood his ground with Breen, acting alongside of him, not against or under him. His character and Breen's have a love affair that becomes so tender, almost immediately on their "first" date, but evolves into a deep, caring friendship…we all could learn a lot watching these two men! Luke is a really special actor. He has that sparkle and not just because of his good looks. It's a determination that came out on stage, as if to say, "I may be young, but I know how to take this role and show you real life!" You forget that you are watching a play! Both Breen and MacFarlane played other roles in the Tony Award winning Broadway production last season, but it is clear that these men were made for these parts and vice versa!
Each actor in this production was so adept at their interpretation, that I could literally write a separate review on each actor and their characterization and it would be enthralling! I will do my best to touch on everyone, since it's an ensemble cast!
Patricia Wettig as Dr. Brookner was…! Well, I'm speechless! I have always been a fan of Wettig, but again in this production, I saw a deep understanding of a character that rivals Meryl Streep, any day! In Act I you don't see Wettig much and not fully knowing the show, I almost started to wonder why she wanted the part, besides being part of the greatness. My confidence grew, analyzing that there had to be a reason and oh boy, was I right! Act II brings her back with fierce passion. She plays the part at such a heightened mark early on in the show, that when she reaches a climatic monologue (that is brilliantly staged, I might add) I didn't know what she would pull out. There's a reason this woman has been doing mostly dramas her whole career! While wonderfully talented at comedy too, she pulls out all of the stops! Being a singer, I grew concerned for her vocal chords, but I was so into her, that I thought, "blow it out, who cares? At least you'll go down swinging!" By the time her rant was done, I didn't know if I should leap to my feet to give her a well-deserved ovation or have a cigarette! She wore me out and I relished every minute of it! Even now, I have visions of her doing her monologue and all I can think of is Nicholson yelling, "I'm out of order? You're out of order!" Someone give this woman another network drama A.S.A.P.! Maybe her real life hubby, the divine Ken Olin, can get together with David E. Kelly and write her a Supreme Court Justice show!? Just a thought!!
I don't want to kvell too much, but I can't stop here! I MUST talk about Michael Berresse and gush some more! I have been a fan of Berresse since the 90's. His Broadway career is something to smile about and his turn at Arena as Mickey Marcus is astounding! As impressed as I am with the actors that I knew before and watching actors who were new to me, none left me as shocked as Berresse. This is more of a personal review here! For me, I know his name, I know his extensive musical theatre talent, and I even know some trivia. Now, I am just blown away at how supremely talented this man really is! My instant thought about him has been, "get this man on 'SMASH', so that everyone can see and hear his talent"! My new thought is, "get this man on a drama, with either a multi-episode arc, so he can get an Emmy or just put him on the show permanently!" OOOOH, he'd be great as a lawyer and love interest on "The Good Wife"! When you see the show, and I know you will, if you didn't know Berresse before, you will always know his name after this!
I already knew his comedic timing was impeccable and his singing is velvety and stunning, and that he used to be a competitive gymnast, which only enhances his natural and trained dance ability! Watching him perform in "The Normal Heart", I realized that when you take all of that away, you are left with a phenomenal dramatic actor! Who knew!? Sometimes actors can't make that transition, but Berresse blows his top in a scene and he just takes it and runs with it! The comedic timing comes in handy throughout, but when he gets heavy, you feel it!
Nick Mennell as Bruce Niles shows us a (pardon the pun) straight-laced, Brooks Brothers executive who is still in the closet, at least at work. He too, performs a stellar characterization and holds his own on stage.
Another mention has to be Tom Berklund, who plays two roles in the show and while the audience does realize that this is the same person twice, the willing suspense of disbelief is alive and well as he performs. He truly does act like two completely different people. Kudos!
John Procaccino as Ben Weeks, gives a terrific performance. He really gets the lawyer of that time and captures the essence of trying to accept his gay brother and by the end of the show was genuinely moved to tears because was so in the moment. It was beautiful! I got to speak with him after the show and again, another wonderful actor. He is absolutely nothing like his character!
Jon Levenson gives the word, "prick" new meaning as an antagonist who is actually for gay rights, in many ways!
Out of the secondary players, I enjoyed watching Christopher J. Hanke as Tommy Boatwright, probably the most. He is not over the top, but has the right amount of sass in the delivery of his lines and movements. A lot of actors would take this part and beat it over the head with their interpretation of Sean Hayes' Jack Mcfarland, but Hanke played coy and slid in the right amount of zest when needed! Again, great timing here too!
Really every actor in this show is magnetic! The characters are so well-developed. It's a tribute to the actors, the director and, playwright, Larry Kramer.
Each actor has a firm grasp on their character and embraces the material. They all had a lot to work with, speaking Kramer's lines, acting out a piece of a legendary man's true existence. That is a daunting prospect, especially when he was in the audience (next to me)! He leaned over, just before intermission and was tickled that the audience was so responsive to his theatrical triumph. He whispered, "they really seem to be enjoying it, they are laughing so much, I didn't realize it was that funny!?" The trial of spinning the carefully woven yarn into gold, went to Tony Award winning Director, George C. Wolfe. MacFarlane mentioned to me that something George says repeatedly is, and I'm paraphrasing, is that [you must make them laugh, in order to make them cry] and he is so right! The most gripping moments of the show, are expertly staged, phenomenally lit, and superbly acted, but without those moments of laughter or even chuckles and grins, you can't feel the gut-wrenching agony. You forget that you aren't watching actual events unfold before you.
Overall Performance: A++ They have it in spades, every aspect of the show is done to the max, aside from a costume or two that I didn't love for the time period, this show is flawless! And you know I rarely say, "flawless"!
Theatre Experience: A+ The Kreeger is a lovely, intimate space that served this show very well. Beautifully designed and actually comfortable.
Individual Performances: A+ This I really don't do, but I really feel that everyone in this show holds their own and doesn't get overpowered by the words, the subject, or each other. This is a hard feat! Production and technical staff share in this A+.
I have a feeling that this will sell out, so get your tickets now. The show closes July 29, 2012  www.arenastage.org