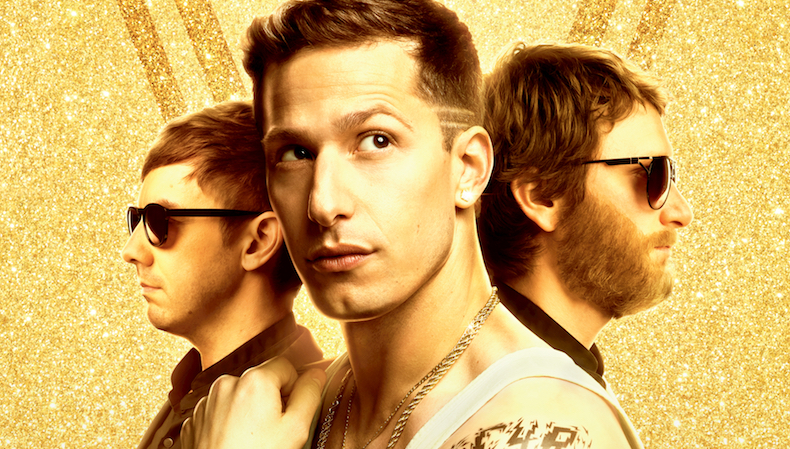 Today, Republic Records and Universal Pictures launch a pre-order and reveal the tracklisting for the Popstar: Never Stop Never Stopping Official Soundtrack Album. The album will be available at all online retailers Friday June 3, 2016.
Pre-order it HERE.
The new Universal Pictures comedy from producer Judd Apatow and EMMY Award-winning and GRAMMY Award-nominated multi-platinum trio The Lonely Island—Andy Samberg, Akiva Schaffer and Jorma Taccone—opens in theaters nationwide the same day.
On Saturday the group unveiled a digital short for the track "Finest Girl (Bin Laden Song)" on Saturday Night Live! Check out the video HERE.
Among its 28 tracks, the Soundtrack boasts collaborations between Popstar's Conner4Real [Andy Samberg] and superstars such as Adam Levine, P!nk, Emma Stone, Akon, Linkin Park, Seal, and more.
The Soundtrack marks The Lonely Island's first release since 2013's chart topping The Wack Album.
The Lonely Island stands out as 21st-century comedy institution.  Their catalog encompasses hilarious hits, including the double-platinum "I'm On A Boat," platinum-certified "I Just Had Sex" and "J*** in my Pants," and the gold certified "Like a Boss" and "Everything is Awesome." "D*** in a Box" scored a Creative Arts EMMY for "Outstanding Music and Lyrics," while 2011's Turtleneck & Chain garnered EMMY and GRAMMY nods in the category of "Best Comedy Album."  Most recently, The Wack Album bowed at No. 10 on the Billboard Top 200 upon release.
TRACKLISTING:
1. "I'm So Humble" [feat. Adam Levine]
2. "Hot New Single" (Dialogue)
3. "Equal Rights" [feat. P!nk]
4. "Turn Up The Beef" [feat. Emma Stone]
5. "Finest Girl (Bin Laden Song)"
6. "Mona Lisa"
7. "Are or Aren't?" (Dialogue)
8. "Hunter The Hungry Is Gon' Eat"
9. "Should I Move?" [feat. Akon]*
10. "2 Banditos"
11. "Things In My Jeep" [feat. Linkin Park]
12. "Kill This Music" (Dialogue)
13. "Ashley Wednesday" [feat. Seal]
14. "F**K Off"*
15. "Donkey Roll"
16. "Trip To Spain" (Dialogue)
17. "Ibitha"
18. "Owen's Song"
19. "What Was That Beat?" (Dialogue)
20. "Sick Glenda"
21. "Incredible Thoughts"
22. "Me Likey Dat"
23. "Legalize It"
24. "I'm A Weirdo"*
25. "Karate Guy"*
26. "Rock Roll Skate"*
27. "Hey Ya Ho"*
28. "Maximus"*
*Bonus Track