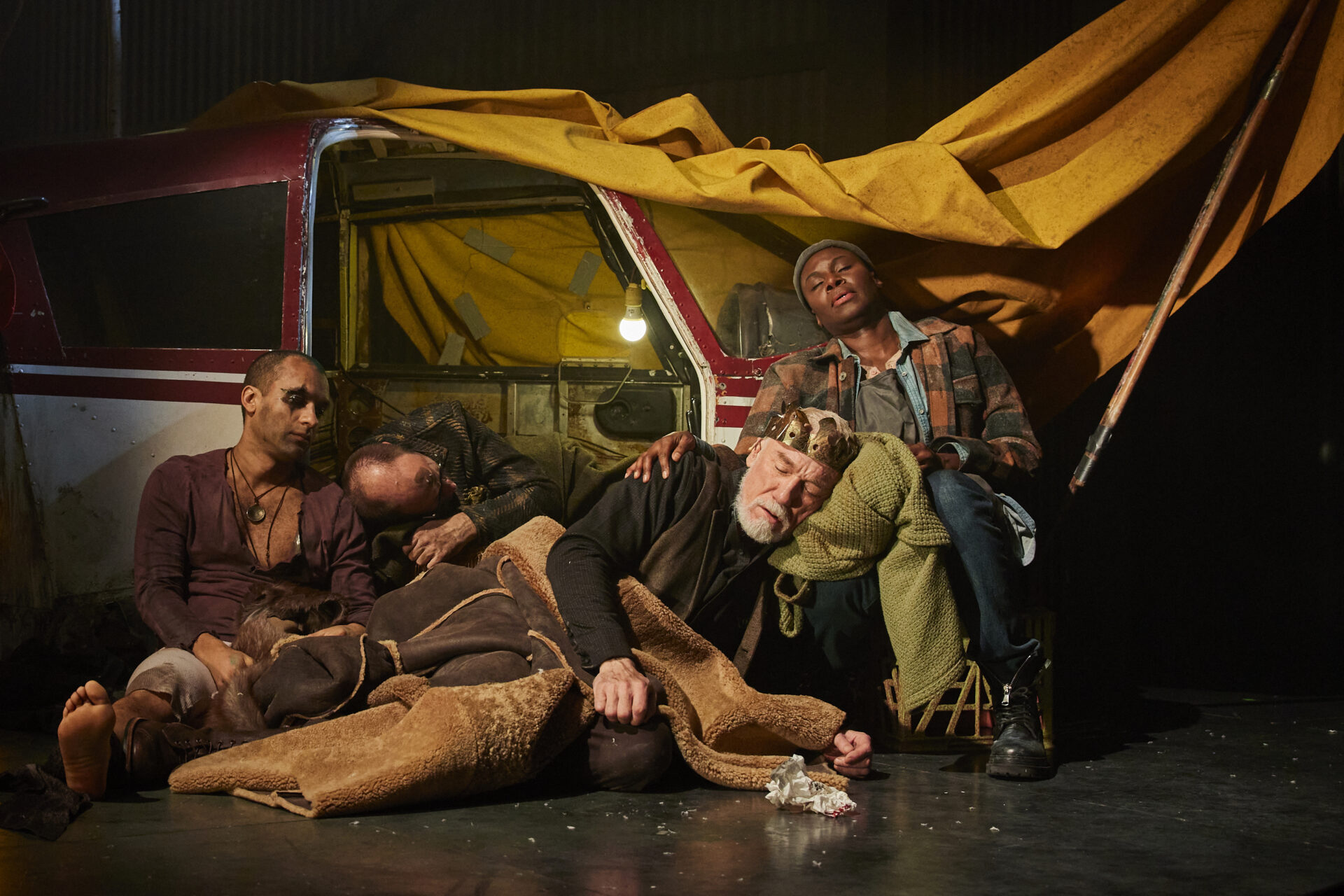 King Lear is a lot like Shrek. Now before Shakespeare-ites ban me from the Bard, hear me out.
King Lear has layers, like an ogre (or an onion), and the more you peel back the play, the more is revealed. 
On the surface, King Lear is about a man, who in passing down his kingdom to his children leads to the kingdom's demise. The play begins as Lear divides the kingdom among his three daughters: Goneril, Regan, and Cordelia. But first, each must proclaim their love for the King before being granted their lands. Goneril and Regan bestow Lear with saccharin proclamations and receive their large inheritances. The youngest, Cordelia, speaks simply and is banished in a fit of the King's anger. 
Peel back a layer and Cordelia is revealed as the only daughter who truly loves Lear. Even after her banishment, Cordelia comes to Lear's rescue (with the whole French army) when Lear is mistreated by Goneril and Regan. Cordelia is the one who gives Lear medical treatment and defends his honor in the face of death. Another layer is the storyline of the Duke of Gloucester and his two sons, one legitimate (Edgar) and the other illegitimate (Edmund). This family's actions run parallel to Lear and his three daughters: greedy children who lead to their father's fall from dignity, and the banished children who hold them up. 
At the core of the onion, King Lear is about power – attempting to keep it, giving it away, and taking it from others.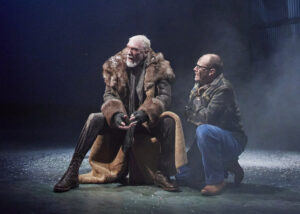 It's easy for the character of Lear to get lost in the ensemble, all vying for attention in a storyline with many interwoven subplots. But the strength of Director Simon Godwin's production is casting Patrick Page (of Broadway Hadestown fame) front and center as King Lear.
If I may be so bold to proclaim, Patrick Page is like an onion too. In the first half, Page projects a Lear who is commanding, angry, and quick to anger. In stark contrast, in the second half, Lear succumbs to dementia, and Page transforms into a small man overcome by mental decline, age, and loneliness. He is a quintessential Lear, a once powerful man who has lost his power. 
The sets and costuming are sort of industrial, generic, mainly innocuous. In the best case scenario, they serve as a blank canvas so that the attention can focus on Page's performance. Mostly, the absence of creativity is disappointing given that STC is capable of more (see the recent electric sets of Much Ado About Nothing or the eerie morgue of Richard III). 
While Page is powerful and emotive actor who carries much of the performance, I wish there had been more Godwin in this production. I would probably consider Godwin a Shakespeare purist due to his recent by-the-book productions (I'm clearly not from my Shrek metaphor). The layers to Shakespeare's King Lear create many potential interpretations of the storyline, and this show was a missed opportunity to better know Simon Godwin and the mark he'll make in DC.
Final Grade: B
King Lear has been extended at the Shakespeare Theatre Company (STC) through April 16. Contact the STC Box Office at 202-547-1122 or visit ShakespeareTheatre.org for more information. Masks are optional at STC.
Running Time: 2 hours 30 minutes with a 15 minute intermission