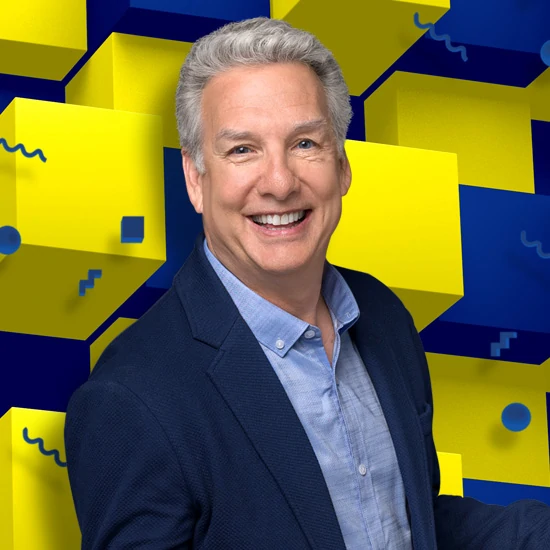 On today's special edition on THE INTERVUE, the TRR team has invited to cover 90s Con for another weekend of the music we had blaring from our CDs, TV shows we miss and the fads we can't escape from. The 2nd annual event in Hartford CT is bigger and better than ever.
The special guest we have today for the first of two interviews has been a staple on cable television since 1986 when kids like me tuned into Nickelodeon and watch the wild & crazy gameshow Double Dare. This was the show where two teams answer questions, take the physical challenge, run through an obstacle course and get slimed and our guest witnessed four versions of the show during its long run. At the turn the millennium, he helped us uncover some amazing facts about the foods we enjoy on Food Network's Unwrapped and created an amazing friendship with Guy Fieri as co-host of Food Network's Ultimate Recipe Showdown in 2008.
What more can I say about the Master of Slime himself, Marc Summers!
How you doing Marc?
I'm alive and well how about you, sir?
Oh, I'm alive and well too! How does it feel to be here at 90s Con?
I've never done one before and I really didn't know what to expect. I'm a little overwhelmed about the amount of folks who grew up watching the show and have such great memories and just want to tell you stories about how I interacted in their lives. It's pretty nice.
Absolutely, I'm definitely one to the fans who grew up watching Double Dare, Family Double Dare, Super Sloppy Double Dare and everything in between, what are some of your fondest memories of hosting that epic game show?
You know, I think the best form of it was when just the kids were on but the families who were on was pretty cool as well. In the last season, we did a thing where it was Brawn versus Brains. We pit the smartest teams against the teams who were in the Obstacle course, the quickest, and ultimately, the team that was the smartest one, and actually did the actual course as well. And I think it was about moms and dads and kids playing together. That didn't exist when we started that show, sadly, doesn't exist now. Everything's about cartoons. And there's no real live humans, where kids can interact and relate to so I'm sad for this generation, quite honestly.
I definitely agree. And especially it says that all the great game shows are long gone, especially since you got to guest host Scrabble with Chuck Woolery and with fellow hosts Tom Kennedy, Bill Rafferty and John Davidson – some of the greats What was it like to be exposed with some of the greatest & current game show and hosts on the show?
It was a first time I was on network television. The thing was they were doing a Favorite Game Show Hosts Week. And at first, they approved me, and NBC said "Nope I'm sorry. He hasn't been on television long enough to be a favorite game show host." So Bob Noah, who was executive producer of Scrabble said "Well, I want Woolery to play so when will replace can Marc hosted". They said, "he can host it, he just can't be on it." So, you know, the networks are crazy. And it was an exposure that really helped because then they did it a couple of times after that. Each time I got to fill in for Chuck when he was playing the game and it was a classic show. I'm surprised I haven't brought that one back, quite honestly. So I've had some lucky breaks in my career. And that's been one of the best.
Absolutely! Nowadays, you're responsible for bringing Food Network into the stratosphere, with Unwrapped and Guy Fieri with Diners, Drive-Ins and Dives
Oh, my goodness, the Triple D and I exec produced both the Restaurant and Dinner Impossible. I've kind of jumped in front of the camera & behind the camera at Food Network. I've been there 20 years! And you know, we've been entertaining people and people say, "you know, what's your favorite job?" Nickelodeon put me on the map for 20 years, and it has been one of the best experiences I've ever had.
So what is your favorite thing about the 1990s if you had to pick one.
I think Nickelodeon had exploded. And at that point, kids didn't have their own channel. And so, when they would go to focus groups, the kids would call it "my channel", because they felt like they had ownership to it and that they were being not talked down to but being made a part of. And, I feel it was a very important part of the 90s and helped shape a lot of you guys quite so.
It definitely has. Now that you've interacted with some of your fans, how has the experience been so far?
It's been fantastic. I keep hearing stories about funny things that have happened, and kids grew up watching the show. Why at age 40, they still love it, and how impactful it was. And so, it just makes you feel that when you do it, you don't realize that this is happening. And you know, a lot of us were in the right place at the right time. We were right on at 5:30pm, Mom was cooking dinner, they watch the show, and then we'll leave. I mean, a lot of it was timing. But then again, I guess I was pretty good at what I did, and people remembered it and we had fun!
Thank you Marc for that wonderful interview! Next on the 90s Con intervues, we'll have Nate Richert from Sabrina the Teenage Witch