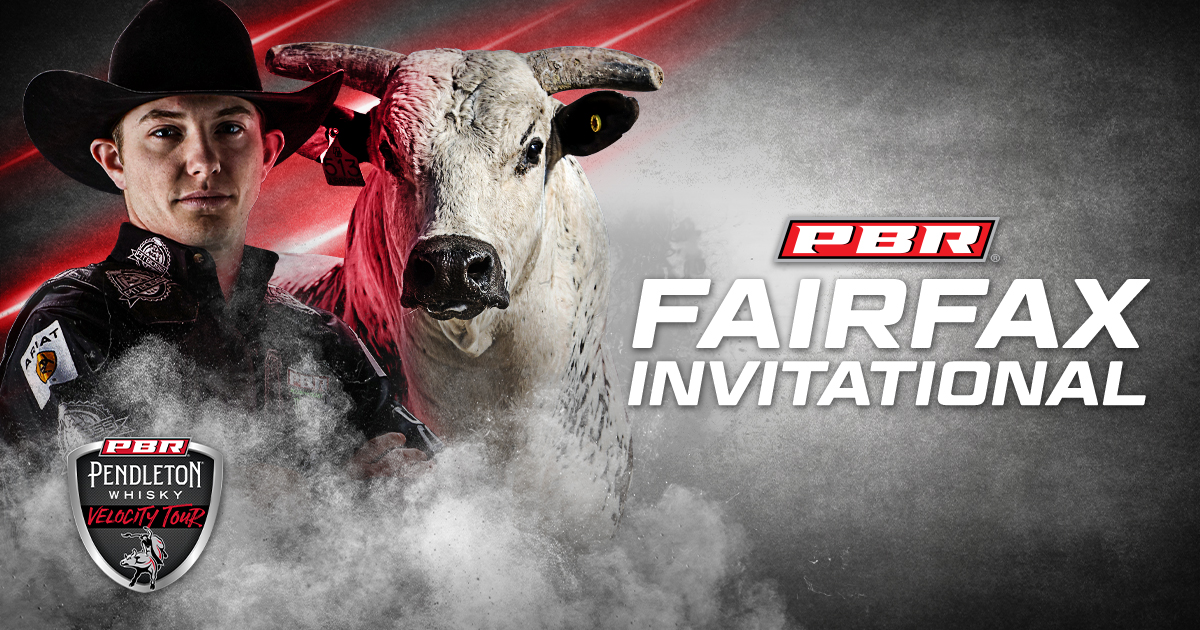 After welcoming the league for enthralling, World Championship race-defining events in 2018-2019, PBR (Professional Bull Riders) will buck back to Fairfax in 2021, welcoming fans to EagleBank Arena Sept. 25-26 for the Pendleton Whisky Velocity Tour's Fairfax Invitational.

For two nights only, some of the best bull riders in the world will battle the sport's rankest bovine athletes in the ultimate showdown of man vs. beast in one of the most exciting live sporting events to witness.
While the league's Pendleton Whisky Velocity Tour has never before stopped in Fairfax, EagleBank Arena welcomed the elite Unleash The Beast in 2018 and 2019.

In 2018, current world No. 2 Kaique Pacheco (Itatiba, Brazil) captured the event victory en route to being crowned the season's PBR World Champion, while in 2019 Chase Outlaw (Hamburg, Arkansas) emerged the top cowboy further intensifying the three-rider race for the gold buckle that wasn't decided until the final day of the season.

Fairfax has also hosted the PBR's developmental Touring Pro Division three times. Those winners include: Nathan Tull (2008 – Shawnee, Oklahoma), Skeeter Kingsolver (2009 – McLouth, Kansas) and Tony Mendes (2011 – Fruita, Colorado).
The Fairfax tour stop will tentatively mark the 18th PWVT event of the year, with PBR's fastest-growing tour first stopping in cities including Greenville, South Carolina; Lexington, Kentucky; Pensacola, Florida and Grand Forks, North Dakota.
Thus far in 2021, the race for the 2021 PBR Pendleton Whisky Velocity Tour Championship is off to a fierce start, with the Top 3 riders in the series standings separated by a mere 12 points.

Austin Richardson (Stephenville, Texas) currently holds the No. 1 rank having won one PWVT event and registered two additional Top-10 efforts across four events. The 21-year-old Texan leads No. 2 Paulo Ferreira Lima (Bezerros, Brazil) by a slim 8.67 points, and No. 3 Michael Lane (Tazewell, Virginia) by 11.5 points.

The bull riding action for the PBR Pendleton Whisky Velocity Tour's Fairfax Invitational begins at 7:00 p.m. EDT on Saturday, September 25 and 2:00 p.m. EDT on Sunday, September 26 at EagleBank Arena.
On Saturday night, all 45 competing riders will attempt one bull each in Round 1. The Top 30 riders from Round 1 will then return for Round 2 on Sunday afternoon. Following Round 2, the Top 15 will then advance to the championship round where they will attempt one final bull, all in an effort to be crowned the event champion.

Tickets for the event are on sale now, and start at $15, taxes and fees not included. Fans are encouraged to purchase their tickets early, with all price levels increasing $5 on event day. Tickets can be purchased at the EagleBank Arena Box Office, online at Ticketmaster.com or PBR.com, or by calling PBR Customer Service at 1-800-732-1727.
For an enhanced PBR experience, fans can also purchase PBR Elite Experience Add On for $50, which will provide a behind-the-chutes look into the toughest sport on dirt.

The Elite Experience Add On, available on both Saturday, September 25, and Sunday, September 26, includes a pre-event question and answer session with PBR stars, commemorative lanyard and post-event photo opportunity in the arena. For more information, contact PBR Direct at 800-732-1727.
Throughout the 2021 season, PBR will continue to commit to providing a safe environment for fans, athletes, employees, and crew by working with its venue partners to implement health and safety protocols for live events while following health guidance from local and state officials.