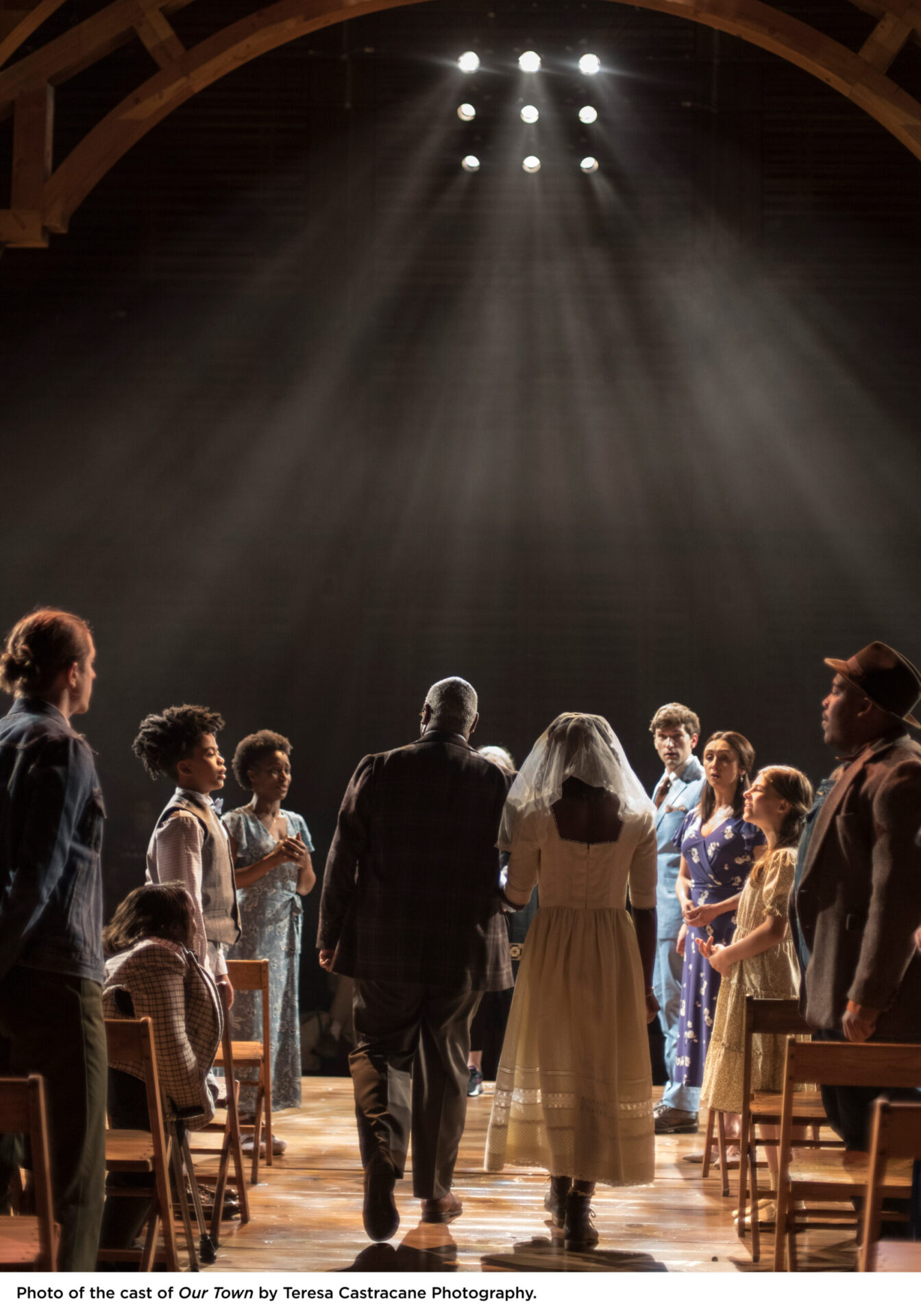 Our Town, written by American playwright Thornton Wilder, is a story that features neither a great love story nor a malicious villain. Instead it's a snapshot of regular American families in regular small town America, living their regular lives. And that's the point. 
In three acts, Our Town captures a cadence of life that is familiar to all: Daily Life, Love and Marriage, Death and Eternity. In Daily Life, we're introduced to the residents of Grover's Corners, New Hampshire, focused particularly on the Webb and Gibbs families. In Love and Marriage, high school' sweethearts Emily Webb and George Gibbs are married. In Act III, the residents of Grover's Corners grieve the untimely death of Emily Gibbs. 
The production is true to Wilder's original vision; there are hardly any props throughout the entire performance. Mime and Movement Directors, Mark Jaster and Emma Crane Jaster, instructed the actors on how to create distinct spaces in the deliberate absence of walls, doors, or windows. In stark contrast, the only scene with actual props is when after death, Emily revisits her 12th birthday, a scene bustling with distractions such as real eggs and bacon cooking on a 20th century stove and multicolored presents atop the previously empty dining table. 
After her death, Emily Gibbs realizes that life passes the living by. This juxtaposition between the mostly sparse Acts I and II and the physically busy memory reinforced Wilder's point that we're not seeing life as we're living it; only in death do we realize all that was available to us.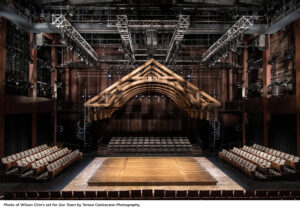 Sidney Harman Hall was also thoroughly transformed into a smaller, more intimate theater. Wilson Chin's scenic design featured a black box-type theater with seating on all four sides, the traditional STC imposing stage ripped out. Actors came and went from all four corners, emphasizing the casual nature of the sett, where the stage manager is the narrator after all. 
The performance was full of beauty, laughter, love, melancholy, existence. In Act I, the stage manager ruminates on what the town should put in a time capsule being placed in the cornerstone for a new bank: a newspaper, some great works, and this play. Through Our Town, Wilder recorded a moment of Americana for posterity, but also the unfaltering qualities of life.
FINAL GRADE: A
Our Town plays at the Shakespeare Theatre Company (STC) through June 11, 2022. Contact the STC Box Office at 202-547-1122 or visit ShakespeareTheatre.org for more information. Tickets are $35-$120. STC is requiring proof that patrons are fully vaccinated and wear a mask before entering all venues.
Running time: 2 hours and 30 minutes with a 15 minute intermission after Act 1 and a 10 minute intermission after Act 2