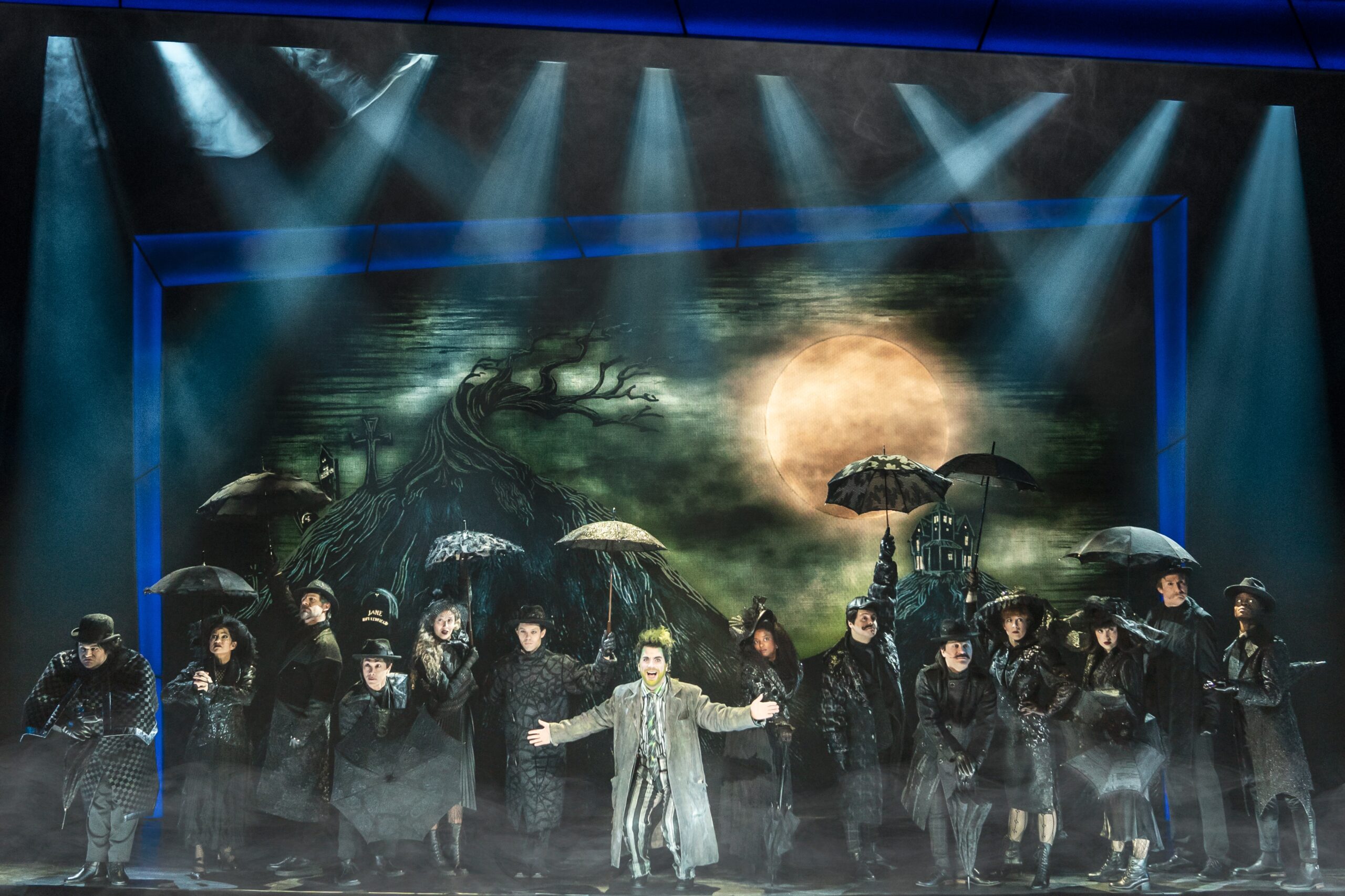 Beetlejuice is fun. Weird, but fun. 
Originality – 7/10
Beetlejuice is about a demon on a mission to be seen, and to do so enlists a duo of ghosts and a grieving teen (and a sand worm). For two and a half hours, bawdy shenanigans ensue with increasingly over the top chaos.
The theater production of Beetlejuice is a musical remake of the eponymous 1988 film by Tim Burton and Director Alex Timbers sticks true to the tone and feel of Burton's film. 
Timeliness – 7/10
Beneath the surface of this macabre comedy, is a story about loss and loneliness. While the show is named after a certain green-haired demon, the story centers around Lydia Deetz, a teenage girl who is grieving the loss of her mother and can't get the attention of her living parent. Lydia is the only one who can see Beetlejuice and the recently deceased that live in their house; and if there is such a thing as ghosts, maybe Lydia's mom is still out there too. 
Similarly, Beetlejuice wants someone to wreak havoc with. In Lydia, he sees someone who needs chaos to get what she wants, but lashes out when Lydia leaves him on her search for her mom.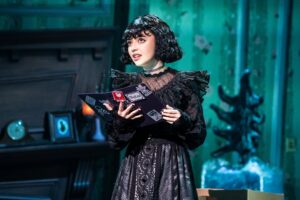 Technical Execution – 8/10
While the show is raucous and goofy, the actors are patent professionals. Justin Collete plays a maniacal Beetlejuice; Colette has a background in sketch and improv that clearly elevated Beetlejuice's script, including DC-themed one liners. 
I'm still gushing over Isabella Esler (Lydia). This touring production is her professional debut, yet every single one of her ballads was a powerhouse. The principal actors had phenomenal vocal chops and I can't wait for Esler and Kate Marilley (Delia) to be cast in future productions where their voices have a greater opportunity to shine. 
Fun – 8/10
I was surprised and impressed by the level of cosplay and paraphernalia worn by the theater-goers. These were no amateurs, and had likely seen the show many times.  In the audience were many young Beetlejuices and Lydias, excitedly awaiting their favorite characters to come to life. There was even Miss Argentina better than the one on stage. 
A loyal fan base is always a good barometer for any experience. It signifies some intangible quality that lives and grows within the audience beyond the few hours spent at the theater. 
Final Grade: B
Don't let the grade fool you. Beetlejuice is absurd, wildly inappropriate, all about death, yet somehow a heartfelt, riotously hilarious show with high entertainment value. (Was that a zombie football team?) "A"s are reserved for the absolute best. 
Beetlejuice. BEETLEjuice. BEETLEJUICE premiered at the National Theater in DC in late 2018, before moving on to Broadway. It's now back at the National through May 28. Tickets begin at $55 and are available online at BroadwayAtTheNational.com or at their in person box office at 1321 Pennsylvania AVE NW, Washington, DC 20004. 
Running Time: 2 hours and 30 minutes with a 15 minute intermission