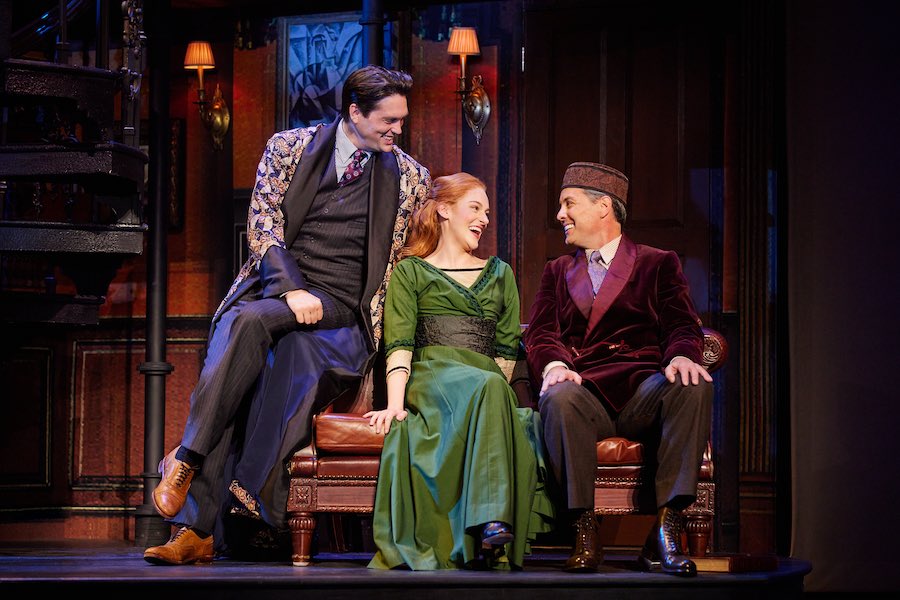 (Photos by Jeremy Daniel)
Excitement buzzed amongst the crowd at the National Theatre Thursday Night as anticipation mounted for the opening of Lerner and Loewe's "My Fair Lady." This award winning, critically acclaimed production did not disappoint. Audiences cheered with applause as the curtain opened, and all the way through to the glorious finale.
The show began by telling the story of Eliza Doolittle, played by Madeline Powell. Eliza is a poor flower girl living in London in the early 1900's. A phonetics expert, Professor Henry Higgins, played by Jonathan Grunert, takes notice of her Cockney accent and begins to take notes. While there, he meets Colonel Pickering, played by John Adkinson. Higgins bets Pickering that if he had enough time, he could teach Eliza to properly speak English so well, that she could pass for a duchess in six months. The following morning, Eliza seeks out the professor at his home to hire him for speech lessons, so that she could speak well enough to work in a flower shop as a proper lady. The challenge ensues.
The show presents several humorous scenes in which Higgins attempts to vocally train Eliza, while Pickering cheers him on adding delightfully funny demonstrative expressions. Powell is a lovely comedic actress with hilarious facial expressions, who powerfully adds humor to the scenes with the straight-laced matter-of fact antics of Grunert. Both of these excellent actors additionally charm the audience with their stellar singing voices. Classic songs such as, "Wouldn't It Be Loverly", "The Rain in Spain", "I Could Have Danced All Night" and "I've Grown Accustomed to Her Face" are beautifully sung.
The Ensemble also bolsters some lovely singing. A beautiful Quartet accompanies Powell in the "Wouldn't It Be Loverly" song, and the household Servants and Maids singing adds to the scenes. An audience favorite however, was Eliza's drunken free-loading dad, Alfred Doolittle, played by Michael Hegarty. His antics and drunken logic type word play had the audience shrieking with laughter. His songs "With a Little Bit off Luck" and "Get Me to the Church on Time" had the audience chortling with delight and cheering.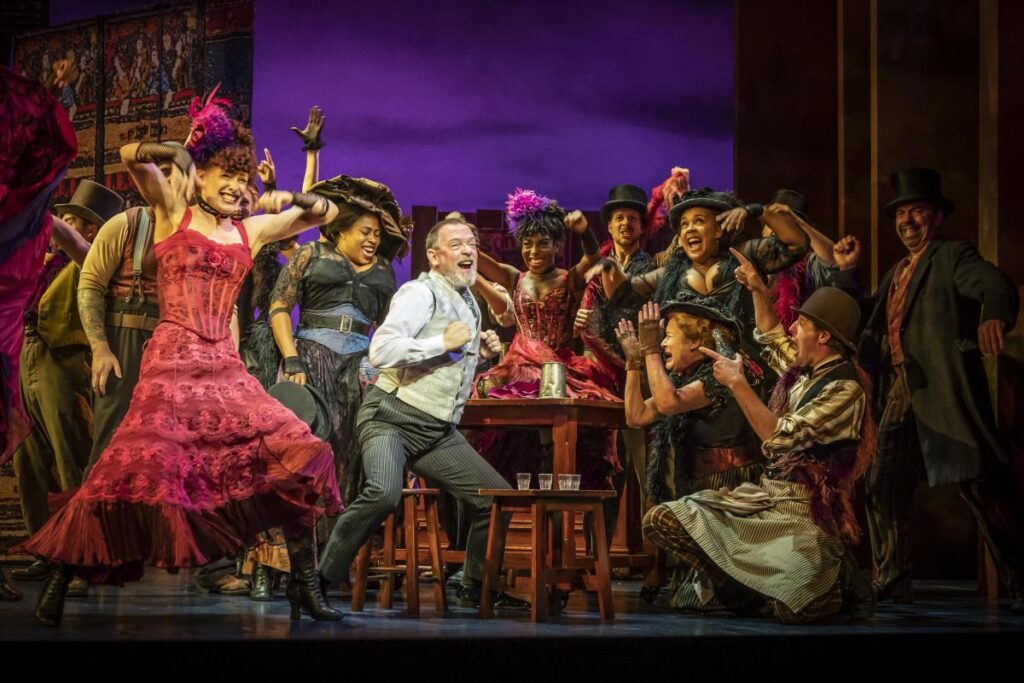 The choreography during the bar scenes was especially fun and delightful. Dancing in the bar while performing "Get Me to the Church On Time" included can-can dancers (some males in drag), and Mr. Doolittle dancing on the table, as he proceeded to become inebriated. This was a fan favorite resulting in cheers from the audience.
In addition to the captivating can-can outfits, other costumes were lovely. Of note was the horse racing scenes in which the aristocrats all wore stately beautifully enchanting pastel outfits to maintain their muted appropriate dress style and proper stuffy attitudes. This scene was priceless as the expressionless crowd sang about being keyed up, while following a thrilling fictional race, as Eliza hilariously cheered the horses on. In contrast, the ball outfits featured alluring brightly colored richly elegant purples, burgundies, fuchsias and Royal Blues.
The movable props and versatile set added to the ambiance and ease of flowing from scene to scene, both indoors and out. Of note was the beautifully crafted wood office/library of Professor Higgins, which included a spiral staircase, grand glass window, fireplace, cabinets, and beautifully painted books on the shelves. The detailed set was simply stunning.
I highly recommend viewing this loverly show! The show performs at the National Theatre April 6-9, 2003. So, come on over to enjoy the comedy and melodic singing yourselves.
FINAL GRADE: B+
Running Time: Approximately two hours and 55 minutes with one 15-minute intermission.
My Fair Lady plays through April 9, 2023 (7:30 pm evenings and 1:30 pm matinees), at the National Theatre located at 1321 Pennsylvania Ave NW, Washington, DC. Tickets (starting at $60) are available online or by calling the box office at (202) 628-6161.
Recommended for ages 10 and up.