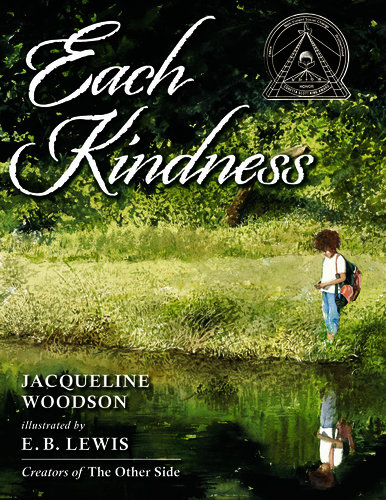 The John F. Kennedy Center for the Performing Arts presents the world premiere of premiere Kennedy Center commission of Each Kindness, a musical exploration of the acclaimed picture book by Kennedy Center Education Artist-in-Residence Jacqueline Woodson, April 28–29 in the Terrace Theater. Most enjoyed by ages 7+.
Featuring projections of E.B. Lewis' striking artwork, Woodson will narrate her unforgettable book, which conveys an important anti-bullying message, onstage to music composed, arranged, and performed by six members of the renowned string production company Rootstock Republic. Violinist and composer Juliette Jones leads the ensemble which features Monique Brooks Roberts (violin), Jarvis Benson (viola), Malcolm Parson (cello), Chris "BassPlayaPlaya" Johnson (bass), and Cassie Watson Francillon (harp), who bring the impactful tale to life about how a little kindness can go a long way. "So excited to work with Rootstock Republic to tell this story." said Jacqueline Woodson. "Each Kindness speaks to the power of our actions in the world not only on others but on ourselves as well."

About Each Kindness
It is a story that could take place anywhere. What if you're cruel to someone and never get the chance to make it right? When Chloe's teacher gives a lesson about how even small acts of kindness can change the world, Chloe is stung by a lost opportunity for friendship, and thinks about how much better it could have been if she'd shown a little kindness. "As I was preparing to score a response to Jackie's brilliant work, Each Kindness, I spent a lot of time reflecting on the ideology of kindness—the idea that, at its core, it is inherently a practice that we are both individually and collectively responsible for." stated Juliette M. Jones, Founder and Creative Director of Rootstock Republic. "How do we not only teach the value of kindness, but embody the praxis of it? As the book reminds us, second chances aren't promised. What to those daily commitments rooted in kindness look like? May the kindness in each of us be a result of not only what we do, but of who we are."
Following the performance on Saturday, April 29 at 1:30 p.m., patrons are invited to stay for a creative conversation where young audience members can ask questions and hear stories from Jacqueline Woodson, the show's artists, and creative team. In addition, following all performances, Woodson will sign books in the States Gallery, located around the corner from the Terrace Theater entrance.
Tickets for the production are currently on sale via the Kennedy Center website, at the box office, or by calling 202-467-4600.