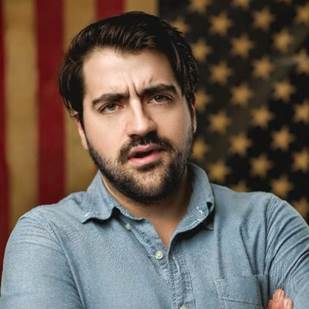 Trae Crowder brings his liberal redneck humor to the Weinberg Center for the Arts in Frederick, Maryland, with the Just Me and Y'all! Tour on Saturday, March 25, 2023, at 7:30 PM.



Tickets go on sale the Weinberg Center members at 10:00 AM Thursday, November 3 and to the public Thursday, November 10 at 10:00 AM. Tickets start at $29.50 and may be purchased online at WeinbergCenter.org, by calling the box office at 301-600-2828, or in person at 20 West Patrick Street.

Trae Crowder first gained international attention in 2016 for his hugely viral series of "Liberal Redneck" comedic "porch rant" videos. Since then, Trae has written a best-selling book, The Liberal Redneck Manifesto: Draggin Dixie Outta The Dark, toured the country playing sold out theatre shows under the WellRED Comedy Tour banner, appeared on Real Time with Bill Maher (HBO), Nightline (ABC), The View, Last Word with Lawrence O'Donnell (MSNBC), NPR, WTF with Marc Maron, MTV, CNN, Huffington Post and in the Veronica Mars reboot, as "Chattanooga Charlie," among many others. Initially from rural Celina, TN, Trae has developed and sold five scripted pilots for Warner Bros TV, ABC, and FOX and continues to work as a writer. He stars in and produces regular sketches for Comedy Central, Funny or Die, ATTN, Facebook Watch, New York Daily News which have garnered tens of millions of views online. Additionally, Trae co-hosts the hugely popular WellRED, Evening Skews and Puttin' On Airs podcasts. His debut 30-minute standup comedy special was taped in 2021 in Nashville, TN.

A complete listing of artists and performers scheduled for the 2022-23 season can be found at WeinbergCenter.org.