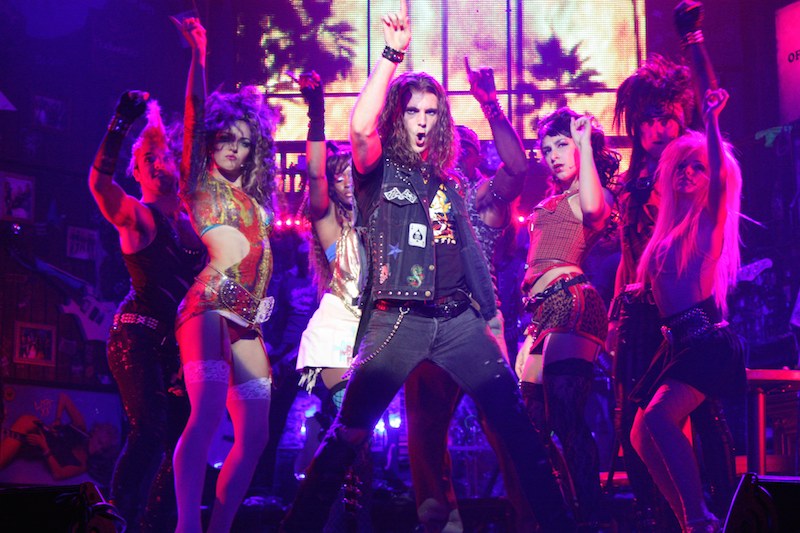 The Filene Center, in what was the best weather of the season, rocked the night away. I won't compare the show to the movie and performance versus performance because that isn't fair. I will say however, that the story that the movie brought made waaaaaaay more sense.
Luckily, the narrator is there to keep us all in line, but at intermission people were asking what the heck the plot was! This is not to fault the production and won't enter into their final grade, but what the "bleep'? Don't misunderstand, there is a story and a couple of tangents that the show goes into. However, the story is very weak and it relies HEAVILY on classic 1980's tunes, with a couple of glaring exceptions, "More Than Words" and "To Be With You". How do you set a show in the 80's and have some of the greatest rock songs ever recorded and have them randomly break into, "More Than Words" and "To Be With You"? I don't have a clue and if you are into the classic tunage of that time, you know that both of those songs were released in 1991, people!
The movie has a much more cohesive storyline and added characters that, I think, bring a better dimension overall. Luckily, Phoenix Entertainment has put together a totally tubular cast! The characters are very amusing, but the real joy was the execution of said characters. Justin Colombo played Lonny, our narrator. He was really the glue of the show! Like I said, he kept us on track with the story and added the best humor of the show. His character is written to be funny, but Colombo has the right timing and energy to make this part special. Another cast member of interest is Dom Scott as Drew, our romantic lead. I say interesting in a good way…according to his bio, this guy is a real rock musician (www.domscott.com). He is a theatrical renaissance man. His singing is unstoppable and usually in musicals, especially non-equity productions, the leads may end there, with just singing talent, but this guy is the triple threat.
Although, there is not a ton of dancing for him in this show, when he gets to dance with the ensemble, his moves stand on their own and show his expert skills. I snuck a peek at his website and Scott is an aerialist, juggler, and a very accomplished pianist, to name just a few of his many talents. His range is unreal and he will go very far in this business! Stephen Michael Kane is an instant delight and scene-stealer as Franz. I had a slightly hard time with their Sherrie and Stacee Jaxx, played by Shannon Mullen and Universo Pereira, respectively. With Mullen, nothing was out of place, she did a great job, but anytime she sang with anyone in the cast (which was often) she was immediately outdone. They either outshined or outsung her, which was unfortunate, as she is the romantic, female lead! When Sherrie grew more independent, Mullen's performance improved. Around the time that Sherrie becomes a stripper and belts out was my favorite moment for Mullen. With Pereira, he was everything that the part called for and more…outlandish, flamboyant, and pretty much a womanizing mess. His vocals are powerful, but my problem was that after a while the performance came off more like David Spade in "Rules of Engagement" than Bret Michaels!
Matt Ban as club owner, Dennis was another commanding force onstage. He and Colombo have some of the best lines in the show and choreography with each other that is simply hysterical. The choreography of the entire show is some of the best I have ever seen and this cast from ensemble to leads, executes all of it with precision and smiles! When Mullen was her stripper Sherrie self, she really came alive with her dance moves. I think that we really saw Mullen having the time of her life on this huge stage and her natural pizazz came out. All of the ensemble worked their butts off to make Choreographer, Marcos Santana proud. The ladies, I think, had the toughest jobs of not only dancing like the pros that they are, but doing it in barley any clothing! I particularly loved "Wanted Dead or Alive" and "Can't Fight This Feeling" but all of it was bitchin'! Ensemble member and Dance Captain, Wesley Faucher really shined. Her dance skills stand out from the very first moment, to the finale of the show. She was totally righteous throughout!
The show brings together all of the cheesy 80's stereotypes i.e. running in place, 80's slang, costumes and hair but they made it fun. This production proves that you don't need superstars in a show, when you have real talent!
So gag me with a spoon and leave your daily grind behind, take a chill pill and go see this gnarly show!
Overall Grade: A-
Show Grade: B+, Eh, the story is weak and there is a frickin' dream ballet! But that is not a reflection on this cast, who were terrific!
Production Grade: A,  If you like 80's rock and want to have a fun night out and be entertained by a super talented cast, go see Phoenix Entertainment's tour of, "Rock of Ages". The costumes, the hair, the set, the choreography and the direction, make this a must-see!
Venue Grade: A+, this is the perfect time of year to see a how outside. This was one of the best nights of weather all Summer. 6,000 people can't be wrong, when they gave their standing ovation!!