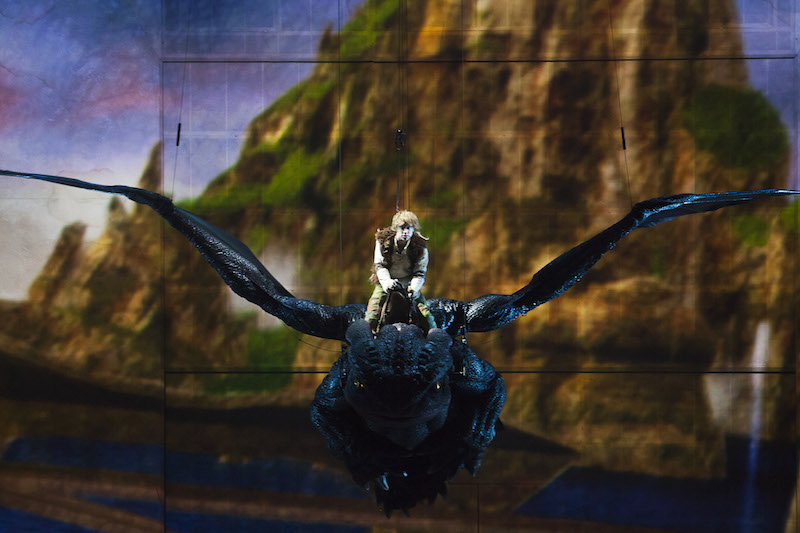 DC, Do You Feel Excited!?! For this weekend at Verizon Center, you will be amazed and thrilled as the world of DreamWorks' How to Train Your Dragon comes to life right before your eyes! If you want to take your family on a night out, then look no further for this show takes you on a journey you'll talk about all summer long.
For my readers who are not familiar with this amazing movie, here's a quick recap. The film is an the adaptation of the 2003 series of children's novels by Cressida Cowell. A young Viking named Hiccup hopes to takes his place among his clan by becoming a dragon slayer. He captured his first dragon, a rare beast known as a "Night Fury," and named him Toothless. Soon Hiccup learns that dragons are not the enemy, but misunderstood creatures. He and his dragon Toothless become the best of friends. Hiccup realizes that his friendship with the dragon could change the world of Vikings forever.
If these books or the movie captured your heart, then you are in for a real treat. When you see the stage itself, you suddenly forget that you are in DC since the island of Berk is projected on special screens on the backdrop and on the floor. Combined with the wonderful score, the great acting, and the animatronic dragons, you feel that you are not just watching the show but you are part of the movie!
The spectacular actors, dragons and animation on the backdrop move as one complete unit. It's like watching a military precision drill team; you have to wonder how they do it so unbelievably well. All your favorite dragons including Nadder, Gronckle, Nightmare & Toothless are incredible when they walk around the arena. Toothless, a beautiful dragon with a 40-foot wingspan, flies across the stage and sparkles your imagination.
The same team that created "Walking With Dinosaurs," a stage show based on a documentary about the Jurassic giants, worked on this wonderful stage show.
The verdict is Dragon Live Spectacular is SPECTACULAR! It's great entertainment for the entire family that everyone will love how their favorite tale comes to life. No dragons were harmed while touring DC.
FINAL GRADE: A++
DreamWorks' How to Train Your Dragon Live Spectacular is playing at the Verizon Center until July 22nd! For more information on the tour or to see if its coming to a city near you: check out www.dreamworksdragonslive.com/