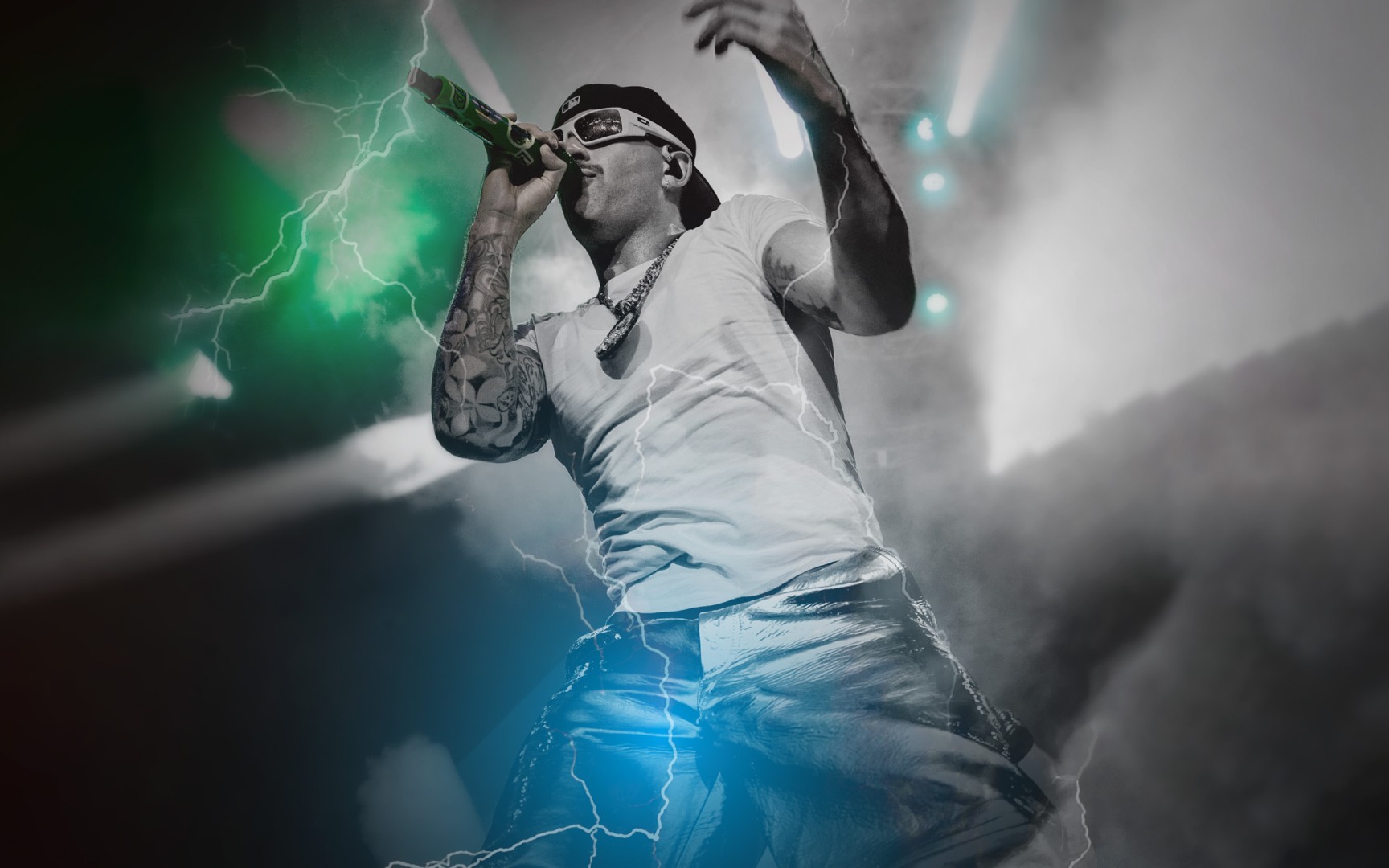 Feid's concert began with a VIP package which included early entry to the venue along with gifts. A long line of fans had been forming since four in the afternoon. Mostly young adults ages 17-30 attended the concert, and most wore green clothing, hats and glasses since that the artist is known for.
Additionally, he had a line where people put makeup on their fans, where there was artist merchandise everywhere, and the tickets included bracelets and glasses that were delivered to all fans.

Feid's concert started with reggaeton background music "De La Vieja Escuela" which everyone enjoyed dancing to while waiting for him on stage. A few minutes before the concert began, the production cameras began focusing on the couples, where the couples started kissing.  Following that, a video biography of Feid is shown. Next, everyone is instructed to wear their glow glasses. For him to appear on stage, fans scream "fercho" — Fied's nickname.
At 9:05pm, the show begins with the song "Chorrito Pa las Animas" as the bracelets light up green. The stage was decorated with a truck and barrels of strong neon colors such as green; two DJs and a guitarist were playing. The popular outfit of Feid consisted of white shorts and a green cap, and he had his glasses on.
Following his romantic music his song "Aguante" he greeted his fans by naming the flags present, Peru, Mexico and Colombia. He then put them as decorations on the DJ tables and announced that he would be singing songs from his first albums. As he continued singing his song "Prohibidox" and one of the very expected "Friki & Karol G," the handles changed to blue, and people began singing loudly. There is no doubt that the entire audience loves this song.
After the lights go out, fans scream, calling out "fercho". He came back singing some of his romantic songs before taking a short break where the guitarist performed for a few minutes. As Feid dances for his fans, screams from women can be heard. He sings another favorite song "Normal" and mentions that Feid concerts without acoustics are not concerts, then sits on the barrels with the guitarist and sings "Mojando Asientos" ending with the guitarist doing a spin on the floor. He finished the set with his song "La Inocente"
After leaving the stage, he returns with a change of clothes of green shorts and a black blouse, where he gives the guitarist a little kick. With his hits "Hey Mor", "Porfa", & "Castigo"; he decides takes a break to ask where the single women are at. He then goes on to "Ferxoo" and you can tell his fans are in love with it.
We see the singer running from side to side along with the DJs and guitarists doing a little dance where he embraced a Peruvian flag from a fan. As the show comes to an end, he sings "150". You can see the audience rise again with other of his hits. Feid starts asking about birthdays, and he closes his show by singing his hit, "Feliz Cumpleaños".
Due to the high prices of the seats, the concert wasn't sold out. it was also off at times; Feid just walked from side to side, mentioning "Mor y Que Chimba." I felt he lacked a strong connection with his audience and do hope he will get better in time.
FINAL GRADE: B-