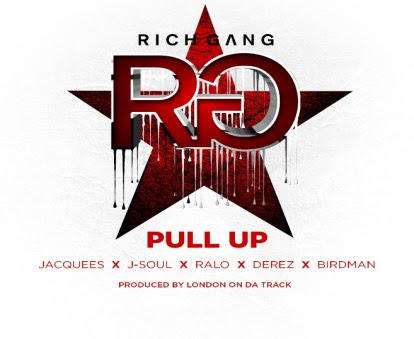 Birdman's powerhouse collective Rich Gang returns with a brand new single "Pull Up" featuring Jacquees, J-Soul, Ralo, Derez, & Birdman—available at all digital retailers June 3rd through Cash Money Records. It's the first single from the highly anticipated new album, Rich Gang II: Lifestyles, arriving in stores and at all online outlets on Friday July 1st.
Impacting radio soon, the song heralds not only the next phase of Rich Gang but that of Cash Money Records as well. Over slick and sizzling production from London on da Track [Young Thug, T.I., 50 Cent], Jacquees holds down a soulful hook energized by verses from Toronto's "sad soul" trailblazer J-Soul, Atlanta spitter Ralo, New Orleans' own Derez, and iconic multi-platinum rap superstar and label co-founder Birdman.
"This album is an incredible platform for all of our new artists to really shine," comments Birdman. The next generation is going to be heard in a big way. It's an exciting moment for the entire team. Wait until you hear what we've got coming."
Rich Gang has developed a legacy of its own since the release of 2013's self-titled compilation. The album earned a #9 debut on the Billboard Top 200 and delivered the gold-certified smash in "Tapout" featuring Lil Wayne, Birdman, Mack Maine, Nicki Minaj, and Future. Meanwhile, 2014's mixtape Rich Gang: Tha Tour Pt. 1—starring Young Thugand Rich Homie Quan accompanied by Birdman—became legendary, crashing onto "Best of 2014" lists from Rolling Stone, Pitchfork, Complex, XXL, and more. The single "Lifestyle" featuring Young Thug, Rich Homie Quan, & Birdman reached platinum status, clinched #1 at Urban Radio, and emerged as one of the year's most definitive hits.
"Pull Up and get ready because Rich Gang is back boasting an arsenal of new smashes from Birdman and co. with Rich Gang II: Lifestyles.