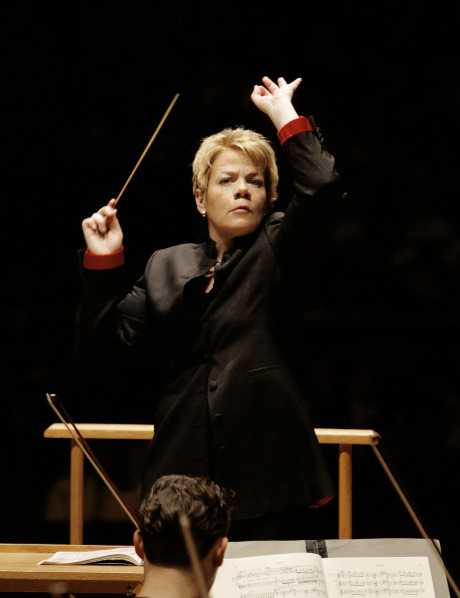 The Baltimore Symphony Orchestra conducted by Marin Alsop presented Rachmaninoff's Symphony No. 1 at The Music Center at Strathmore over the weekend. Virtuoso violinist James Ehnes joined them. The program also included scores from composers Erich Korngold, John Williams and Jennifer Higdon.
It's the ten-year anniversary of the opening of The Music Center at Strathmore. It has been ten years of unforgettable BSO performances, off the cuff presentations and intellectually stimulating programming.
The opening score, blue cathedral, fit the theme of the anniversary celebration. In the words of the composer Jennifer Higdon, "Blue is like the sky where all possibilities soar. Cathedrals are a place of thought, growth, and spiritual expression, serving as a symbolic doorway into and out of this world." The Music Center at Strathmore could be viewed in the same likeness.
Eric Korngold composed violin Concerto in D Major, Op 35. Erich Korngold is an interesting composer. He composed early cinematic sounds and was the genius behind the re-composition of the Mendelssohn-based score for Max Reinhardt's legendary film A Midsummer's Night Dream. Marin Alsop typically directs off the cuff concerts. They're concerts with orchestral themes and sometimes-cinematic presentations. Tonight's program had an off the cuff feel.
Violin Concerto in D Major highlighted guest violinist James Ehnes. The final movement, Finale: allegro assail vivace, was an exquisite display of his skill. The pace was fun and exciting. There're pizzicato's throughout the score that give it a playful rhythm.  Ehnes put on a show! His musicianship is exhilarating!
It was followed by the John Williams theme for Schindler's List. This was a somber tone. Very sad but very graceful. Rosh Hashanah was this past Thursday, so it's appropriate that it's on the program.
Rachmaninoff's Symphony No. 1 was the final score. Out of Rachmaninoff's three symphonies, No. 2 and No. 3 are more popular. I always liked symphony no. 1 the best; It's more identifiable, and powerful. An ominous Dies Irea concept is the principal theme that carries throughout the score. Although the overall theme is a day of wrath, the tone takes a more optimistic turn as the movements develop. The cellos low unison strings were one of my favorite techniques applied. It's like a day of wrath with light at the end of the tunnel. Marin's conducting was exciting! Her gestures were in no way reserved. Big swooping, eye-catching movements directed each section of the orchestra. It was a great display of conducting.        
This was a fantastic concert! The Violin Concerto And Symphony No. 1 in particular were immensely enjoyable. This was a fantastic presentation!