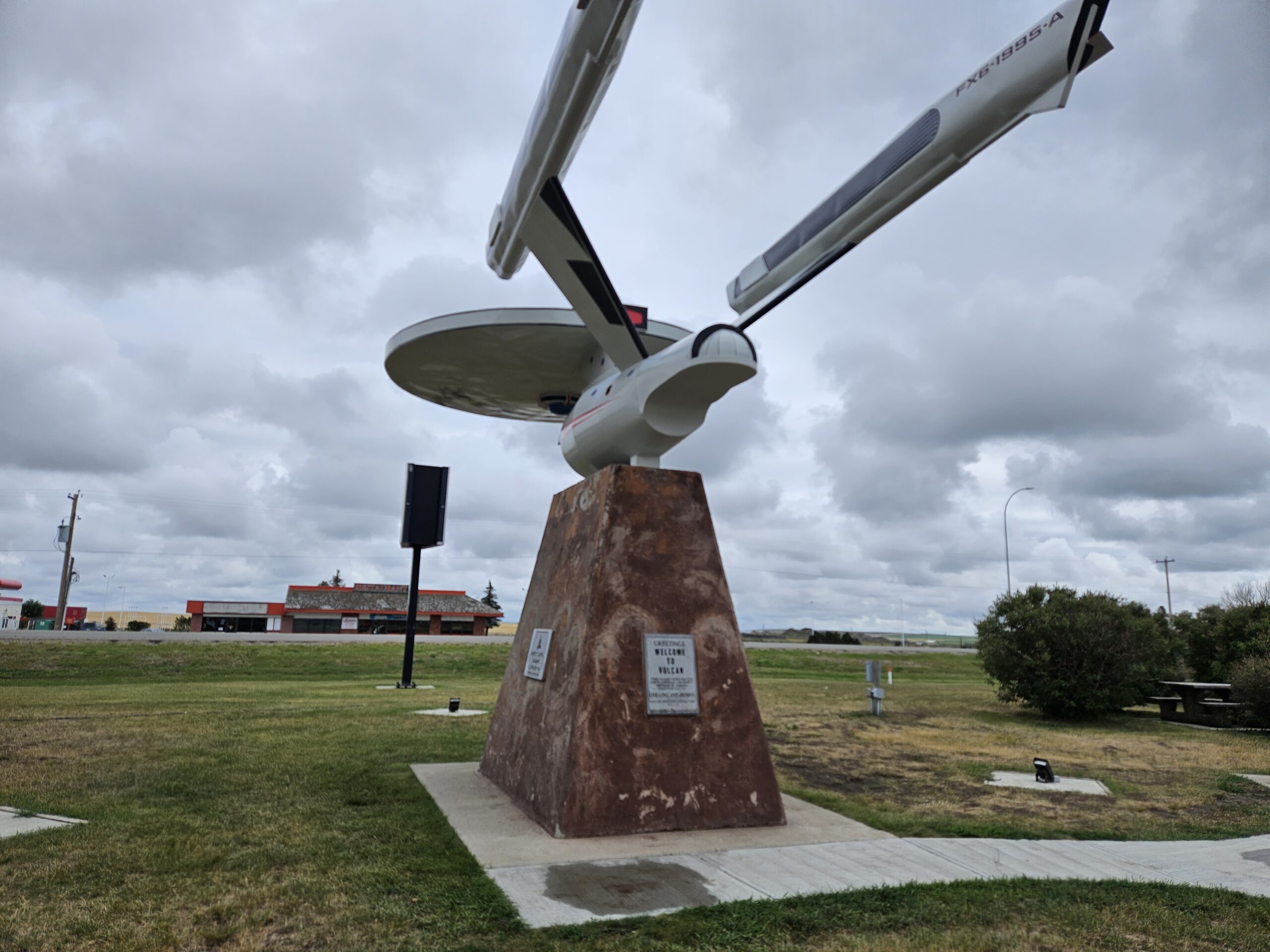 "A town that has surrendered its dignity" was how Conan O'Brien recently poked fun at the tiny hamlet of 2000 people just off Highway 23 in Alberta, Canada. Indeed, this small hamlet is the Star Trek Capital of Canada, and this year celebrated its 30th anniversary, although the town of course predates the beloved sci-fi franchise by many decades. Every July, except during the Covid years, since 1993 (some argue 1992), this town has welcomed Star Trek actors, producers, writers, and other talent, as well as people from across Canada and around the world to attend a weekend festival celebrating all things Star Trek.
Visitors to Vulcan are often surprised at how hard-core the town has embraced the coincidental name connection. From the very space age looking tourism centre, to the crosswalks painted with deltas, the streetlights being miniature star ships, the many murals and posters honouring the show, themed building and business names, and of course the impressive FX6-1995-A Starship installation that greets you as you enter, this is a Trekkie paradise. In fact, Leonard Nimoy (Spock) played a major role in helping to build the reputation and the annual event, and every piece of Star Trek art or decor is done with full permission when required.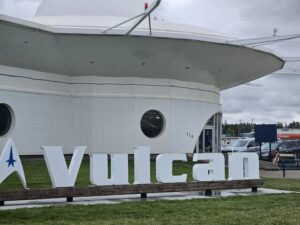 The convention of course has evolved over the years. Featured events have included an auto Show N Shine, the unveiling of the famous Starship (1995), the opening of the Vulcan Tourism and Trek Centre (1998), launch of the Vulcan Space Adventure VR game and campaign to host the premiere of Star Trek XI movie (2009) opening of an official donated trek memorabilia collection (grateful thanks and acknowledgement to donor Albert Cave, 2008), official homecoming of the legendary Mr. Spock himself (2010), and the unveiling of the new Vulcan sign (2022).
Many well-known and also unique trek names have attended over the years to the delight of fans. While the actors themselves are too numerous to mention some of the more unique visitors have included authors: Diane Carey & A. C. Crispin; Space Experts & Astronomers: Bill Brooks of Canadian Space Agency & Gene Polanski; Members of the Star Trek Family Eugene "Rod" Roddenberry, Chris Doohan & Adam Nimoy & Fan Favourites Vaughn Armstrong, Julie Cobb, Arlene Martel & Tracee Cocco.
This is of course not a full list as indicated and should not be taking as a ranking of importance as all the thousands of people who have contributed to the Trek Universe are unique and important. For more extensive lists, please visit vulcantourism.com and vulcanhistory.ca.
This year, fans were treated to appearances by celebrity guests Emily Coutts (Lt. Detmer of Discovery) and Bruce Horak (Hemmer of Strange New Worlds), the latter having grown up and begun his career in Calgary and southern Alberta. Greg Dietz, the local town promoter who was there when Star Trek beamed down into Vulcan and superfan Jon Cornish of the Calgary Stampeders football team also made appearances. Photos, Autographs, and Selfies were available and enjoyed, as were Q&A panels, a relaxed meet and greet between fans and guests with cocktails, and a cosplay and costume contest took the place of the usual annual parade. Conan O'Brien had been invited by the town to attend and be parade Marshall, but sadly was not in attendance. The "Throne of Kahless" Challenge made its return, and it is an event that is best viewed in person as opposed to being read about. Fans also strolled about the town, visited the many themed shops such as Quark's, Wolfe's 359, the Latinum Loonie, and the various murals and art installations. In a town with a world-famous mural of the classic 5 doctors of Star Trek, streetlights designed to look like miniature starships, crosswalks with deltas, the amazing official Starship FX6-1995-A, and the beautiful bust and handprint of Spock, there is no shortage of amazing, one of a kind Trek exhibits.
Friday night featured the cocktail meet and greet, several tailgate parties, and other smaller gatherings of Trek fans, after an afternoon of sightseeing and camaraderie. Saturday saw the photo and autograph opportunities, which unlike larger conventions afforded a much more relaxed atmosphere that was still electric with excitement. Greg Dietz hosted a panel on the history of the convention and the town and how it has persisted through various names changes (Galaxy Fest, Spock Days, Vul-Con) and impact the event has had on the culture of the province, and reminded us that it is the one place where cowboys and Klingons share a blood wine at the same time, as well as the significant role the Nimoys, Roddenberrys, and Doohans have had in the event. Due to the ongoing SAG/AFTRA strike, the Q&A panels with the actors focused more on their overall careers, their personal projects past and future that are outside the scope of SAG/AFTRA, and the importance of why this strike is ongoing and important. The role of AI and the rights to the use of personal likeness and voices was also discussed, as well as the representation of the majority of actors like themselves who "do not have 14 mansions and dozens of cars" but instead have to work hard and continually every day, sometimes while holding other jobs, or creating their own opportunities.
Emily Coutts entertained fans by talking about her co-stars and the game nights they have playing games such as Mafia, and how much of family her co-stars have become and their spouses too. Her time on Murdoch mysteries was discussed as well as she fielded questions about her directing and producing work from the fans – and revealed that she would like to work with Greta Gerwig one day. She also discussed her upcoming short film Dear, Jesus which is her own indie project. Emily also talked at length about the impact of Canada and Canadian actors on the film and TV industry, as well as how it is evolving and changing especially in recent years.
Bruce Horak's Q&A had fans laughing and entertained. He discussed his projects like "Goblin Macbeth," his overall fascination with goblins, his love for improv and Shakespearean theatre, and the impact his late father had on his career as a he was a drama teacher. He shared stories of doing improv and small acting events in empty parkades during covid to keep working and creating while being safe, as well as the effect covid had on filming and the interactions of actors. He discussed his time with Loose Moose Theatre, a local company that has been producing since the 70s, and its evolution and history. At fan requests he did some voice impersonations of famous actors/characters and even sang Twinkle Twinkle Little Star for an audience member. He also shared his newest project, "Goblin Oedipus" commissioned by One Yellow Rabbit Theatre in Calgary and shared that his mother and uncle were in attendance in Vulcan.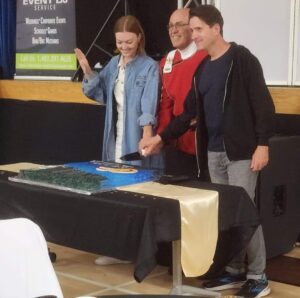 The day wound down (or up as you will), with a buffet style dinner banquet, the cutting of the 30th Anniversary Cake and address by the Mayor of Vulcan (in his Monster Maroons, official uniform of the Vulcan town council), and a silent auction that featured lots of rare and unique collectibles, and a chance to win dining with the celebrities. Special cocktails with commemorative goblets were enjoyed such as Samarian Sunset, Galaxy Fest, Klingon Blood Wine, and Tranya. Fans in a variety of uniforms were present from all eras, a designation from KAG traveled from Edmonton, and Starfleet International had members of the USS Lilith, USS Curtana, USS Cereberus, and USS Chinook in attendance. The dinner ended with several hours of dancing and socializing before winding down.
Sunday featured the traditional Trekkie Brekkie and a T-Shirt design contest before the attendees packed up to hit the road back to their various hometowns. Unfortunately, this reporter was unable to attend for the Sunday morning part of the event.
All in all, it continues to be an amazing experience that is cherished by fans and special guests alike. The town can be visited any time of year and is guaranteed not to disappoint even the most diehard Trekkie. The next convention will take place July 26-28, 2024, with more information about guests, events, and tickets to be announced through the Vulcan Tourism and Trek page on Facebook and vulcantourism.com.
Until then, Live Long and Prosper.