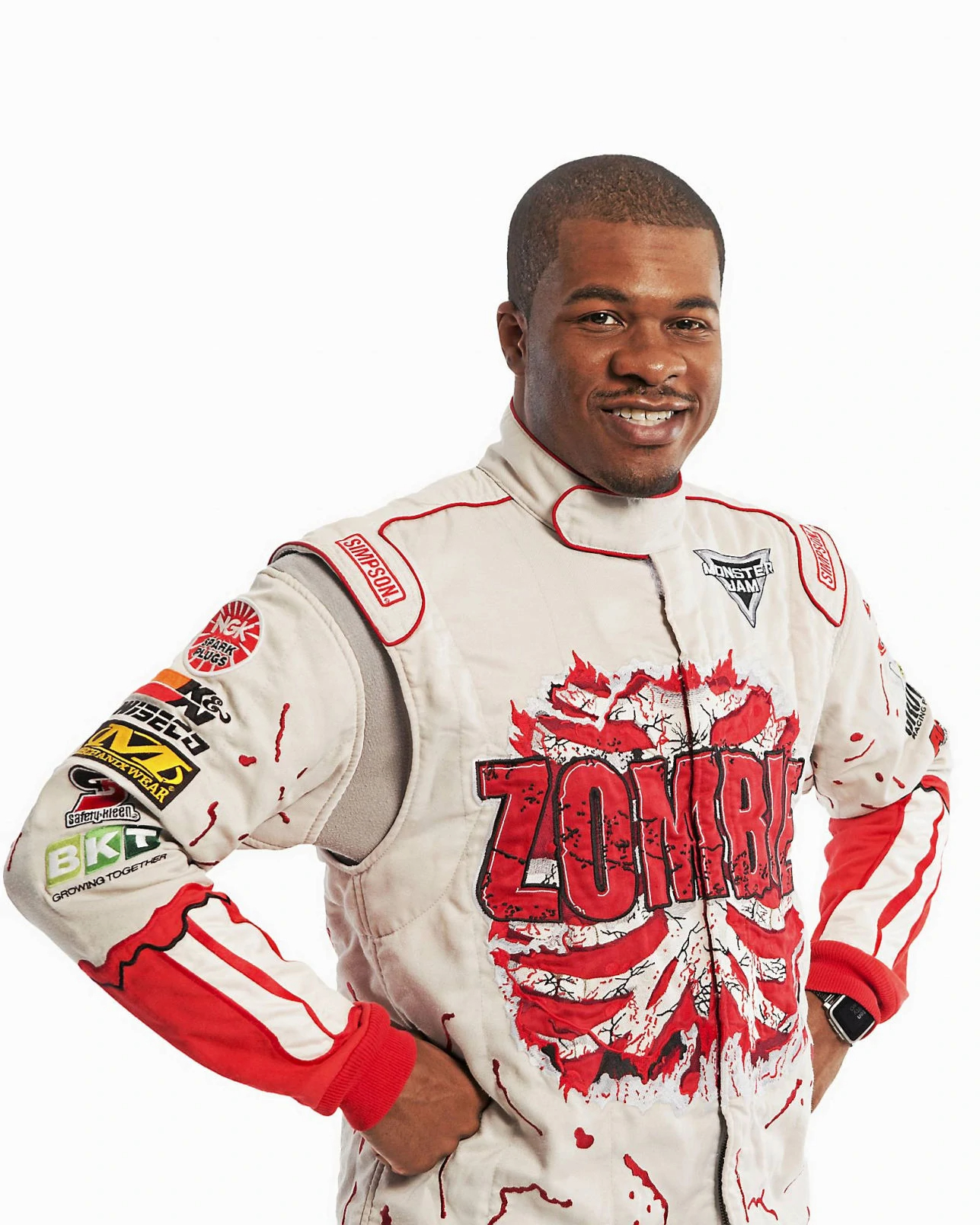 On this edition of THE INTERVUE, we are kicking into gear for Monster Jam Stadium Championship Series at FedEx Field on June 11. This outdoor, large-scale event is unlike any Monster Jam show DC has ever seen – bigger, bolder, and with even more action!
Today, we are honored to have one of the drivers coming to entertain the masses. Driving monster trucks since 2010, our guest is the first African-American driver for Feld Entertainment. He has earned Rookie of the Year in 2011 and is currently driving the "Zombie" monster truck in the series. Let's give a roaring welcome to Bari Musawwir!
You are the first African-American driver for Feld Entertainment and you've been doing this for over eleven years now. So how does it feel to be the first?
Oh man, it's incredible feeling to be able to you know, be the pioneer for myself and for you know, our culture to be behind the wheel of Monster Jam truck this long on such a high level and you know, this is a childhood dream come true for me. So, this is what I wanted to do. Ever since I was six years old, my mom took me to my first Monster Jam back then. And here I am and 11 years in and still loving every moment. I mean, it's taken me to places I never would have imagined.
I read that you mentioned that Vegas is your favorite city travel of all them. Why is Vegas your favorite city?
Well, the track in Vegas, when we had the world finals in Las Vegas, it was unique. There was no other stadium setting like that. And the atmosphere that was surrounded the city, when the fans would come and pack in that stadium. We're talking about taking these trucks from the outside of the stadium and racing them in into the stadium. I mean, we were just reaching speeds, like we wouldn't reach any other place all season long. So, it was just a special place. And I miss going there. You know, it's hard to match that intensity, that atmosphere. But you know what, we're still going to try to give it our best shot. This is the first time we're doing the event at FedEx field. They are in Landover, so we're excited to be there and hopefully see some new faces and make some new fans.
Have you been out to the DC area before?
Yes, yes, I have. We've done the arena there before, but never the stadium. So, this is gonna be a first and I always like to say these trucks are at home inside these big football stadiums. Because that's where we get to really stretch our legs and let that 1500 horsepower, go to work.
You're part of the Stadium Champions Series Yellow. Can you tell us a bit more about the division that you are part of?
The stadium championship series we competed on since the second week in January. And we've been going ever since. So, it's been a really busy year for us. The event itself is compounded with three different competitions. We start the event off with the racing competition where it's like a bracket race, just like you would see in the NBA Finals, which is going on right now. We start with a field of 12. And we eliminate each participant in their own bracket race until we're down to the final two and then the final tube found a champion of the racing portion. And then you earn 12 points for doing so.
The points all add up to trying to win an overall event championship. They all add up the other two events which is the next event is the great clips to will skills challenge where we try to balance these trucks on any two wheels, the back two- front two- side two wheels. Then the winner of that gets another 12 points and so on. And then to cap off the evening is the free style competition, which everybody loves is when you get managed to go out there and just stretch your stuff. You know, I mean, everything that these trucks are capable of. That's why we try to put into freestyle, so you'll see big jumps, like backflips donuts, wheelies, you name it. I mean, there's some incredible wow moments come out of the freestyle competition.
Well, speaking of donuts, you were the "Donut of the Year 2021. And you manage that with 44. But I read somewhere that you did 58…. how is that possible?
Well, first you got to skip breakfast for one. And then two, you just have to really push yourself and your equipment to the limit. We were able to achieve that Guinness World Record of 44 doughnuts in one minute inside of the Zombie Monster Jam truck. And we had to do it inside of a 77-foot diameter circle. So many trucks are over 20 feet long. So that 77 feet gets pretty small pretty quick.
There's a lot of stuff going on inside the cab of the truck when you're trying to push yourself that far. And then we did it in the Florida Sun. I mean, it was hot, it was Father's Day week, I'll never forget that. But we pulled it off. Man, we made history right there on the Discovery Channel with the breaking world records TV show. So that was a lot of fun.
So glad to hear it. You also add another accolade this year by becoming the "Wow Factor of the year. So, you got to tell the fans who are going to be coming to the show next few days. What did you do to earn the wow factor for 2022?
So that was back in San Diego of this year. Grave Digger who is one of our competitors. He's very well, household name truck. And it's their 40th anniversary, as well as its onster Jam's 30th anniversary this year. There's a lot of big things happening this year. And Grave Digger got driven, I would say driven into the ground for his freestyle. I mean, he really did a good job and the truck ended upside down on the track. And the dirt crew who recovers the truck after you flip it over. They weren't successful in a timely fashion to get off the track.
So, the producers of the show to just leave it, we got one more truck to go. And it was right in the path of a big ramp. I had no choice. But to jump over it. And the crowd went wild man. I mean, it was amazing. I didn't expect it to win any awards. Because I just knew in that moment, it's just something that I had to do. It wasn't rehearsed. It wasn't planned. It was just one of those things where you had to be there to witness the buzz. The crowd just coming unglued when that happened. And it was one of those little once in a lifetime opportunity, I'll probably never get that shot again. But If I do by chance, you best believe I'm going to do it again.
You also mentioned that you love to try different restaurants. What are some of your favorite restaurants and cuisines that you love trying while you're on the road?
I love so many different types of food. I love Italian, I love soul food. I just like trying stuff that you normally really can't get like at a chain restaurant where it's like readily available in every big city you go to. I like to try the spots that the locals recommend that is like a staple in their community. There's one common thing about good food and it just brings people together puts a smile on your face…. at least for me. You know, doing these tours and being on the road and having long days at the stadium, sometimes you don't get the best meal. So, when you get the good chance to you know, finish the day off with a good meal. I'm a happy guy
I read that you love watching movies. Have you seen any new movies lately?
I just saw Top Gun: Maverick. And actually, that was the that was the first movie I've actually seen in the theaters in a long time. And its really good movie, man, I recommend it and we had a good time watching it.
What would you what are you most excited about coming to FedEx Field this weekend?
It's a new venue. You know, that means new opportunities to make new fans meet new people. Just show them what I'm so passionate about. You know, this is something that I've loved all my life. So anytime I get that opportunity to put something that I love in front of new people's faces, I'm all about that. I'm looking forward to it. It's definitely going to be something eye opening for all the fans that have maybe seen it on TV or social media, but never really seen it live to this magnitude, it's gonna be very, very special.
What advice would you have to kids, especially African-American kids would love to be where you are and continue the future of monster truck rallies to come?
First you got to come see us you know see if this is something you really want to do and stick around you know, you kind of got to become a superfan you got to bug us you know, it's not one of those things where I can tell you this is the path you take. It's almost like you have to just be around it for so long to where people recognize you and they know your name and they can see you will be a good fit for this.
And because it takes more than just getting behind the wheel of a Monster Jam truck. You have to have the entire package, you have to be able to do an interview and speak well and make sound decisions and just be responsible because they're, you know, to whom much is given much as you know, you got to be a lot responsible for what you're giving.
See Bari and the rest of the monster truck drivers at FedEx Field this Saturday June 11th at 7 pm. There's a Pit Party from 2:30 to 5:30pm and early access to that party starting at 1:30pm
Tickets are available at ticketmaster.com but visit MonsterJam.com for more detailed information on the event, and wellness policies!