Wytold's Last Performance as an Artist in Residence
3 min read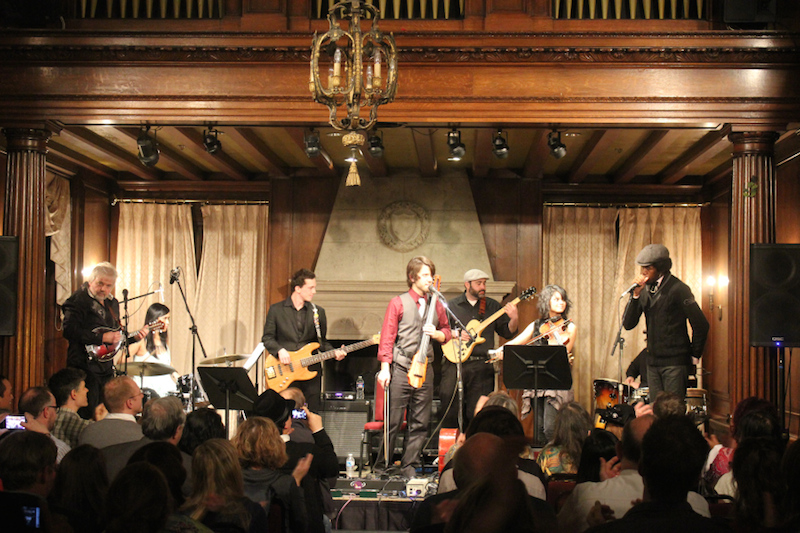 I recently heard "My Regards" Wytold's new album and was really excited to see him perform. I had never been to a concert featuring an electric cellist. I didn't really know what to expect. I knew percussionist Bryan Bowman and guitarist Jerry Tolk would probably be performing. I would have even guessed an appearance from Christylez Bacon. But what I didn't guess were appearances from current Artists in Residence Daisy Castro, Owen Danoff and Isabelle De Leon, not to mention mentor Rickie Simpkins.
This was a surprise and a good one at that. I mean, a Wytold solo performance would have been nice. I was keeping my fingers crossed hoping to hear "American Dreams" but this was no less just as gratifying. The diversity of genres and sounds on stage was like nothing I have ever heard. There were elements of Bluegrass, Rock, Hip Hop, Classical, Folk, Jazz and even Electronic music on stage. I don't even know where to start. We'll I guess I'll start with the performance by Rickie Simpkins which immediately caught my attention as soon as he started playing. He traded off between playing a violin and a mandolin. His rhythm was quick and precise; he strummed the mandolin so rapidly. It was a pleasure seeing Rickie Simpkins perform, he has played before with the legendary Dr. Ralph Stanley. That makes him a legend in my books. Another standout would have to be Christylez Becon whose beatboxing was receiving applause before the song even concluded. One of the feature tracks they performed together off "My Regards" Bach Remix was done so in a completely original manner and executed well. I never would have thought I would hear Prelude to Bach with percussion, let alone beatbox style percussion.
Wytold also sang a song. I had never heard Wytold sing before so it caught me off guard. It was a decent shot. The lyrics were comprehensible, that's always good. The chorus sounded neat and was catchy. Some more practice and maybe he'll start incorporating lyrics into his albums? The remainder of the show consisted of a commission "Skyline Dance Suite" piece written by Wytold. It featured all the performers in attendance and was great. Isabelle De Leon's Rock 'n' Roll style percussion really gave the piece some volume and excitement. Daisy Castro and Wytold collaborated well. Hearing them trade off between cello and violin solos really grabbed your attention and made you want to listen more closely. The piece was upbeat, catchy and had a few prominent rests that really gave the various movements a pulse.
This was a fun interestingly musical evening. It was good seeing such a gathering of young talent all in one place. It made for some great music. I'm not going to lie it would have been cool to see Christylez Bacon perform some lyrics instead of just beatboxing. Maybe they could have played "Bowl Cut" or something. I would have liked to hear some more songs off "My Regards" like "Know Me" my favorite song off the album. Even with that, it was a good sounding multi-collaborative sort of celebration. Wytold deserves it; he has put out three very good albums and is on his way.