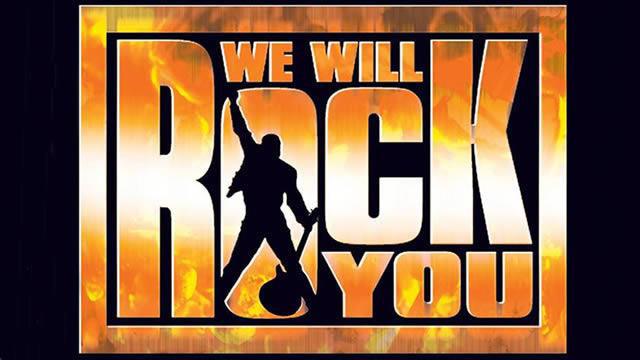 Queen and Ben Elton's We Will Rock You, built around 24 of Queen's biggest hits, is coming soon! The worldwide smash hit 'rock theatrical' opens at the Warner Theatre (513 13th Street NW) on Tuesday, June 3, 2014, and will stage eight performances through Sunday, June 8. We have a pair of OPENING NIGHT Tickets to give away to one lucky reader! Want to win them? Click below!
To enter the ticket giveaway,
Our poet laureate of music has spouted three lines to Queen's songs. Your job is to IDENTIFY the three songs. Here are the lines:
At the end of the day/I take home my hard earned pay/All of my own
Fighting and free/Got your world in my hand/I'm here for your love and I'll make my stand
You can't turn back the clock/You can't turn back the tide/Ain't that a shame?
Send in your three answers along with YOUR NAME & ADDRESS in an email by May 30th at 4:00pm EST to therogersrevue@gmail.com SUBJECT: ROCK YOU for your chance to win OPENING TICKETS in our random drawing.
For more information about We Will Rock You, please visit wewillrockyou.com and schoolswillrockyou.com.
WE WILL ROCK YOU – June 3-8, 2014
TICKETS ON SALE Reserved Seat Tickets: $65.00 / $55.00
Limited amount of $75.00 Gold Circle Seats for each show
WE WILL ROCK YOU – Washington, D.C. Performance Schedule:
Tue, June 3 @ 8:00 p.m.
Wed, June 4 @ 8:00 p.m.
Thu, June 5 at 8:00 p.m.
Fri, June 6 @ 8:00 p.m.
Sat, June 7 @ 3:00 p.m. & 8:00 p.m.
Sun, June 8 @ 3:00 p.m. & 8:00 p.m.
RULES: Each household is only eligible to win Two (2) tickets to We Will Rock You at the Warner Theatre on Tuesday, June 3rd at 8:00 pm via blog reviews and giveaways. Only one entrant per mailing address per giveaway. If you have won the same prize on another blog, you will not be eligible to win it again.
Entries must be received by Friday, May 30, 2014 4:00 pm EST. Any entry after that time will not be qualified. Winner must be available on OPENING NIGHT in order to claim the tickets.  Winner is subject to eligibility verification. Giveaway open to the residents of District of Columbia, Maryland & Virginia.
**The winner will pick-up their tickets at the WILL CALL window on opening night.