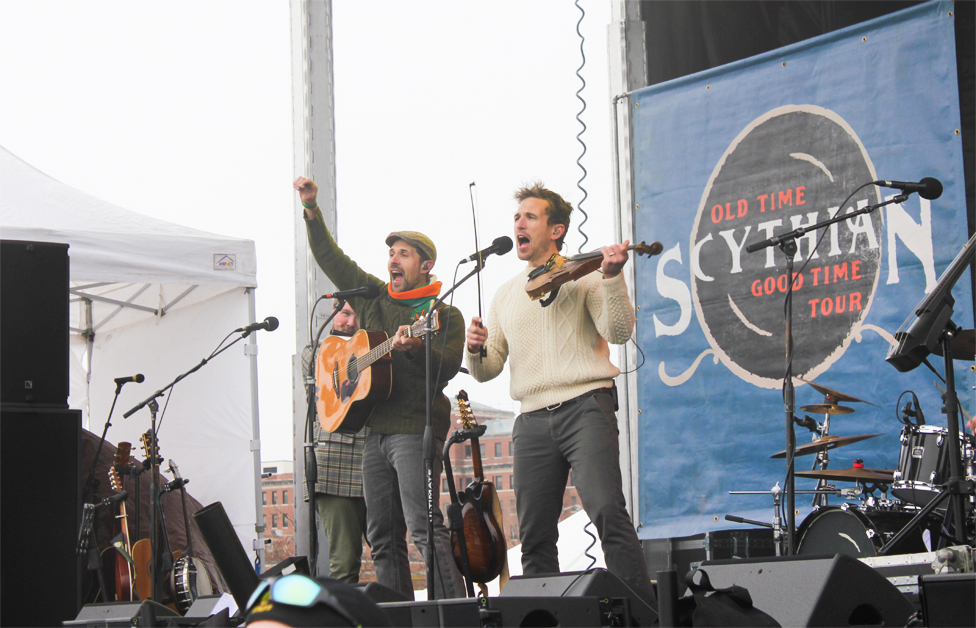 A crumbling RFK stadium provided the backdrop to a much more delightful scene this St. Patrick's Day. The lot eight parking lot. Throngs of people wearing green bowler hats, shiny plastic beads and green and white striped knee-highs steadily marched across the asphalt seeing the world through four leaf clover tinted glasses. On a cloudy day just past high noon on the grounds of RFK Shamrock Fest was about to begin.

This year was a special year because St. Paddy's day happened to fall on a Saturday. So there was absolutely no excuse for not getting drunk. That's what makes the grounds of RFK so great for this event. It's a large outdoor area within DC that's Metro accessible. You can drink yourself silly and not have to worry about driving anywhere. DC United is moving out before the end of the year so the future of this recreation area remains unsure. Hopefully, it's not lame. One thing remains certain whatever it is it will never be as awesome as that magical slab of asphalt next to the Anacostia River.
This year the complete line-up included: Sum 41, Shaggy, Less Than Jake, Reel Big Fish, Carbon Leaf, Street Dogs, Scythian, Barley Juice, Kilmain Saints, DJ 2Nutz, Pat Premier, Rene, EPX, DJ Ri5e, Clinton Matthews.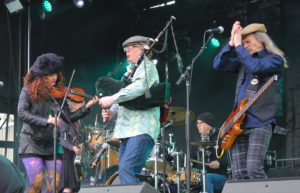 The VIP Shamrock experience can best be described as an Irish marathon. You walk up to tables with cups full of beer, state your preference and friendly staff attendants hand them over cheering you on. The VIP section was sandwiched in between the gold and green stages so I found myself making the rounds back and forth from the beer truck to the stages. It was much more fun than a 5K and nothing gets the creative juices flowing better than a tractor-trailer full of beer. Speaking of "creative juices" another benefit to the VIP section was that they had extra porta potties. When serving bottomless beer there necessary, to say the least.
They were serving up plenty of Guinness Draught and other favorites. I stuck with the Guinness, on St. Paddy's Day why would you want to drink anything else. The beverages were quality and not just some mystery brew. It was worth the price of admission.
They alternated the sets back and forth between the green and gold stages. This ensured there was either always music playing or music about to start. This also made sure you were able to see the entire set of every band. The bands ranged from traditional Irish, Celtic rock, street punk, and ska. The DJ tent mixed hip-hop, electronic and throwback jamz. There was a wide enough variety of music to float your pickle regardless of tastes.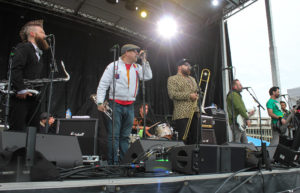 The traditional Irish and Celtic rock bands brought out the spirit of the holiday. Carbon Leaf had acoustic rhythms with a unique penny whistle accompaniment. Desperation Song and The Boxer were two favorites. It was fun hearing the fiddle solos and seeing the Irish step dancers during Scythian's performance. Barley Juice played traditional bagpipes with some rockin' up-tempo fiddle solos. Kilmain Saints music literally revolves around drinking. These bands made it feel like the holiday. Moments you capture in time.
There were other great performances too. Street Dogs completely owned their set and got everybody involved in the action. There was plenty of fist pumping and friendly mosh pits. It was fun to hear Reel Big Fish's amped up trombones, saxophones, and trumpets. Songs like Sell Out and Beer definitely matched the atmosphere. Less Than Jake was a blast from the past and gave me flashbacks from high school, cool but awkward. I didn't stick around for Sum 41. I guess I didn't want to waste my time and become another casualty of society.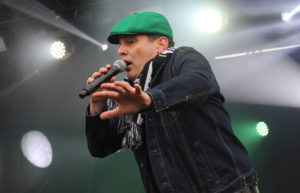 Shamrock Fest 2018 was definitely an amazing time. It was a festive atmosphere and everybody had a great time except for that one guy. You know who I'm talking about, THAT guy. Please don't be THAT guy. The VIP experience is the only way to go unless you don't drink. Sometimes the weather isn't perfect to that I say don't be a wuss. I'm already looking forward to Shamrock Fest 2019, hopefully at RFK.