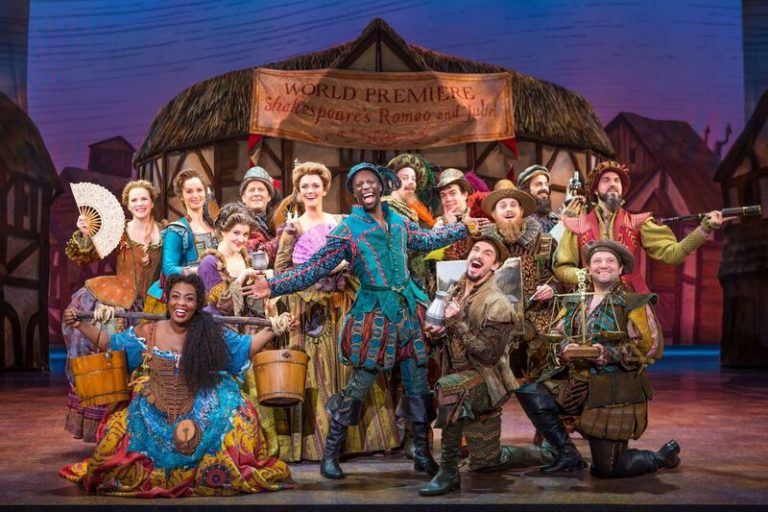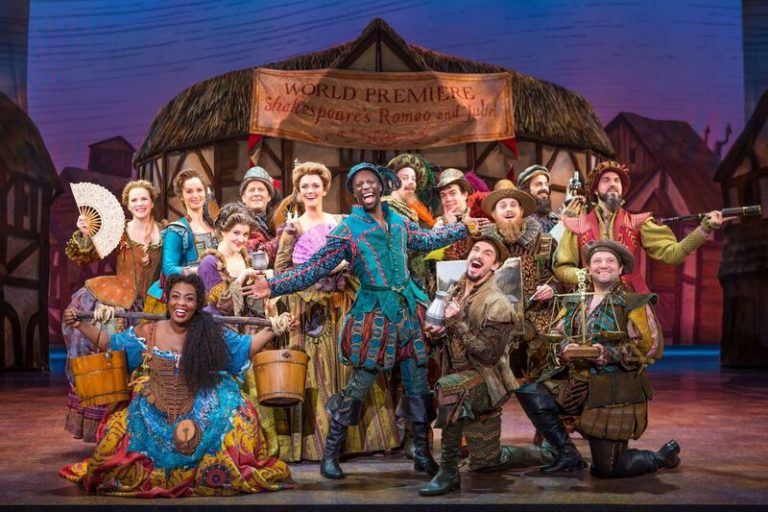 "Something Rotten" is the hysterically funny story of the Bottom brothers and their rise to meteoric fame, against none other than Shakespeare. This tale takes place in the 1590's. With similarities in humor to "Spamalot", this British farce set to music is so funny every minute, that I couldn't wait to see more.
The hilarity is led by Nick Bottom, tremendously played by Rob McClure. McClure is onstage the entire show and for the better of our enjoyment. He is a huge talent. Fantastic comedic timing and great vocals. Wonderful chemistry with his leading lady (who I later found out is his wife in real life).
Josh Grisetti plays little brother, Nigel Bottom. Grisetti keeps up with McClure wit for wit and delivers lines expertly. His vocals are melodic and I'd see him in any show.
The ladies round out the leads, with great precision. Maggie Lakis and Autumn Hurlbert hold their own and have great style against their men.
We cannot leave out Shakespeare himself…in this case the rock God! Funny doesn't begin to describe this interpretation of The Bard. With electric guitar woven into his songs and the head to toe leather, he's a force to be reckoned with. Having said that, even though the role isn't huge, you need to have someone with huge, charismatic charm and sex appeal and a taste for comic genius…a tall order! This tour garnered the talents of (I think the perfect fit) Adam Pascal. He is perfection!
Blake Hammond who plays Thomas Nostradamus (lol) has, what I think is the best role in the show. Hammond wonderfully executes this part.
There are so many musical theatre references that I was trying to write them all down. The whole show is truly genius and this cast does not let you down! The costumes are brilliantly done and the choreography lends itself to the show without be too campy.
Jeff Brooks and Scott Cote leave a grand impression on the audience as well. They're characters are well constructed (as all are) and these men hold their own with their exceptional talents.
The ensemble is all marvelous as well. Kyle Nicholas Anderson, Nick Rashad Burroughs, and Ian Campayno, Tanya Thompson and Leah Hoffman all have their way of standing out in a crowd, but blending in when it's called for.
If you love having fun and laughing for almost three hours straight, go see this show! If you love watching obscenely talented people sing and dance, go see this show! Just make sure to see this show! This is Broadway on your doorstep!
For further information on this tour, go to www.rottenbroadway.com
For further information on the Hippodrome's season, go to www.france-merrickpac.com