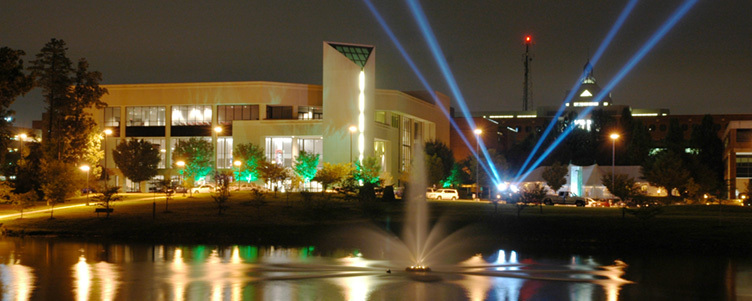 Sunday afternoon at George Mason Universities Center for the Arts, The King's Singers, a British acappella sextet returned to the stage for their Great American Songbook Tour. The aptly named concert series is also the title of their latest album. This tour features American classics by Cy Coleman, Richard Rodgers, Lorenz Hart, George Gerswin, Arthur Hamilton, Harold Arlen, and Irvin Berlin with arrangements by jazz composer and bassist Alexander L'Estrange.
To say that The King's Singers are just talented would be an understatement. Talent is your potential; capabilities that haven't been reached. The arrangements of Alexander L'Estrange maximizes their skill to that point. What was interesting about L'Strange's arrangements was the bass, being that he is a bassist it makes sense. I thought Johnathan Howard (bass) performed these parts extremely well. It was very doo-wop in nature. The depth of his voice is a great base for his singers. When you have parallel harmonies, it's generally doubled off the deeper sound with the second singer coming in an octave higher. He's like a drummer keeping the beat, his rhythm was one of the most enjoyable aspects of the concert. It really holds the music together well. The solos performed also along with the bass were spectacular! Paul Phoenix in particular!
The program had a lot of variety including Broadway,  musicals from television and film and traditional American spirituals. It's almost a given a chorale presentation would feature religious music, the human voice is the oldest instrument. When Christianity emerged from a branch of Judaism, they burrowed Jewish chant. The Hebrew word Hallelujah is a sacred word invented with extended text so that each syllable has it's own note. This lead to more sophisticated sequences, modes and scales and the development of all written classical European music. It was the incorporation of Jewish tropes, essentially,  with existing traditional geological sources. The renditions of spiritual hymns sung by The King's Singers, Stand Still Jordan, Steal Away, Down to the River to Pray, Swing Low Sweet Chariot and Little David Play on Your Harp, reminded me very much of Jewish/Christian plainsong incorporating traditional American sources. Sources like folk where it's your folk/family passing down traditions from generation to generation until it's recorded, just like Jewish chant. It's absolutely amazing that lyrical structure has virtually gone unchanged since it's inception, it's second nature for us to communicate in this manner.
Even though the program varied, everything still fit into the framework of the sound. The amazing thing about a cappella music is that you can perform virtually any style and have it remain uniform among other genres in a set. They could of performed Jay-Z and it still would have fit the aesthetics. They did perform Richard Rodgers "The Lady is a Tramp" so that idea isn't so far fetched. With that said, a capella variations are common among all genres of music including jazz, pop, hip hop, and rock. The King's Singers programs are more closely related to Broadway than they are pop but then again musicals at one point and time, especially film, were the most popular form of entertainment in the world and in some countries like India still are. Still The King's Singers repertoire still remains very recognizable with songs like I've Got the World on a String and I've Got You Under My Skin. Maybe not pop exactly but very popular in their day. A good example of pop a cappella group would be Pentatonix.
[youtube=http://www.youtube.com/watch?v=YAuxG3bWgf4]
Their sound isn't exclusively doo-wop, it's just fits their description when you consider the vocal harmony and vocal instrumentation. The only other a cappella genre is barbershop; I would consider The King's Singers more doo-wop because of their ensemble and jazz interpretations. Even the musicals and traditional songs they performed had a doo-wop feel.
The King's Singers appearance is a simile to their sound, stylish and uniform. The six singers performed absolutely magnificently. Their voices are enchanting, Timothy Wayne-Write sets the tone for each song with a soft blow into his harmonica and from there it's all a cappella glory.