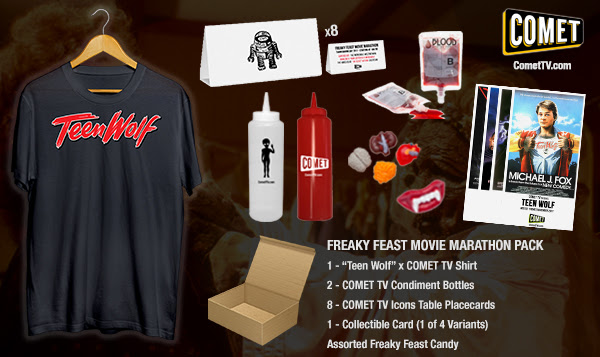 November is here and what better time to think about friends, family and feasts? This month COMET TV is dishing out all kinds of supernatural goodness And TRR would like to give you the opportunity to have a Freaky Feast! The COMET TV November Freaky Feast Pack is perfect for a Horror-iffic gathering!
TO ENTER: Send us your name, location, and the answer to the question What horror flick would you include in your Freaky Feast? to therogersrevue@gmail.com with the Subject FREAKY FEAST by December 5th @ 7:00pm EST
One randomly selected person will WIN this prize pack, GOOD LUCK!
The Comet TV November Freaky Feast Pack has:
1 –Limited Edition Teen Wolf T-shirt: Get ready to Howl! This shirt sports the classic Teen Wolflogo on the front and is perfect for letting your inner freak fly. Whether you're playing basketball or just letting your beard grow in, we got you covered! Literally, I mean… It's a shirt. Hello!
2 –Limited Edition COMET TV Condiment Bottles: How can you have a feast without the accoutrements? These condiment bottles are just the thing for adding that secret sauce at any Freaky Feast!
8 –COMET TV Table Place cards: Haven't you always wanted to tell your friends, "You're a beast!" Now you have a chance, in a nice subtle way. These place cards are perfect for that elegant classy touch at your next Freaky Feast. Featuring aliens, robots, and more!
1 –COMET TV Collectable Card: You'll get one of four collectable COMET TV cards featuring Teen Wolf, Once Bitten and more.
BUT… You can't have a feast without candy! You'll also get an assortment of gummy brains, hearts, livers as well as some candy blood bags and even a wax fang or two!
RULES:
Each household in the US is only eligible to win the Comet TV's Freaky Feast Pack. Only one entrant per email address per giveaway. If you have won the same prize on another blog, you are not be eligible to participate in the giveaway. Entries must be received by DECEMBER 5, 2017 @ 7:00pm EST. Any entry after the time stated, will not be qualified. Winner is subject to eligibility verification. The prize will be sent via FedEx or USPS. No P.O. Boxes please.