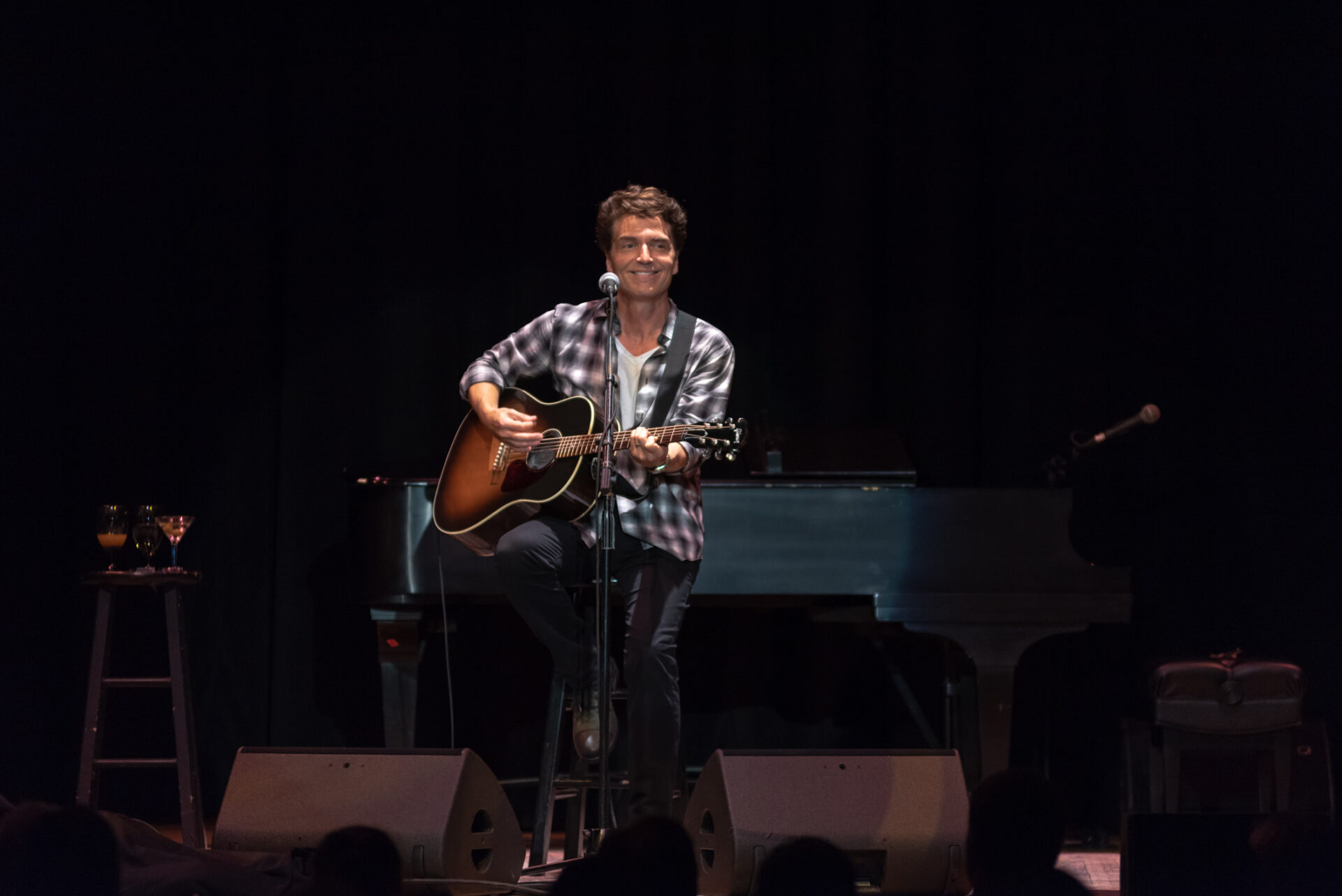 On Friday, June 23, 2018 Richard Marx came to Annapolis MD to the Maryland Hall of the Creative Arts. I have been a fan of Richard Marx since his first album.  Loved his album so much that I had to take the CD back to the store three time to exchange it because there was an issue with the CD. In the late 80's I saw Richard Marx in concert when he opened for The Hooters for a Toys for Tots concert.  I am fans of both, but think I was more excited to see Richard Marx than the Hooters.
When I arrived at the venue, the setup was simple. Two Guitars and a Piano. I was interested in the show to start to see if Richard would be performing solo. Richard came out, and my question was answered… It was a solo performance. He thanked us for coming and started off the show with his song "Endless Summer Nights".
Richard walked on stage with a smile and in a feisty mood and he was like that the entire show.  He loved the energy of the audience.  Hearing us singing part of one of his songs and at the end the song he said he thought we sounded great. Richard mentioned at some venues when the audience sings, they don't sound that great. But we did. He said I could be on The Voice. So, I wanted to go home and call my mom and tell her. Ok he was talking about the audience as a whole. So, no music future for me.
Richard talked about his start in music. His resume is impressive. Backup singer for Lionel Richie. He is also co-writer and / or co-producer of many artists including Barbara Streisand, N*Sync, Sister Hazel, Vertical Horizon, Luther Vandross, and is big into country music as well. Co-writing music with country artists such as Kenny Rogers, Vince Gill, Billy Ray Cyrus, and Keith Urban.
He spoke of Luther Vandross, and how much he thought of Luther. He talked about how Luther lost his father when he was 12 and about co-writing the song "Dance with My Father" and how Luther Vandross got sick soon after recording that song and passed away.
I never knew how many songs Richard Marx has co-writing credits on. But listening to a lot of these songs since I learned this. I can definitely hear Richard Marx signature in the songs. Now when I hear a new song, I will listen to them at times and wonder if Richard co-wrote the song.
Richard also talked about when he was a teenager and his parents took him to a Tony Bennet concert. Going to the show, he said he would have rather have seen Journey live… But once he got to the show, he was amazed. The one thing that impressed him about Tony was at on part of the show, he turned off all the microphones and sang a song without any sort of amplification. Richard said he wanted to do the same thing for us and the amplification turned off and then he was just him and his guitar as he sang Angelia.
I always liked that song, but it was never one of my favorites from him. But hearing him play that song, just his vocal and the guitar and no amplification was incredible.
He played most of this set on guitar. He had a piano on the stage and he played a few songs on the piano but not as much as I thought he would.  One sure that I thought for sure he would play on Piano because the song is mostly keyboard and not much guitar is "Hold On to The Night". But to my surprise he played this song playing just his guitar. The arraignment he had for the guitar for this song was incredible.
Richard mentioned a few times how much he loved this venue. Was his first time performing here. He loved the acoustics and said we were lucky to have such a great, intimate venue such as this with this great of acoustics and the audience had him smiling all night.  From his reactions you could tell how thrilled he was to be performing for this audience.
Richard sounded amazing. His vocals are a bit raspier then they were when he was younger, which is not bad at all. All around he impressed me.
He played many of his hit songs, including my favorite "Should Have Known Better", "Satisfied", "Right Hear Waiting", and "Don't Mean Nothing". Looking at setlist from other recent shows he does one thing that I wish more artists do. He modifies the setlist from show to show, so if you see him more than once, it won't be the same show twice.
It's been almost 30 years since I have seen him live. I was so impressed with Richard that next time he comes to town I hope to see him again.
Rating A+
Photos by Jeff Talbert