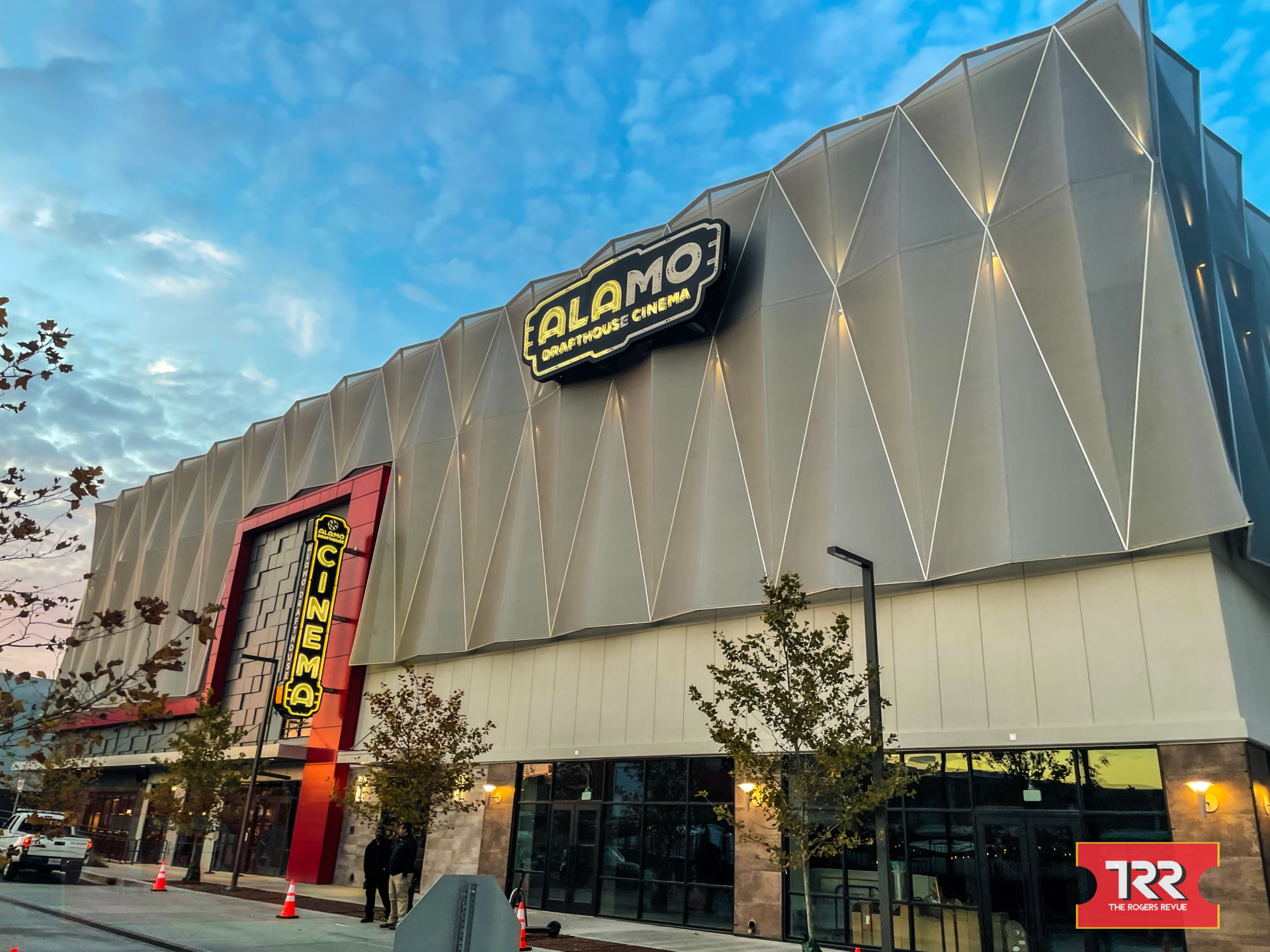 Thursday night in the Nation's Capital and DC proper gets a brand-new movie theatre opening this weekend in the Brentwood neighborhood. The new Alamo Drafthouse DC Bryant Street is third theatre in the DMV, the first in Washington DC. This new Alamo bring some DC Flavor closer to home.
Sitting right next to the Van Gogh immersion experience and right across the Metrobar, this 45,000 sq. ft, nine screen movie theatre is ready to cure Washingtonians of the homesick blues. A few dozen Washingtonians came down to see what this amazing movie franchise brought us before Christmas.
When you walk inside the new movie palace, the first thing you'll notice to your immediate left is an art gallery on two walls that has "The Hall of Presidents" but not just any presidents. The wall contains several portraits of some movie presidents. Examples include President Mays Gilliam (Chris Rock) from Head of State, 26th Century President Camacho (Terry Crews) from Idiocracy, Pres. Tom Beck (Morgan Freeman) from Deep Impact and Pres. Lanford (Sela Ward) from Independence Day: Resurgence. Right in the middle of the paintings, in a corner, stands a statue covered in a long white drape. We'll get to that, later on.
Along with The Hall of Presidents, the people here got a sneak peek of the theatre's offerings including "The Big Show", a premium large-format standard with what it says is the largest commercial movie screen of any theater in D.C. This special auditorium has 217 reclining seats, Dolby Atmos surround sound flowing through 76 speakers and a 4K laser projection system for its 66-foot wide by 28-foot tall screen. Next to the Hall of Presidents is the theatre's stand-alone bar, The Highbinder which takes the look and feel of a political spy thriller. The bar has special drink menu of spy-themed cocktails.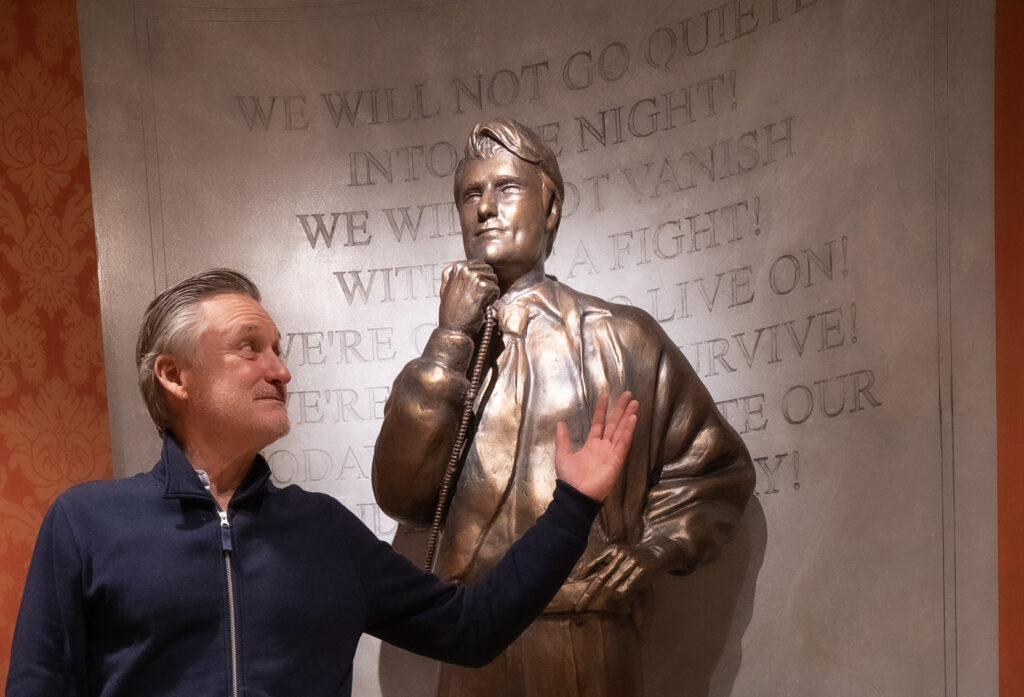 Now to the piece de resistance. What better way to launch a movie theatre in style than to have one of the best presidents on the big screen. The DC Bryant Street theatre was blessed to have not ONLY the founder of Alamo Drafthouse Cinema Tim League join us but also…. President Thomas Whitmore himself, Bill Pullman! Bill, Tim and a couple of the local Alamo representatives helped pulled down the long white drape to reveal a bronze statue of President Whitmore himself in his iconic pose making his famous Independence Day speech etched in the wall behind the statue. After seeing this statue, Bill declared "Mel Brooks in Spaceballs quote me the value of merchandising of Little Lone Starr. Now thanks to my friend Tim League and the Alamo Drafthouse, now I got myself a huge… larger than life statue available for merchandising. Like the plot for Spaceballs 2, Presidents are interested in finding more money." And we couldn't agree more!
After the unveiling of the President Whitmore statue, which is a permanent fixture of the theatre, Tim invited everyone outside for a time-honored tradition of the opening of an Alamo Drafthouse Cinema. They break out the sword for a Napoleonic tradition of grabbing a bottle of champagne and sabering the tops off. Bill had the honor of going first and on the third try, he got the cork to pop off – making the theatre official!!!
I got to talk to Bill after the ceremony and first asked him how does to feel to be at the grand opening. "We have come through dire times with this pandemic situation. I thought the Alamo Drafthouse was going to be one of those difficult to maintain and come back. You know, the theatres have been so dark for so long. Its such a great privilege to know that Virginia and DC is opening up and Alamo Drafthouse and we are starting this next chapter with this opening."
Its been twenty-five years since Independence Day was released and the craziest thing was, they were showing it that morning on HBO and I asked Bill, "Why do you feel that people continue to love this film a quarter of a century later?" He replied "Yeah, it was not supposed to be one of those classics but there's something I think about the nature of storytelling and the fact that it was one of those things that celebrated when humankind comes together. I think that message is always worth telling."
As part of its soft opening period running through December 15th, guests will receive 25% discounts on select food and non-alcoholic beverages while the staff trains and gets up to speed.
Alamo Drafthouse D.C. Bryant Street is located adjacent to the Rhode Island Ave-Brentwood metro station and free validate garage parking is available. Tickets are on sale NOW at drafthouse.com/dc-metro-area