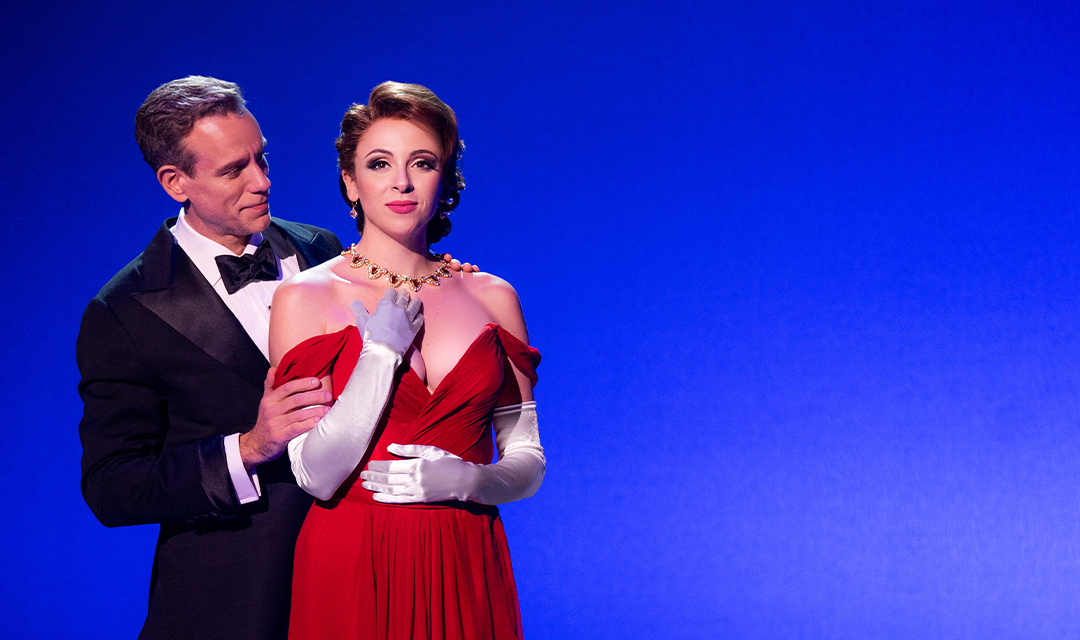 Pretty Woman: The Musical, based on the 1990 hit romantic comedy, takes the story that we grew up and fell in love with and created this beautiful entertaining musical that everyone will enjoy! New original songs by Bryan Adams and Jim Vallance and sensational dance numbers by Tony award-winner Jerry Mitchell, who choreographed & directed the show. This musical will make you believe in love again. You can catch the marvelous show this week at the Hippodrome until Sunday, April 10th!
The movie musical centers around two people from different worlds – Vivian (Olivia Valli), a sex worker whose life has taken some unfortunate paths and Edward Lewis (Adam Pascal), a ruthless businessman who is visiting Los Angeles to close the deal on his latest hostile takeover. After a chance meeting, Edward offers to pay Vivian to serve as his companion over the course of a week, and the two strike a deal after some humorous negotiations. What happens next is no surprise to any other rags-to-riches tale as old as time itself.
Adam Pascal, of Rent fame does an superb job playing Edwards. His killer rocker vocals are a great fit for the tale. He displays the requisite charm and stage presence for Edward and provides great acting chops. Olivia Valli holds her own as Vivian from the first scene to her last. She captures the essence of the  endearing opportunist with a heart of gold. She's quite charismatic, displays first-rate singing vocals, and pulls at the heartstrings of the audience.
Among the highlights of the musical is the multitalented actor that is Michael Dalke who own the stage with every role he's in. He's the "Happy Man" on the boulevard handing out maps of the stars and wanting all of us to keep dreaming and then he shifts to the Beverly Wilshire hotel manager Barnard Thompson who takes special of all his travelers like family including Vivian. You also see him as manager of a trendy Rodeo Drive store where Vivian & Edward does some major shopping. 
Another scene is where Vivian & Edward take in a night at the opera to see La Traviata and he get to hear the voice of a grand diva, the amazing Amma Osei. Osei brought the house down with her stunning vocals that audience cheered after her performance at both during the show and curtain call. 
Outstanding kudos go to Jessica Crouch who plays Kit de Luca, Vivian's sarcastic wisecracking best friend and roommate who display some powerful vocals, and Matthew Vincent Taylor as the comical bellhop. The dance numbers are some of the best scenes I have seen on a stage especially "On a Night Like Tonight," a comedic tango number by the Wilshire staff members, and "Don't Forget to Dance" performed by Happy Man and the rest of the Hollywood Boulevard crowd.
This movie adapted musical takes you back to the 80s and never lets go. People will leave here feeling good, smiling and talking about what they saw on stage. As Happy Man told us, we got to "keep on dreaming"! 
Final Grade: A+++
Pretty Woman: The Musical runs through Sunday, April 10, at the Hippodrome Theatre, 12 N Eutaw St, Baltimore. The show has 1 – 20 minute intermission. For tickets or more information, call (410) 837-7400 or visit https://baltimore.broadway.com/theatre/the-hippodrome-theatre/
Audience members are required to show proof of vaccination (or negative Covid test results). Masks must be worn at all times inside the theater, regardless of vaccination status. Click here for more information about current Covid-19 protocols for all Broadway in Baltimore events.