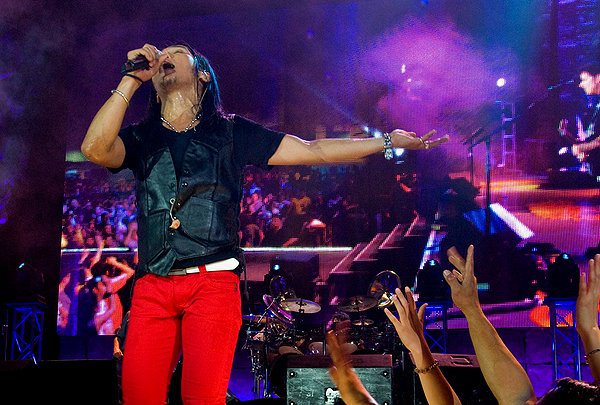 What if you had the opportunity to sing for your favorite band? Not likely; and even less likely if your favorite band just happens to be located conveniently more than halfway around the world. We'll don't stop believing because anything is possible. Don't Stop Believin': Everyman's Journey is the story of Arnel Pineda and his defiant siren call in the face of adversity to end up as the new lead singer of rock super group Journey.
It started off simple enough, Journey needed a lead singer and they didn't have one. You can't plan a tour without one. So they started the tedious process of finding a singer. There were plenty of cover bands and people singing Steve Perry songs scattered all over the internet but none were what the band was looking for. Exhausted the band nearly gave up until they stumbled across a YouTube video of this cover band from the Philippines. The video was of Arnel Pineda and it was impressive enough to contact him about an audition and from there it's all history.
Arnel came from a very modest upbringing. He would sing for biscuits and coffee when he didn't have food to eat. Watching the transition in this film between Arnel's previous lifestyle and the one he would evoke made a very interesting backdrop to some really awesome music. It was also about Arnel's adaptation to life on tour away from his home and his family with the pressure to perform in front of tens of thousands of people. It was great; you could actually see the maturation process between his first ever large scale performance, to performing in front of large crowds on a routine basis. What really stood out in the film was Arnel's character. This couldn't of happened to a more modest and honest guy. You really felt he was deserving of this opportunity and you wanted to cheer him on as you were watching the film.
This was a good movie with a lot of good music. It almost felt as if you were touring with the band Journey. It's a great rockumentary and a must for any Journey fans out there and there are a whole lot of Journey fans. If you happen to like Rock 'n' Roll and you come across this DVD I recommend picking it up.
FINAL GRADE: B+