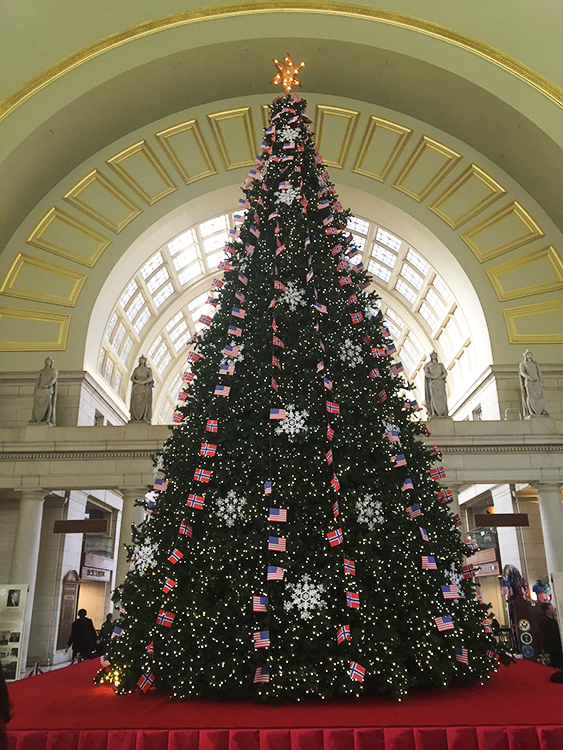 Washington Performing Arts and the Royal Norwegian Embassy, in partnership with the Norwegian-American Chamber of Commerce, join forces to welcome back the annual Norwegian Christmas Tree Lighting on Wednesday, December 8 at 5 p.m. The cherished holiday tradition—which gathers thousands of D.C. residents and tourists each year—returns to the Main Hall of Union Station. The celebration is free to the general public and includes live performances by artists from D.C. and beyond. The event is primarily standing-room-only, although a limited number of seats will be available on a first come, first served basis.

"The Norwegian Embassy is very happy to be able to bring this great tradition back this year," said Norway's Ambassador to the United States Anniken Krutnes. Washington Performing Arts President and CEO Jenny Bilfield echoed the sentiment, noting, "During this holiday season, Washington Performing Arts feels the spirit of generosity and connection so deeply within our community. We are grateful for our long relationship with the Royal Norwegian Embassy, the Norwegian-American Chamber of Commerce, and Union Station. We're also thrilled to have such special guests—diplomatic, artistic, and arboreal—center stage as we light up Union Station!"

Following a one-year hiatus due to the pandemic, the Norwegian Christmas Tree Lighting ceremony will again ring in the season with warm cheer and a celebration of friendship and community. WUSA9's Allison Seymour hosts the proceedings, which include the lighting of a 70-foot tree decorated with some 20,000 lights and ornaments. This year, Secretary of the District of Columbia Kimberly A. Bassett will attend the ceremony. The musical program—which is curated by Washington Performing Arts under the umbrella of its ongoing Mars Arts D.C. initiative, focusing on D.C.-based artists and audiences—includes performances by the D.C.-based classical ensemble C Street Collective, D.C.-based cross-genre vocalist Rayshun Lamarr (who recently appeared on NBC's The Voice), D.C.-based teenage dance virtuoso Matthew Crittenden, and New York-based Norwegian-Brazilian jazz singer Charlotte Dos Santos (who appears courtesy of the Embassy).

Since 1997, the Royal Norwegian Embassy, in partnership with the Norwegian-American Chamber of Commerce, has gifted a Christmas tree to the District of Columbia in recognition of the strong friendship between Norway and the United States, and in gratitude for America's support during and after World War II. The tree lights up Union Station throughout the month of December, greeting visitors to D.C. and honoring a transnational friendship. Washington Performing Arts became a producing partner of the event in 2018, showcasing D.C. artists as part of the program.