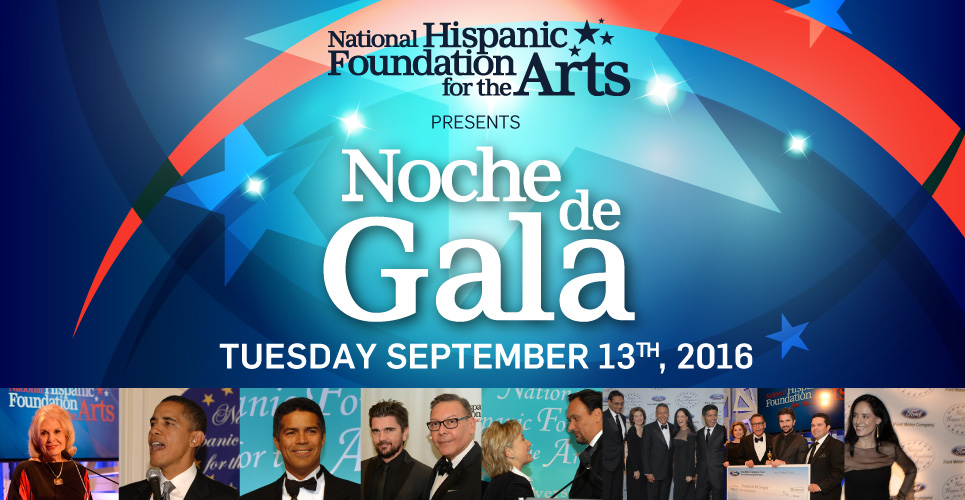 Tonight, we are continuing our interviews took place the 2016 National Hispanic Foundation for the Arts Gala "Noche de Gala" in Washington DC with this year's Horizon Awardees Juan Pablo Raba & Ana Villafañe.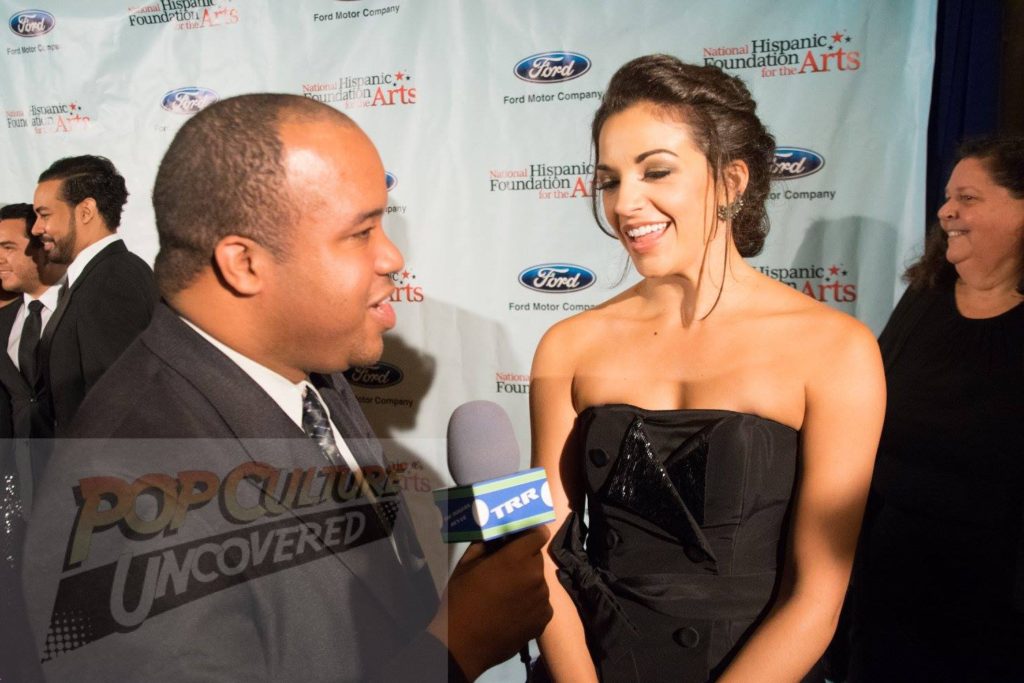 Ana Villafañe is a the broadway sensation who stars in the Broadway smash "On Your Feet".  Villafañe plays pop icon Gloria Estefan and for her efforts, she was one of this year's Horizon Award winners.
DR: How does it feel to earn the Horizon Award tonight?
AV: Oh my God, it's such a huge honor just because this year, more than ever, I'd felt really the pride in my culture and I get to celebrate my culture every night onstage on Broadway. And so now to be here tonight with these incredible artists and to be recognized as one of them is a huge milestone. So, I am very excited!
For those who have not heard of "On Your Feet" What is it all about because I want to see the show?
"On Your Feet" is a Broadway musical about the life of Gloria & Emilio Estefan. I play Gloria Estefan, who is of course an icon, and it uses her music. So it includes all of her hits that you want to hear but it's a really, really great story about two people who believe in each other and believe in themselves enough to be successful without sacrificing who they are in the process. So it's beautiful, it's amazing to be part of.
What is it like to work with Gloria Estefan and Emilio Estefan since you're playing Gloria? That must bring some joy into your life.
Oh man, it is the greatest joy to be honest. It's an honor and being chosen by them. The audition was terrifying.
Really? How terrifying?
I mean, I had to sing for them. Her songs to her face which was crazy.
Do you remember the song that you sung to her?
Yes, I did "Anything for You" and "Rhythm is Gonna Get You"
Nice, I would love to hear some of that but I don't want you to strain some of your voice.
Thank you, I am actually missing a show to be here tonight which is crazy. So it's like when you know that right now my cast is onstage living their lives and giving it all and telling that story. It's very cool to be out here representing.
So, I got to ask what is your favorite Gloria Estefan song?
Ohh, that's so tough. I would say tonight my favorite Gloria Estefan song is "Get on Your Feet" because this room is full of people who actually did that who made it happen for themselves and who ae living it like these people would all kill it. It's very cool.
If you weren't playing Gloria Estefan, what one Broadway role would you love to play one day?
I would love to play Evita.
Why Evita?
I mean she's a badass. She's a strong woman. She's sexy and she's powerful and smart and she gets the best songs.
If you can give them a piece of advice to follow your dreams, what would you say?
I would say "Don't Take No for an answer." I would say know who you are an own it and find the confidence from somewhere whether it's from your family, from your friends, from within yourself. Find that thing that makes you, you and stick to it because it's what gonna get you through. When you are trying to front and be someone else, that doesn't work. You need to be true to who you are.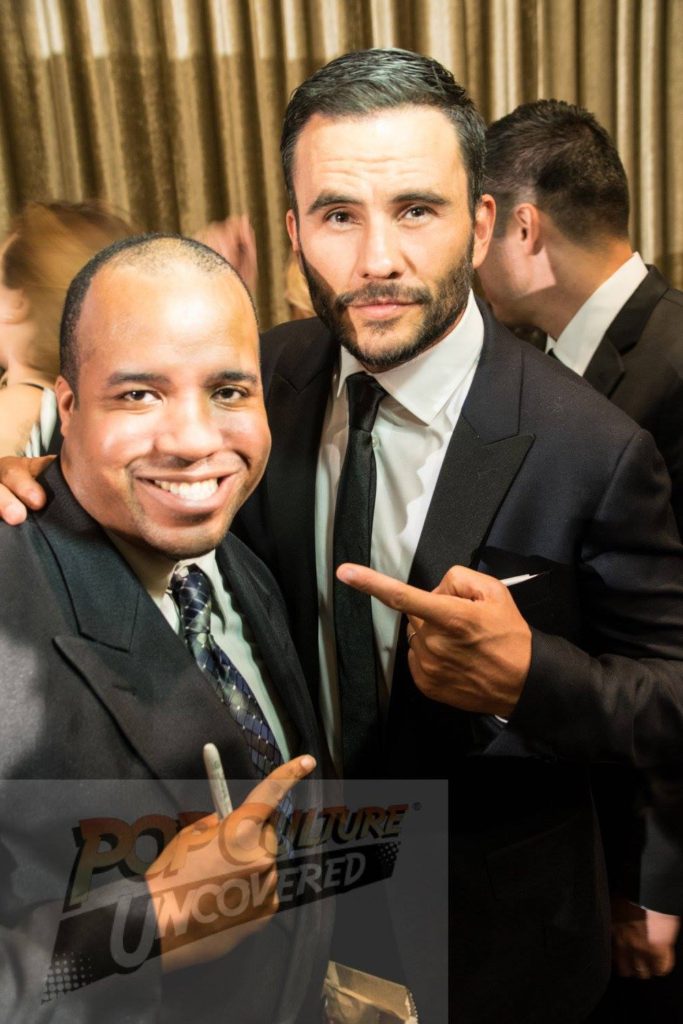 Next, we talked to Juan Pablo Raba! Reba has recently featured in Netflix's Narcos, playing Joey Gutierrez in "Marvel's Agents of S.H.I.E.L.D" and feature film "The 33". Soon, he will be joining the ranks of the Navy Seals in the upcoming History Channel series "Six".
How does it feel to earn the Horizon Award tonight?
First of all, I feel very humbled. I really did not expect something like that. It took me I think nine years to finally be able to move to the United States to follow and pursue this dream of working in a Hollywood production, of working in shows and movies. So here I am taking big little steps. So, receiving this award, it just gives me so much energy and strive to keep on going further.
You played Dario Segovia in "The 33" just last year. In fact, I talked to the director and the cast last year. It was amazing powerful film. What are some of your memories in that wonderful film?
Well, I have to say that Mexican director Patricia Riggen did a wonderful job by uniting the whole Latin America in the way of that film. We had people from the United States, from Mexico, from Colombia, from Brazil, from Argentina; that is very exciting. I think it's part of the new, let's say Hispanic or Latino awareness. How we start showing ourselves in the world and how the world perceives us. The 33 is a magnificent story of hope and human faith.
So what do you think the industry needs to increase their diversity among Latino men and women actors, producers, writers and so forth?
Just pay attention. That's all you have to do.
I heard that you're going to play a Navy Seal in the upcoming History Channel series "Six". Can you tell us about that?
Well, that is something that makes me very proud actually. Can you imagine that I'm a Latino? I'm a Colombian guy who's playing a Navy Seal. Something that makes the United States proud of its military. Playing a member of the Seal Team Six which is the most sophisticated, most specific military team in the world. That's something that makes me very proud. We went through some groundbreaking training. They put us through hell and high water to make it so.
How much training did you have to do for the role?
I did a lot of training for the role, I tell you. They put us through a very intense week at a place called "SealFit" which is run by ex-Navy Seals. Then, we did another week of shooting many weapons. Then, we did another week of tactical training but the whole shoot, per say the whole training we had carry real plates, real bulletproof vests, ballistic helmets and real weapons. It was hard.
One more question, if you can tell the readers to keep dreaming
Pay attention. Go for it, just go for it. Put your mind, body, your heart, your faith into what you want to achieve. Be honest. Be hard working. Strive through every day. Push through the difficult days to get there