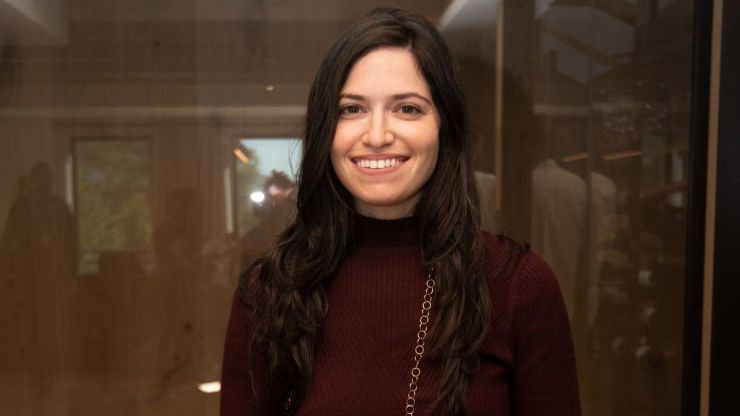 On this edition of THE INTERVUE, we are going to take a trip back through time to a place that brought people together for food, fun and conversation. We are talking about the latest doc to hit the screens, The Automat
Documenting Horn and Hardart's iconic Automat, one of America's original and most popular restaurant chains in NYC and Philadelphia.
I had the honor of talking to first time director, Lisa Hurwitz about the research and the once in a lifetime interviews that went on to making this documentary.
Lisa, tell us how did the ideal of bringing the Automat to life.
I was studying food; I was hosting a public access television show that was a cooking show. I was avidly reading the New York Times food section every Wednesday. And I just loved eating in my school cafeteria, I thought it was just such a positive space. I love the communal aspect of it, and how I could just sit down wherever I wanted to. I could talk to whoever I wanted to invade with, you know, talk to me. And so, I started researching cafeteria history. And then that's how I stumbled upon the automat in my school library.
That's very fascinating especially knowing that the place, Horn and Hardart, is a place that everyone was welcomed. No matter what their age, race, religion, influence, or their political backgrounds. They were locals or tourists, and they were immigrants. How do you think that the chain achieved such a wonderful harmony than the rest of the world in general, that has been unable to reach at the time during that period?
Well, the Automat was not the only restaurant chain in New York and Philadelphia that was so integrated. But they, first of all, they really appealed to immigrants, because it was so cheap. And also, it was, not necessary to speak English. It was just so kind of exciting because of the mechanized nature of the place, in terms of the cafeterias are really the spaces where you see the genders mixing.
So, when an order was among so many cafeterias in New York City, but because they incorporated the automatics, and because they just became these fixtures of popular culture, their cafeterias kind of became like the face of cafeterias. They were not alone. They were not singular, but because they just knocked it out of the ballpark, they were so good at what they did. They provided something that was so above and beyond anyone else. They kind of became the face of this thing.
They started to represent diversity in at their restaurants, because they were the kind of the most famous restaurants. They were not the only one, they were like the Starbucks or the McDonald's of their time.
You're right. Based on what I read, they served over 500,000 customers in a day, especially in the 1940s before all the fast-food places came about that we know and enjoy today. I heard that they're still popular in some parts of the world. Do you think that automats could ever have a revival here in the states?
Well, for sure, the technology that we're seeing is being integrated into restaurants, all the time in every city. You go up and you don't need to interact with the server and help yourself. Tap your credit card and then the food will come out of a window but in my opinion is not the same thing as the Horn and Hardart automat that was like going back to my story in my school cafeteria. It was such a warm welcoming space where you could take your time and you know, feel good, talk to people and sit together and have something really.
You know, at my school it wasn't the highest quality as the Automat. You were getting high quality for a really low price and high school you were getting a really low price; you were getting variety. You know that the automat was just the best of everything. I don't think that it's possible for the automat to make a kind of a literal comeback, but I do think that the spirit of the automat I see it pop up in my everyday life in you know random, random places.
I just see something that just, you know it's warm and fuzzy. And then it makes me think, "Oh, that's like an automat," even though it's not like an automatic, but even something like the gym at the Jewish Community Center or just like just a café that has such a feeling to it where people go to hang out like the Rose Main Reading Room at the New York Public Library or even the subway.
I love the communal nature of it. And we're all kind of in it together. It's just like how eating is an essential human need. I think there's hope for businesses to offer things that are good for their customers and to provide things that are innovative & joyful. I don't hope for a more literal automat to come because of this film, but I hope for things like businesses provide something wonderful and for people to be kind to one another.
Well, I can see that. Another thing that I enjoyed about this film, and it was a bit sad that you interviewed three legends, you were able to talk to Carl Reiner, Ruth Bader Ginsburg & General Colin Powell, and they passed away within the last few years. And I'd like to know what it's like to get to speak with those special people about their love and their connection with the automat?
Well, one thing is that I never really felt intimidated by them. We sort of had a very kind of natural conversation, and it's the end of the day, they're people just like us, and possibly that. I don't know if that had something to do with why the interviews went so well. You know, I didn't approach it, like, "Oh, gosh, I'm about to go talk to a legend." It was just, they were happy to do it. They see it as "I'm providing something good for them." I believed in the film, and I know that for all of those people, it was sort of like a mutual favor, because the automat is one of the most, I don't know fondly remembered things I've ever encountered in my whole life.
Probably the most fondly remember thing I've ever encountered, like, maybe the way people in their baseball or sports teams or something, you know, it's like, we're on that level. But to be kind of remembered forever now in this film, it was it was a great pleasure to speak with them. And I'm forever grateful. Honestly, I know Mel (Brooks) is because he's alive to tell me like how great it is and same with Elliott Gould. If the others were alive, too, I know that they would say thank you also, and they would be really pleased because this is such a wonderful way to be remembered. It's one of the most positive topics you could make a film about. It's such a happy one wonderful, crazy thing. So, that's also probably why it was possible to get such luminaries to be in it.
So, I understand that the last automat in New York close just before you came to New York, if you had a chance to try one of the foods or more than one from the Automat, which one would you have chosen and why?
You know, I'm kind of a real sucker for kind of the things that they're best known for, macaroni and cheese & Baked beans. Otherwise, I would be all on that coffee.
I love mac and cheese. And I haven't found a mac and cheese I did not like yet.
You know, I was I was amazed. I was at the Rock and Roll Hall of Fame two days ago; I was at the Cleveland International Film Festival and in their little food court. I ordered a mac and cheese there; it was $6.50 for the big macaroni and cheese. It was unbelievable. You can't get you can't get that in New York City.
And how did it taste?
Oh, it was so good. They put they put a lot of care into it. I watched them. They added in the cheese sauce and the breadcrumbs on top.
And then the next week, to be at the Rock and Roll Hall of Fame. It's just you know, it's kind of amazing all the places that the Automat is taking me to. Every place, there's always a lot of people in the audience no matter whether it's New York or Mississippi or Cleveland or Seattle, there's always a lot of people in the audience who have been to the automat.
Well along that line. Mel Brooks said, "I didn't realize how good it was until there were no more automats, I missed them." Why do you feel the film resonates with people who never been to an Automat like me?
Well, the automat is kind of just it can be a substitute for anything like this film. It's about a restaurant, but there's all these things around us in the world that are places that we care about that are no more things in our lives that you know, are important to us now. And that one day may be gone. And we don't know. So, it's universal in the sense that you didn't have to go there and the themes of these films of the film, discovering something wonderful, and then losing something wonderful, and the world changing around us.
We managed to make a film about something greater than just the automat, we made a film about life. I think that's why the film is resonating with people, it helps with all the have the celebrities, and the restaurant becomes a character that has a great story, and it was likable. But, you know, at the end of the day, the film resonates. It's about something more than just a restaurant, it's about who we are, our dreams, how we've changed, our loved ones who aren't with us anymore. And some hope for what's in store in the future, and some hope for getting back to some of these values of the automat are harder to find now, but you know, there's hope.
Since this is your directorial debut. And I've always asked this question of first-time directors, what is one or multiple lessons that you learned? Now you will take into your very next project as a director.
I'd say that my number one lesson has to do with picking a strong subject, because it's hard enough to make a film. This subject opened doors for me and that feels good. Some filmmakers want to make something for themselves, and they want to do you know, but the thing is, for me, I'm also kind of a little bit of a business minded person. I'm a little bit practical. I want to be successful in what I do.
I think that's something that I'm always going to keep in mind, especially when it's my own because this is my project from start to end, and I still own it. So, yeah, especially in those situations, strong subjects.
The Automat is playing in select theatres NOW. To find a screening near you, go to http://automatmovie.com/