Joshua Bell and Academy of St. Martin in the Fields of Bethesda
2 min read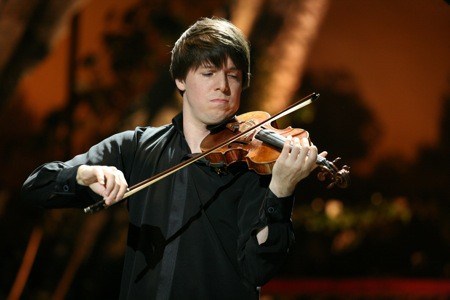 The Strathmore is the appropriate venue to capture the ever so pervasive grand enchantment of Joshua Bell not L'Enfant Plaza metro (the acoustics are a lot better). Joshua Bell takes the leader's chair in Academy of St. Martins in the Fields, a renowned ensemble of London's leading musicians. Being Joshua Bell is one of the most extraordinary violinists of our time this event has the makings of a masterpiece.

Bell has been playing violin 30-plus years and he hasn't lost an iota of enthusiasm or passionate flare. Playing mostly an all Beethoven program he opened with the Coriolan Overture. The sound was pristine filling the entire hall with subtle beauty. He then began the Violin Concerto in D major. Bell began this by conducting the traditionally conductorless Academy of St. Martins in the Fields. Rhythmically swaying his violin bow waving his arms aggressively up and down. His trademark violin solos were captivating and intriguing. Playing an Allegro ma non troppo, Larghetto, and Rondo each piece had its own unique sound. The Bell violin solo through Rondo was particularly captivating and it received a standing ovation.
After intermission Joshua Bell then took the leader's chair. He paused briefly before starting Symphony No. 4 in B flat. The audience still getting settled some people feeling the need to loudly clear there throat apparently! The first piece was an Adagio – Allegro vivace. It was soft and relaxing before really picking up tempo. It was through these pieces a flute soloist William Bennett performed. It's interesting he plays a unique flute 'flauto di bassetto', which extends the range of the flute down a minor third creating intriguing flute sound. The Allegro vivace in Symphony No. 4 gave me goose bumps, the presto along with the intricate violin solos were amazing. Following these astonishing pieces there was a pause followed by a very long standing ovation. So long that Joshua Bell came out on stage smiled and held one finger up indicating he'll do one more. It was worth it, because for his encore he took a break from Beethoven and played Mozart's Symphony No. 25. This piece was absolutely incredible. One of my personal favorite Mozart compositions and it was rendered masterfully to perfection. Look I feel no way entitled to revue the likes of a Joshua Bell. From my perspective maybe perfection comes to mind just like a Mozart or Beethoven composition. I wouldn't change or rearrange any part of the concert. I my eyes it was absolute perfection.
GRADE: PERFECT