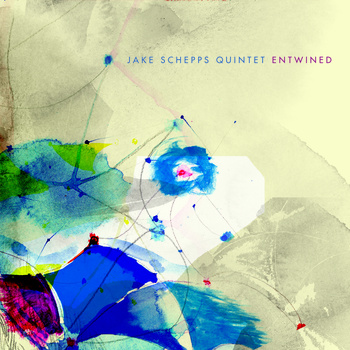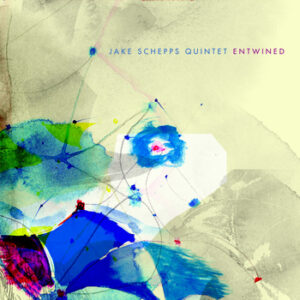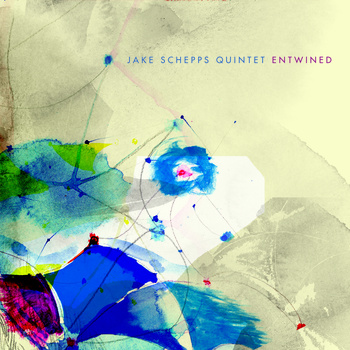 Entwined is the latest album release by banjo player and arranger Jake Schepps. It's a follow up to his acclaimed 2011 release An Evening in the Village: The Music of Béla Bartók, a bluegrass interpretation of classically composed sketches. The follow-up album Entwined builds upon the same Appalachian inspired classical approach but with originally composed material.
Entwined consist of the traditional string band arrangement of banjo, mandolin, guitar, violin and bass. The quintet features: Jake Schepps (banjo), Matt Flinner (mandolin), Ross Martin (guitar), Ryan Drickey (violin) and Eric Thorin (bass). I always found the correlations between classical and roots music fascinating. Twentieth century composers such as Richard Strauss, Leonard Bernstein, Russell Peck and Béla Bartók were known for absorbing traditional folk music into their scores, orchestras among the most often perform a lot of these scores today. It's an adventurous combination thriving in the pioneer spirit.
Where Entwined pioneers is in creating long-form multi-movement music for string band. Arranged under the tutelage of New York based post-classical composer Matt McBane, self-described miniaturist Marc Mellits, polymath composer and guitarist Gyan Riley, and renowned mandolinist Matt Flinner; this album culminates through intricacies and form. The album opens with eight miniatures composed by Marc Mellits entitled Flatiron. It features some wildly strum mandolin and guitar rhythms accompanied with soul tingling banjo and inspiring violin. Tracks like Tension Hoop are a lively start to tracks with a more serene development, like Purfling. In Purfling, you can really feel the spirit of the Appalachia. The slower tempo accentuates the beauty of the banjo and violin. Of the eight Flatiron miniatures, the finale Dreadnought really has a fun rhythm a displays some exceptional solo instrumentation.
The five-movement composition Drawn composed by Matt Macbane; follows a distinct jazz form. In the opening track Flourish, a upright bass rhythm creates an abundance of space for other instruments to communicate. Tracks like Interlude and Entwined have a developmental quality similar to free-form jazz. In the finale Ground, the bass really adds depth and direction. The vibrations ring out answered by an optimistic banjo and violin.
The last multi-movement piece Migrations by Matt Flinner, it's just that, a migration of sound. It stretches acoustic boundaries through migrating expressions. The album ends with Stumble and Smooth by Gyan Riley. It's features some interesting percussion and tempo techniques. This song really embraces the jazz form again focusing on a bass driving tone setter.
Entwined is modern bluegrass music by the fact that it's original. My favorite tracks all derived from the final movements of each piece. The rhythm and volume increase just like an exciting finale in a concerto for orchestra. With that, Entwined definitely succeeded in its concept of long-form stringband music. Although, I thought the miniatures from Flatiron felt more like individual tracks than a long form score. Still, they are enjoyable tracks with immense variety and some modern concepts; like Planetary Tuners. It's pure stringband music, an all instrumental album. In all instrumental music the form of the sound is emphasized. In album Entwined there was an emphasis on form, so it makes sense. There's a calm subtlety that explodes with heart in this album; a reflection of spirit of bluegrass at its finest.