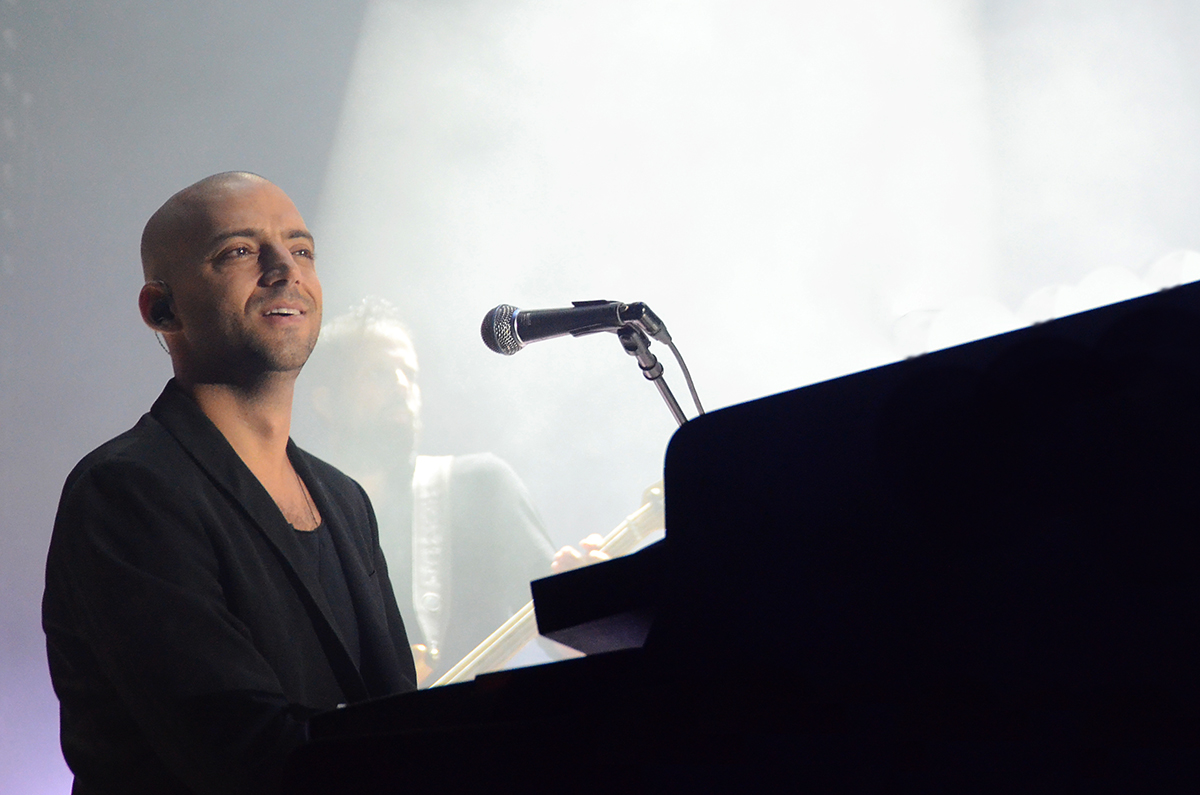 Idan Raichel is described as a "global music icon who has brought his inspiring example and soul-stirring music to some of the planet's biggest stages." Raichel, who has lead The Idan Raichel Projects for the last fifteen years, is set to give a solo piano performance at the Strathmore. His concert, titled "Idan Raichel: Piano Songs," includes many of his songs and the lyrics, as well as the stories behind them. I spoke with Idan about his upcoming concert and his body of work and he gave interesting and thought provoking answers.
According to your website, your "spectacular live performances have enchanted audiences worldwide." What can your fans expect to see when they attend your solo performance?
After travelling with The Idan Raichel Project for the past 13 years, it's the first time for me to go solo onstage. The Idan Raichel Project was the joint project of over 150 musicians and singers that I brought together. The youngest is 16 and the eldest are 83 and 91 years old. All of them came from different parts of the world. It was an interesting experiment, musical experiment. How can I bring all these music influences, all these different backgrounds, how can we really build bridges between culture through music? For people who follow The Idan Raichel Project for the past 13 years, it will be interesting to come for a solo concert where I feel I invite the audience to my living room; to tell them the story of The Idan Raichel Project, the melodies, in the most intimate ways and to tell them the stories behind the songs. It's almost like "meet the artist" special concert. It's an opportunity that will not come back because the only time I took these two years for playing piano solo, and after that I'm going back to my band.
What was the inspiration behind your upcoming solo performance?
The inspiration was many solo concerts that I've seen throughout the years. Even Dave Matthews from Dave Matthews Band, to see him going live with only a guitar in Radio City, New York. Even theater actors that just went onstage and did a monologue for an hour and a half. I was always fascinated by the ability of an artist to catch the attention of the audience in a very intimate way, not to be dependent on full production and set. Just to feel that you invite your audience to an evening in your living room, so this was the inspiration and I was very lucky to be able to do it in 2016 and 2017, and to finish the tour here in February 2018. I was not even sure that the audience would even come to the concert. The promoters will pitch in and invite me so I feel very lucky to be here.
In regards to your upcoming performance, what is the one thing you are looking forward to?
The real intimacy is… my sign for this is that we made it, that someone will raise hands in the concert and want to ask me questions, or ask to play a song for him or something like that. When you are able to create it, you're not just playing for the people, or the people are not just listening, but they really feel they are in this intimacy that you created. If they really feel open in your living room, then I will feel that the concert was a success.
Who was your musical influence?
My musical influences were a lot of folk artists. But not only folk artists. It can be world music artists from all over, but it can also be country music from Texas, or Bob Marley who became the soundtrack of Jamaica. I was always fascinated by artists who became the DNA of the place that they came from.
You've worked with Alicia Keys, India.Arie, Dave Matthews, etc. Is there anyone you would like to collaborate with in the near future?
For me, every collaboration starts from zero. It doesn't matter if you're famous, or if it's the first time for you next to the microphone. One thing I can tell about the names you have mentioned; they are so humble, and so modest. In a way, when they are getting into the studio, you don't feel the big success that they carry on their shoulders. They're coming from pure love to music.
Do you have any future projects in the works you'd like to talk about?
I'm working these days with Ines Juarez, the Cuban artist who is a beautiful poet and she writes beautiful lyrics, and she's actually writing the soundtrack of Cuba of this generation. I'm also working on The Idan Raichel Project that I've mentioned before, and we will go back on the road June 2018. And the biggest project that I have is to be a good father to my daughters.
You can catch his show at the Music Center at the Strathmore in Bethesda, MD. February 22nd. If you want to keep up with his touring schedule, check out The Idan Raichel Project's website at http://idanraichelproject.com/en/.