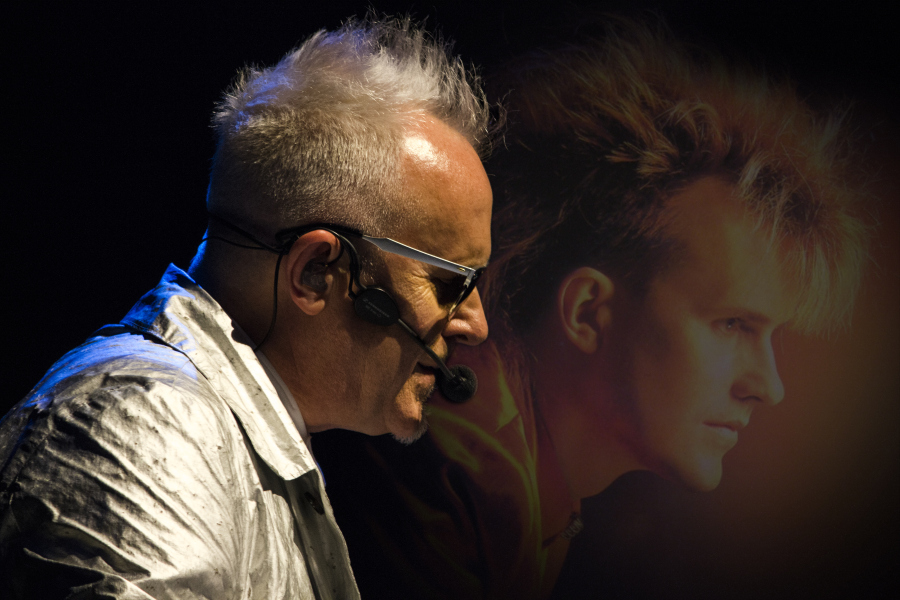 TRR Revue and Photography by: Alan Duckworth
It was the start of the 2013 Regeneration Tour which was suppose to feature Howard Jones, Men Without Hats, Information Society and Erasure's Andy Bell in an all out 80's pop fest. Instead we only got Howard Jones, who is all I really wanted to see anyway. Men Without Hats and Information Society would have been nice but I wasn't overly disappointed; fortunately Andy Bell cancelled. No disrespect to Andy Bell but not my cup of tea. I was all about Howard Jones! Ever since I first heard songs like "Things Can Only Get Better", "Like To Get To Know You Well", "Everlasting Love", "The Prisoner" and "What Is Love?" I've been infatuated with his style of music making. Monday night at Howard Theatre I got a chance to see that style on display.
There's something about new wave 80's music. It's a very distinct sound that kind of disappeared for a couple decades only to make a ferocious comeback. I stumbled across a host of new bands making 80's sounding synthpop; bands like "Tesla Boy", (Performing at U St. Music Hall September 19th!) "Future Cop", "Miami Horror", "Chromeo" and "Anoraak." The whole electro music genre is 80's themed, there's an art to recreating retro audio visual aesthetics. Take Daft Punk's new single "Get Lucky" featuring Pharrell Williams for example. Musicians like Howard Jones paved the way for modern music, he really was ahead of his time.
To compare Howard Jones to any other 80's electronic musicians wouldn't be fair. Howard has his own style. It's a very accepting sound. Inspiring lyrics with a positive flow. It's feel good music! Music has the uncanny ability to pull from a wide range of emotions. If you had the choice to convey those emotions through sound wouldn't you want to sound happy? You can ask anybody what the ultimate goal in life is and 99% would say, to be happy. That's Howard Jones literally in a nutshell; electronic bliss! Every one of his songs has an uplifting sentiment. That was the vibe and feel of this concert. It really created a great atmosphere and ordering another round was that much easier a decision.
The set up was all digital. His keyboards were in a hexagonal formation like the cockpit to some sort of spacecraft. It was awesome! Hearing him rip keyboard solos was like listening to Mega Man on a Nintendo cartridge. Although his lyrics and themes are traditional in a sense his display is very futuristic. It was like a live interactive multimedia art installation. My favorite song from the whole night had to be "What Is Love?"; it sounded magnificent! You can throw in "Like To Get To Know You Well" in there for good measure. He performed a whiskey bar piano version of "Everlasting Love" which was totally unexpected. It was a great bar song.
Howard's set was a little short but other than that everything was great! He didn't disappoint by any means. His lyrical transitions are fascinating and there were plenty of good ones. Howard Jones is amongst the upper echelon of 80's new wave musicians, that's enough in of itself. He puts on a good show!