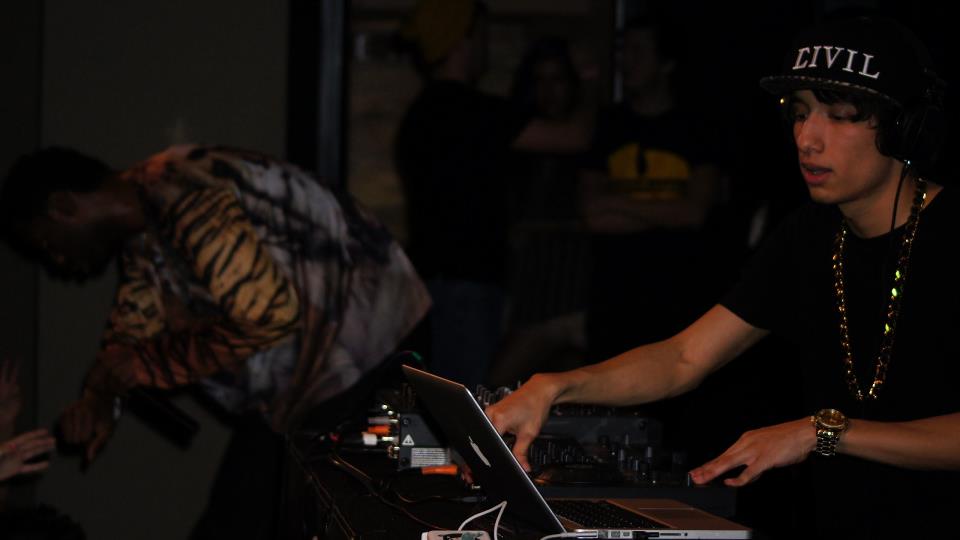 February 9th  2013 is a date to remember for The Howard Theatre for featuring their first ever Dubstep Event. Standing outside of The Howard, I am watching colorfully dressed patrons gushing through the doors frantically with their tickets in hand or to purchase tickets. People seemed extremely excited to be a part of the night and for what is to come. I came across many people in costumes, colorful attire, body painting and some even in electric lighting to make sure they would be seen. There was a live band playing along with a DJ playing together in a perfect harmony.
Everyone inside was super happy for obvious reasons aside for the night's line up. Howard's guest DJ pumped Trance, Electro House, and Dubstep through the speakers getting everyone in the mood and amped for inevitable bliss of music ahead. People were busy raving with their glow sticks and other light sources. While others started warming up dancing to the music with friends and loved ones. Around 11pm, the emcee announced Crizzly to center stage with the audience chanting his name. Crizzly took stage with his hype man preparing the crowd for complete craziness. This craziness evolved just under a few minutes as he mixed popular Hip-Hop tracks from Asap Rocky, 2Chainz, and many others.
The Hype man was quite the showman himself as he engaged the crowds throughout the night, from dancing; to getting girls to dance up on stage, and getting a few to jump off stage to crowd surf. The Hype man took photos with a few audience members' cell phones. Some people came up to him for Birthday shout outs. One guy in particular admitted it was his birthday too. It didn't take the hype man much convincing to get the young man to also jump into the masses and crowd surf for an unforgettable birthday memory. This Hype man reminded me of some of the best hype men like Freaky Tah from the late Lost Boyz, or more recently today, Tree J from Mac Miller's crew.
Crizzly kept his composure all night like a pro doing his thing all night sweating the gold off of his necklace and keeping the crowd of their feet jumping to joy of his hit remixes. The vibe was electric, reviving any deadbeats under the roof. At one point, the hype man jumped into the audience and began dancing. Getting others more involved with the festivities and eventually making his way back to the stage with Crizzly. They finished their set leaving and everyone satisfied, but wondering if anything would beat or match the performance? Crizzly came out after the curtains dropped and passed out stickers from the edge of the stage with his bear logo on it. Everybody rushed the stage to get their hands on some.
EOTO finally made their presence with what looked like a giant open lotus, lit with a colorful array patterns and designs being projected on them like a silver screen. Travis and Hann amazed me with their ability to play live instruments and lacing them with drum patterns and live loops. I never in my life heard anything like it. Although I was not familiar with them before, the crowd seemed to respond very well to their stage presence. These guys played for hours with no break in sight. Travis pulling out the bass, guitars, keyboards. Near the end, Hann played what looked like a conga drum and he beats it like it owed him money! Their vibe was refreshing and yet familiar to my ears as they had hints of Dubstep but without making them Dubstep.
EOTO had a crew of Video Jockeys that portrayed 3D art and animation in unison with the music and breath taking laser shows that mimicked the feel and bass of making musicgasm love to our ears