George Thorogood and The Destroyers & Brian Setzer's Rockabilly Riot at Pier Six Pavilion
4 min read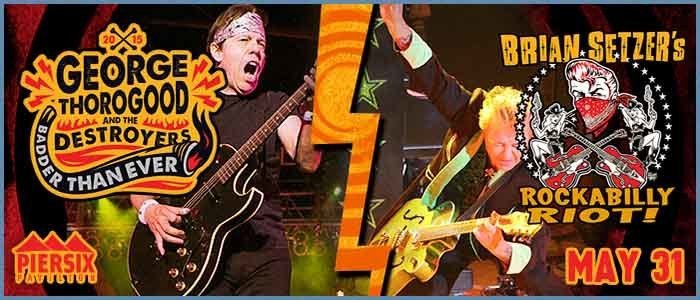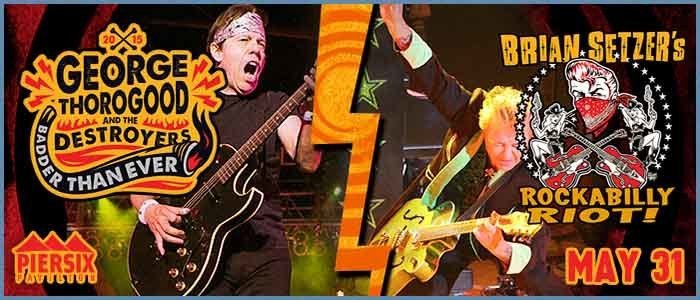 Playing the Pier Six Pavilion, MAY 31st. Doors open at 6:00pm, showtime 7:30pm
Tickets: $75 Gold Circle & Lower Pavilion. $60 Middle & Upper Pavilion. $35 Lawn. Tickets on Sale FRIDAY FEBRUARY 13th at 10:00am Click here to buy!
In 1973, a barely-out-of-his-teens Wilmington guitarist piled his gear into the drummer's Chevy van to play their very first gig at a University of Delaware dorm. More than 4 decades, over 8,000 live shows, and some 15 million albums sold worldwide later, that same maverick guitar-slinger is still making electrifying music, still thrilling audiences, and still the most bad-to-the-bone performer in rock.
It's 2015, and George Thorogood & The Destroyers are Badder Than Ever. Ultimately, the 2015 Badder Than Ever tour is 50% celebration, 50% declaration and 100% Thorogood throwdown. But after 4-plus decades as one of the most consistent – and consistently unique – careers in rock, can a guitar-slinger still at the top of his game choose a moment that brings it all home? "Stan Musial was once asked, 'What was the greatest day of your career?' And Stan said 'Every day when I walk onto the field is the greatest day.' I feel the same way," George says. "Every night when I walk out on that stage is the highlight of my career. I hit that first chord, the band kicks in, and we hear the audience respond. That's the rush. Over 40 years into this, and every night that's still the only moment that matters."
For George Thorogood & The Destroyers – and for rock & roll – it doesn't get badderto- the-bone than that.
"Gonna rock a little bit. Gonna have a little fun." — "Let's Shake"
That's how BRIAN SETZER starts his new album ROCKABILLY RIOT: ALL ORIGINAL (Surfdog). But let's correct something here; these 12 tracks rock A LOT. And they're A LOT of fun–which is something the three-time Grammy Award winner has shown he knows how to do very, very well during the nearly 35 years since the international spotlight first shined on his skills as a singer, songwriter and guitarist, not to mention his impressively coifed pompadour.
ROCKABILLY RIOT, of course, finds the iconic SETZER back in his "native habitat," sounding like the same pompadoured kid who came out of Long Island more than 35 years ago. But rest assured there's more to come, in directions even SETZER himself probably can't predict. "I gotta tell ya, to me it's all just music. I know people like to put little labels on things so they can make it tidy. But for me, it all comes from the same mom and dad, which is the blues, jazz, country, swing, rock 'n' roll. There's no reason to be limited to just one thing, ever.