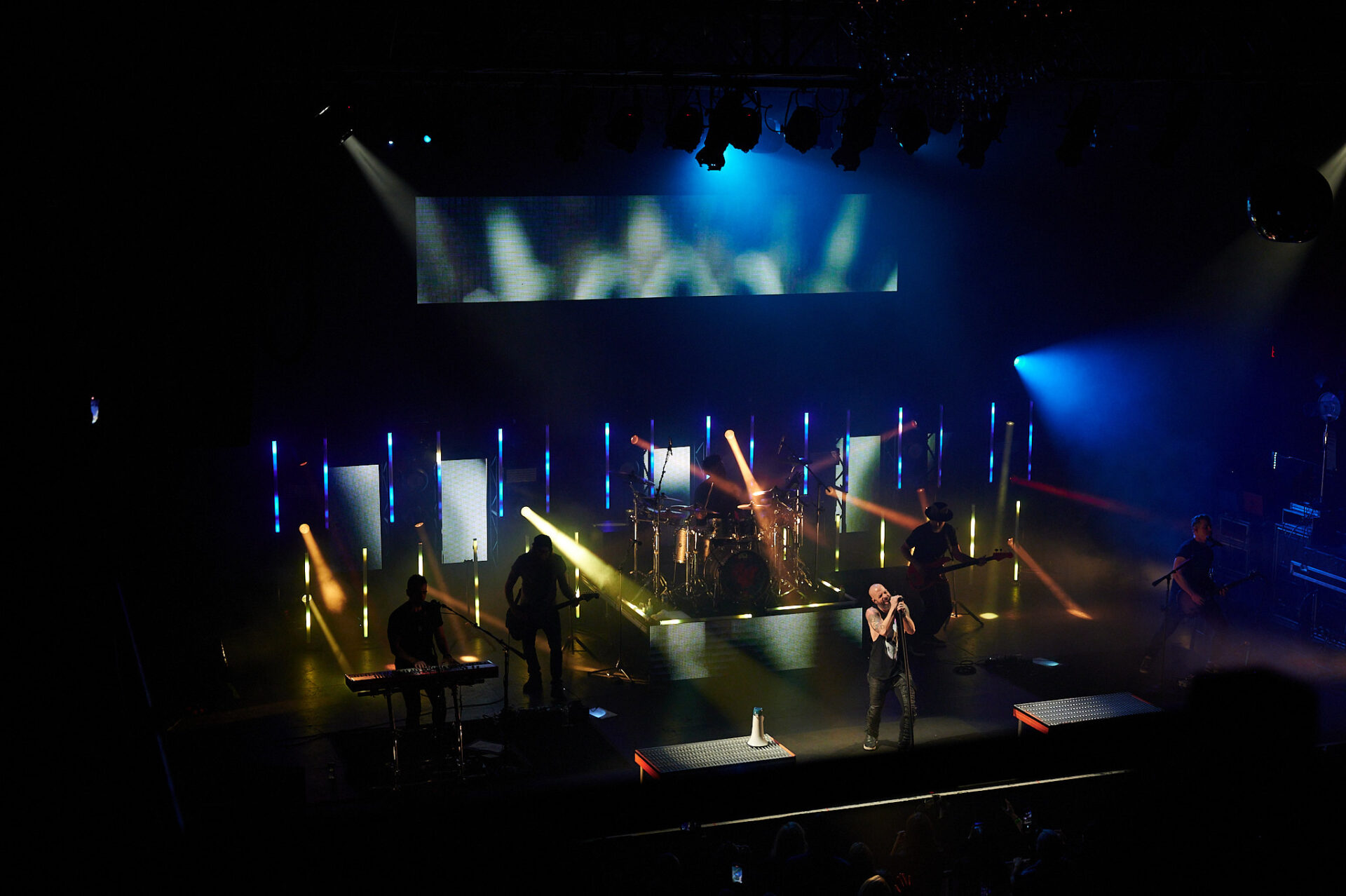 Chris Daughtry and his band, Daughtry came to The Fillmore Silver Spring on Thursday March 3rd for a powerhouse show. Chris Daughtry was a finalist on the 5th season of American Idol and released his debut album entitled "Daughtry" in 2006 which yielded three Number 1 Billboard Adult Top 40 songs including "Its Not Over", "Home" and "Feels Like Tonight".

Since his debut mainstream album, "Daughtry" has released 5 albums! In 2009 Chris Daughtry released his second album, his first recorded as the band "Daughtry", "Leave This Town" in 2009 with 3 Billboard Adult Top 40 hit's, including #1 "No Surprise", #2' "September" and # 4"Life After You". 2011 "Daughtry" released the album "Break The Spell" which induced Billboard US Top 40 hit, #6 "Crawling back to you". 2013 we saw "Daughtry" album "Baptized" which included US Top 40 song "Waiting For Superman" which peaked at number 6. In 2013, Daughtry released "Cage To Rattle" in 2018 which debuted at in the 10 spot of the Billboard top 200, unfortunately did not have any hit singles. His new album, "Dearly Beloved" released in 2021, has release 2 singles so far, and I hope to hear more singles from this album, including "World on Fire" which topped at #47 in the Billboard US Rock Airplay, and his latest single, "Heavy On The Cream" topped at number 13 in the Billboard US Rock Airplay category, and number 48 in the Billboard US Hard Rock & Alternative category.

The night started of with two opening acts, "Lyell" which started off the night rocking and gave us a taste of what was in store for us, next to the stage was the band "Tremonti", which energized the mood of the fans even higher to get everyone ready for Daughtry to take stage. Honestly before tonight, I had not heard of Lyell, or Tremonti, which I am sorry about because I thought both played strong sets and music I enjoyed and will be listing more to them since this show. Their music and the intensity they gave for the evening had everyone pumped up and ready for Daughtry to take stage.

Daughtry and his band took stage starting off with a song from his new album "Dearly Beloved", which was a perfect song to start the night off with. The song starts off with an additive tempo, slow rock style and then ramps up into great guitar rhythm and killer vocals. Daughtry performed a a great mix of songs from his new album, which honestly I had not heard any songs from this album yet. Let me tell you I am glad they did, and I am a huge fan of his new music. Since his concert I have listened to his new album and its a very strong album with with the whole package, addictive tempos, amazing guitar rhythm, the rest of the band and the amazing vocals of Daughtry. The band was there to perform, The Fillmore was filled for the show and all the band including Daughtry were there to give a statement that live music is back, hard hitting and saw enthusiasm from the people in attendance that the bands felt and fed off of.
For people who came to hear his hit songs, Daughtry did not disappoint, performing each song including fan favorites "Home", "No Surprise", "September", as well as "Over You". The night at The Fillmore was to promote his new album, "Dearly Beloved" which again is a very strong album with great Chris Daughtry amazing vocals. From the looking feel of the crowd, I know he did not disappoint me, or the others around me and feel others left The Fillmore happy with the same excited smile that I left with.
Chris Daughtry whom was eliminated at number four which many feel was a mistake, including American Idol Judge Simon Cowell, and with Daughtry's hit songs, I agree as many people did the night of American Idol when he was eliminated. With the hits he has, and the strength of all his albums in my opinion, each being with worthy, he may have left t hat year as number four but He was number #1 in my opinion when he was emanated and I feel the same way today.
FINAL GRADE: A