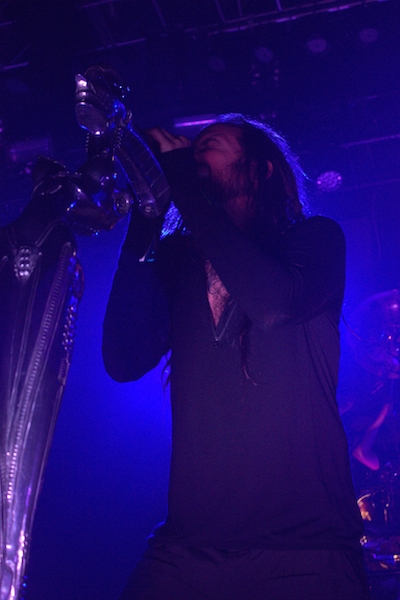 I remember in the mid to late 90's there was a resurgence of metal music. Alternative music slightly tapered off and all sorts of various hip hop influenced metal bands started emerging. Bands like Korn, Deftones, Slipknot, Rage Against the Machine and Limp Bizkit. You can almost say that it all started with Slayer back in the 80's, they were signed to Def Jam Records after all. Korn in my opinion was one, if not thee most significant band from the nu-metal era. When I heard they would be playing at The Fillmore in Silver Spring I did a double take; what?!

Let me tell you there is no mistaking a Korn fan! They wear it loud and they wear it proud. One thing I can say separates Korn from any other band is their fashion sense. It reminds me of a heavy metal Run-DMC. Approaching The Fillmore I could tell from two blocks away the line was enormous. It was a cross generational blend of rockers impatiently awaiting access to see their favorite guitar heroes. Semi organized chaos ensued as the event staff tried to manage between those with tickets, those who needed to buy tickets and those with tickets at will call. They also had to simultaneously keep a path clear on the sidewalk for pedestrians, nearly impossible. Surprisingly the concert wasn't sold out when I arrived. It's strange, I have attended sold out concerts here before that didn't have nearly as many people, like the Dead Meat Tour.
Making my way to the side stage one thing became very apparent. This place was filling up and it was filling up quick! The first band, Love and Death, had got things going. This is Head's side project band. Their classified as a Christian metal band, but I don't see it. Most Christian bands do nothing but praise god; constantly! I didn't hear Jesus or God mentioned once during the whole performance. But they did do a pretty cool Devo "Whip It" cover; I wonder if this cover has anything to do with the crucifixion of Christ? Their sound was very rhythmic and up-tempo, Brian Welch screamed his "Head" off. It was cool seeing his super long dreads flail around with flickering strobes.
Once the photographers are allotted their three song photoshoot their shuffled out from in front of the stage like loiters being asked to vacate the premises. I reached the end of the metal barricade only to discover there wasn't any room of the floor. It was all full of people. I tried to just hang out on the empty side of the barricade but security insisted I cross over. It was for the better, barring an accident like somebody spilling beer on my camera I would much prefer being in the crowd enjoying the show. That's what I do this for! I held my ground periodically clapping and waving. I contemplated a visit to the bar but that was out of the question. It was too packed full of people! I actually saw people ordering drinks practically standing next to the bartender. I give the bartenders a lot of credit, however the heck they managed to keep track of all that chaos is a wonder beyond me.
As Love and Death wrapped things up and the stage emptied photographers were once again granted front stage access. The next band due up was Device. They featured the former front man from the band Disturbed, singer David Draiman. Back in 2000 I was definitely "Down with the Sickness" but I was unaware of his current project. They sounded good, David has a very uplifting, harmonious singing style. His voice projects very well. Before Device ended their set David gave all the credit to Korn in which he stated "None of us would even be on this stage if it wasn't for them.
I started to anticipate the start of Korn. I was as cool as a cucumber but that's only because I had no idea what I was in store for. It began with the unveiling of their drum set. The most ridiculous set ever! It looked like it was forged and came straight out of hell, a twisted array of curved stands and metal framework with the largest spiral effects cymbal I have ever seen! They also unveiled Jonathan Davis's infamous H.R. Giger mic-stand. That's how you know the show is about to begin. The lights dimmed and as soon as the crowd heard that first riff to "Blind" they went nuts. This is a great opening number because it has such an immense build up that explodes into complete insanity. When Fieldy came in with that upright jazz style solo on his Ibanez 5-string bass with coated fluorescent glowing strings and Jonathan Davis screamed "Are you Ready?!" it was all over. I had Korn up close and personal.
The crowd erupted into a frenzy! It was pure adrenaline; They were all over the place, head banging and slam dancing. There was so much going on it was hard to pick what to photograph. I crouched down to get an extreme angle view of JD and all of a sudden a crowd surfer had fallen over the barricade right onto my back. I was so caught up in the moment I barely noticed. I turned around momentarily and it looked like I was being attacked by a drunken zombie. He stumbled over and reached out towards me but the event staff quickly whisked him away. Who knows? He seemed like a cool kid, he was probably just trying to apologize for somersaulting onto my back.
After the photo session I retreated through the densely populated club up to the more spacious balcony level for the rest of the concert. Visibility was kind of low up there and nobody was giving up their spot but I could hear everything perfectly. Korn is one of those bands that just sounds amazing live. They sound better than if you were to deejay the album over loud speakers. They played all their hits like "Falling Away from Me", "A.D.I.D.A.S.", "Freak on a Leash" and even a couple off their latest album, The Path of Totality. It is very exciting to see them back on tour. If you want to go to an awesome concert; go see Korn!