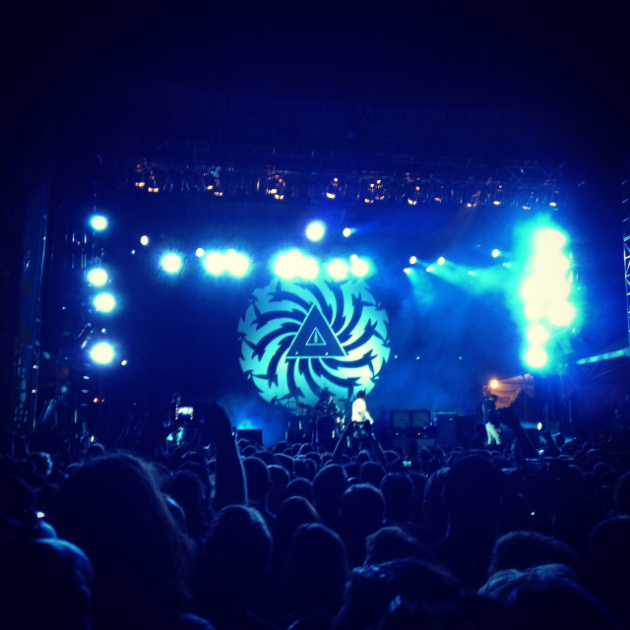 As summer quickly approaches, the warm weather is indication of one thing for sure in the DC area; it's festival season!!! That means good food, good fun, and most importantly, good music. The DC 101 Chili Cook-off definitely did not disappoint in these three areas. With an awesome line-up including Silversun Pickups, AWOLNATION, and Soundgarden, it was the perfect kick off to my summer 2013 concert adventures.
One thing I love about a good rock show and the reason so many concert-goers come back to this one in particular year after year, is the amazing vibe that cannot be compared to any other type of show. I felt the energy from my car as soon as RFK Stadium was in
my sight and I could hear the soft echo of music getting louder and louder. Taking the metro is always convenient, but for this event if you choose not to bite the bullet and pay the $20 parking fee, you are missing out on one very important Chili Cook-off tradition:
tailgating! The parking lot was filled with DC 101 listeners blasting music from their  cars, standing around with red cups and brews in hand. You could tell right away that this was only the beginning of what would be an exciting and energetic event.
The number of attendees was well into the thousands. White tents lined the perimeter serving all types of merchandise, food, and of course chili. Silversun Pickups was the first band that I caught. With their eight song set list they opened with "Skin Graph," and played their more popular songs such as "Lazy Eye" and "Panic Switch." From the look of the crowd you could tell that most people were there for the main act, Soundgarden. In other words, they were ready to rock out and Silversun Pickups is more of
a bop your head kind of band.
AWOLNATION came on next and thus the mosh pits and crowd surfing begun. You could feel the difference in the crowd and when they played hits like "Kill Your Heroes," "Not Your Fault," and their most popular song to date "Sail," the crowd got crazier and crazier. Their more aggressive and hard tunes were obviously a better fit for this audience. One of the most memorable moments happened during their performance of "Sail." Apparently this is like the crowd surfing anthem or something because as soon as the song came on, people started going up left and right. I had to constantly check behind me for the next wave of people coming over top of us. Considering how mellow and slow that song starts out, it was astonishing to see how hype it made the crowd. The string section part at the beginning is so recognizable and original; that slow build up is sure to make fans go nuts. It felt like I was witnessing music history as that song is sure to become a classic.
After AWOLNATION went off the stage, the anticipation for Soundgarden was undeniable. They came on at the perfect time just as the sun was setting and the crowd's energy was at the perfect level. As soon as front man Chris Cornell's unmistakable voice was heard in the opening song, "Searching with My Good Eye Closed," it sent chills down my spine, so I could only imagine how the die hard Soundgarden fans felt. They followed up with the head-banger "Spoonman," causing different mosh pits to break out every ten seconds. Their performance definitely got the crowd in a rowdy mood, but from what I saw it was all in good fun.
Personally, I was not familiar with a lot of their songs, but every time I hear "Black Hole Sun" on the radio I can't help but to sing my heart out. This song is, for my generation anyways, the epitome of a classic! So I could not wait to hear it live. It was the perfect way to end the night after all the jumping around and rowdiness. When they played "Black Hole Sun," it calmed the crowd down for sure. The band made a connection with the audience that was undeniable and with the legacy behind this song, Soundgarden fans could not help but close their eyes and sing along to the lyrics at the top of their lungs.
The positive energy from the crowd is definitely what made the DC 101 Chili Cook-off such a great concert. It was an awesome experience filled with diversity, good times, and memorable moments. I give the event as a whole, an 'A.'