Chae Stephen Stars as Marvin Gaye In "Pride and Joy"
13 min read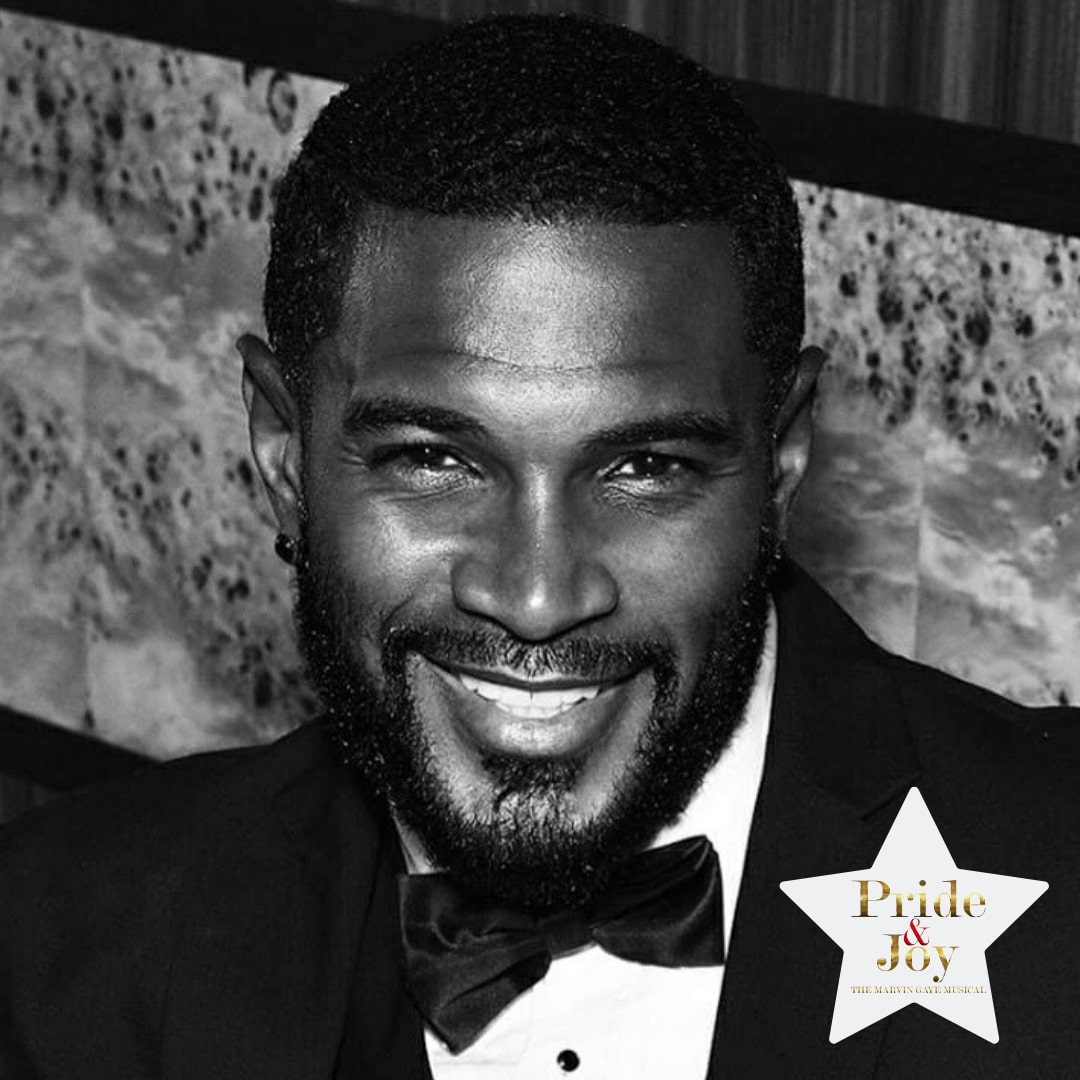 Motown is a name everyone knows. Many of us have our favorite artists or songs produced under the Motown label, such as The Marvelettes, Smokey Robinson and the Miracles, The Jackson 5, and of course, the late, great Marvin Gaye. No matter what generation you are, you know Marvin's hits "Let's Get It On," "Sexual Healing," "What's Going On?" and many others. "Pride and Joy" is a stage production that tells the story of Marvin's life and relationship with Anna Gordy Gaye, sister of Motown founder, Berry Gordy. Chae Stephen appears as Marvin and was thrilled to discuss his role and the impact Marvin's music has had on him in more ways than one.
You star in "Pride and Joy" as Motown legend Marvin Gaye. What does it mean for you to take on such an amazing role?
This is definitely a dream come true. I don't know what Krystal told you, but we have this ongoing feud about who is Marvin Gaye's biggest fan. I always say that I am, she always says that she is, but of course, I am!
LB & CS: (laugh)
It's a dream come true. I've been studying Marvin Gaye now, for about four years. I was putting together my own Marvin Gaye musical review, and I had taken some pictures. I had done a promotional video for my show and it just so happened that the business partner of Marvin Gaye, III over at MG3 Global Licensing saw my pictures and my videos. His name is D'Extra. He saw my pictures and my videos and he reached out to me and said, "Hey, we're putting together this play, this musical, and I think you would be perfect for the part of Marvin Gaye. Would you be interested?" And I said, "yeah man, of course!" But this was back in August.
We're looking at a few months of this process going on at the time and he said, "well, we're working on something right now, and once we get that finished and finalized, I will get back to you." And I was like, "alright, cool." So a month and a half went by and he reached out to me and said, "well, what we're working on, we took care of it."And actually, what he was working on was obtaining the rights to the music for the play, and what happened was they got the rights to twenty-eight songs from the Motown catalog, and here we are! We have "Pride and Joy: The Marvin Gaye Musical."
That is amazing! And no, Krystal did not tell me there was a battle between the two of you over who is the biggest fan. (laughs)
Yeah, because she knows I'm the biggest fan, that's why! (laughs)
Seeing the picture of you with a red-orange knit cap, I can see how you would be Marvin's biggest fan because you resemble Marvin in the picture I saw of you.
I know, right? It's amazing what a beanie can do for a brother. (laughs)
Yes, indeed. If I didn't know any better, I'd think I was looking at the man himself.
Wow! Do you want to hear an interesting story?
Yeah!
Ok so, I'm not sure which image you have of me, but the picture they're using for the marketing and for promoting the play is my profile. If you look closely, you can see I'm wearing a beanie that has rhinestones on it.
Wow!
What I need for you to know, right, is that that particular hat that I'm wearing in the promo picture?
Mm-hmm?
I bought that for $3.50 at a gas station. And I, myself personally put every single rhinestone on that hat. It took me about two days, and I don't exactly know how many it is, but it took me about two days to do that and I think that kind of coincided with your very first question of how much this really means to me. I look at that. When I did that, I already had the outfit, but when I did that for my own musical that I was putting together because after I did that was when I got this particular gig. But I see that as energy. With each rhinestone I used, I used glue and tweezers, and I put every single rhinestone on that hat, and that's energy. That's energy that's connecting to the universe that brought this whole thing around to me 360 degrees. So, that's what it means to me. That's how in depth I am with this particular role, this project.
Wow!
Yeah, it's pretty deep, Lauren. I sometimes get a little choked up about it, because I really can't believe this is happening to me. My mother is so proud, you know? I've gone through some things in my life that didn't make my mother so proud. And so, now here I am in a play where she can say, "wow! That's my son," and my daughters can say, "wow! That's my dad." So yeah, it's really, really, really pretty cool. I'm really grateful and blessed to have this opportunity. And I feel like I'm kind of babbling and talking your head off. (laughs)
That's ok, you can do that. It's totally fine with me.
You're the first person I've told that story to, about the hat.
Really? Wow, I'm honored!
I haven't spoken about that. I've done a few interviews, but you're the first person I've actually brought that up to. When I told that story to our publicist, she was like, "Well, you need to share that, because that's pretty cool," and when I think about it, it is kind of cool because it took me almost two days to fix this hat. And now, how many people are actually seeing it, you know? I wear it in the show, this promo picture. It's a beautiful thing.
When preparing for your role, did it help to listen to Marvin's music?
Of course! I listen to Marvin Gaye every day. Everyday. Everyday. When I go to the gym, I'm on the treadmill, walking, and singing, and just tapping into his tone and inflections of his voice. I listen to interviews, watch live performances; just to get into the zone of the man, Marvin Gaye. And I listen to his music right before the shows. Anyone in the cast can tell you anytime they walk past my dressing room they're going to hear Marvin Gaye playing through my Bluetooth speaker. That's just how it goes.
I want to feel the energy of Marvin and Anna Gordy Gaye. Their spirit is truly within this production and within every performance When people come and see the play, they're going to walk away with that. I always say that people will forget what you've done and what you've said, but they'll never forget how you made them feel, and so it's very important for me—and I think that I can speak for the rest of the cast—that we want to always put on a performance that people can walk away from with a feeling of nostalgia they felt the first time they ever heard a Marvin Gaye song; or for a lot of the older patrons, how they felt when they went to a Marvin Gaye concert.
They actually had the privilege of going to see him live. We—the cast and the production team—just really want people to walk away with that feeling that they felt that will never, ever go away, you know? Along with the things that they hear and see musically and visually with the set and the choreography. We have an amazing choreographer by the name of Tristan Andrews, who has put together some numbers that are just outstanding.
That sounds amazing because I remember the first time I heard Marvin Gaye, I was eleven years old, and I found a videotape of "Motown 25" that came out in 1983. Marvin Gaye performed a few of his songs, and "What's Going On?" was one of them.
Oh yeah. I remember that. I remember that performance as well. It's one of the performances I studied. That one, along with the Grammy Awards, when he received his first Grammy for "Sexual Healing," and I'll give you a little spoiler. We actually recreate that whole moment of him receiving the award and I repeat verbatim what he says on that show. It's really, really cool to be able to do that. That's something you can look forward to. People kind of get a kick out of what I do, and I've noticed that in the past few shows when I do that, people get a real kick out of it. Apparently, people kind of remember his speech and this is cool. It's really, really cool to be able to do that, to reenact that and get that kind of response from the audience that I get.
In regards to your performance this weekend at the National Theatre, what is the one thing you are most excited about?
It's kind of hard to just break it down to one thing because the whole thing is exciting. I'm excited about every performance, you know? And just connecting with the people. It's just an amazing feeling to be up there and singing these songs and the people are singing along with you and they're feeling it and they're accepting it from me. They're accepting me because Marvin Gaye was a very beloved person.
People are very, very…they take his image and what he does very seriously. They're very particular over how they feel about him. So just the fact that people accept my rendition of his music is amazing. It's just the thing that's overwhelmingly cool, what can I say? To sing these songs and people are just singing along with me and they get it, they get it. So, to answer your question, I'm excited about the whole show.
This show, you're going to get a lot out of it. You're going to laugh, you're going to cry. It's got a lot of drama. Anna was seventeen years older than Marvin, so that created a lot of tension and turmoil in their relationship because Anna was a strong black woman and she was a business mogul for that time in the 1960s and that was pretty unheard of. But she owned her own business and she was already, as we say today, "getting the bag." And Marvin, he came along seventeen years younger than her and he swept her off her feet.
He was a sex symbol and he could sing. He was strong-willed at the same time and he got her. She was a little reluctant at first, but Marvin, in all of his charm, he got her and he went through his phases of life. He was a womanizer because he was a star. He was a big-time star. That kind of got into the way of their relationship, but at the end of the day, they loved each other so hard. They loved each other SO so, hard. And that's the reason why we got the level of music that we got from Marvin because a lot of the songs that he wrote back in the day for Anna. And they wrote some things together, so it kind of shifted the paradigm of music and how we see and feel it today. Major difference.
I definitely see a difference, and part of why I love music from that era. I love music from that era because I understand it. There's a story behind every song I hear. I love to hear those stories because they're telling you something that you need to hear.
Yeah and in this musical, you're going to see Smokey Robinson, you're going to see The Marvelettes, The Originals. And course, Tammi Terrell, Jackie Wilson and a couple of other surprises you're going to get, musically. It's really just going to touch you, so yeah. I would advise everyone to come and hang out with us for a couple of hours and check out "Pride and Joy: The Marvin Gaye Musical."
Do you have any upcoming projects in the works?
Well you know, Lauren? To answer your question, no. But, I'm a spiritual person, and I always believed that God sets up situations for us that are essentially bridges for other situations, just as a year ago, I could never have said, "well next year, I plan on doing a Marvin Gaye musical." No, I didn't know. I was working on something, on my own project. And you know, if it's in God's will and that's the direction it's still going in, I do plan to still work on my own Marvin Gaye musical, and hopefully, who knows?
But I just know that if we stayed a course of who we are with the gifts that God has given us, we stay true to that and we take care of bodies and our minds and our souls and our spirits, then God will always have another level of success for each and every one of us. So with that being said, I really don't know He has for me planned after this, but I plan to be prepared for it. I know that this experience is preparing me for something greater. So, that's just how I'm going to approach it and how I'm going to live through it, the moment of it all. Because to be in the moment is what creates the future. So that's how I'm rolling with that.
What advice would you give to an up and coming actor?
Advice to give to an up and coming actor. Well, you know, all I can say is I got to where I am now through self-promotion, self-marketing. The power of the internet is serious if you really know how to use it. There is a lot of fluff and a lot of drama and bull crap that you can get caught up in when it comes to Facebook, Instagram and all that kind of stuff. But if you really, really want to use it to promote yourself and promote your brand, it should work for you. That's been my experience.
I'm here as a result of that. So, my advice to an up and coming actor, singer, dancer, performer, producer is to promote and market yourself to a degree where you want to see yourself a year from now, you know? You just believe in yourself and put out there what it is you believe in and you'll get that energy back. It'll come back to you. If you really believe in yourself, you put it out there, you'll grab a handful of people who believe in the same thing you believe in, and it'll get to the right person. Eventually, it will. I'm an example of that. I'm living proof of it, so just believe in yourself. Keep honing in on your craft and share it. Share it, you know? Share it.
I like that advice. It was perfect and I needed to hear it myself, so I'm glad you said it to me.
CS: You see? It's like I say, "each one, teach one." That's what it's all about, you know what I'm saying?
Thank you! That just made my day. You and Krystal just made this day a great one.
CS: Krystal, man. She's so amazing. It's like this. So there are two Marvins in this play. A younger Marvin played by Jarran Muse, who is a wonderful singer, actor, performer and all ripe as well. He sets up the phase of me going into the "What's Going On?," "Let's Get It On" version of Marvin Gaye. The thing is with Krystal Drake, she's there from beginning to end and she goes through the transition of Jarran to myself and she holds it down so heavily, so dope that I have so much respect for her and her craft as an actress and as a singer. You just have no idea. She is so, so phenomenal at what she does, and it's an honor and a pleasure to work opposite of her. No doubt, no doubt about it. Also, I want to send a shout out to Angela Barrow-Dunlap, who is co-writer along with Marvin Gaye III, and D'Extra Wiley. She is also the co-director, along with TJ Hemsfield. And a shout out to Keia Perry-Farr and Quentin Perry. I just want to send a shout out to everyone who's making this phenomenal production manifest into what it is.
Tickets are still on sale, so go check out Chae Stephen as Marvin Gaye May 11th and 12th at The National Theater. Get ready for the time of your life, with memorable Motown hits and a spectacular story you'll want to hear.