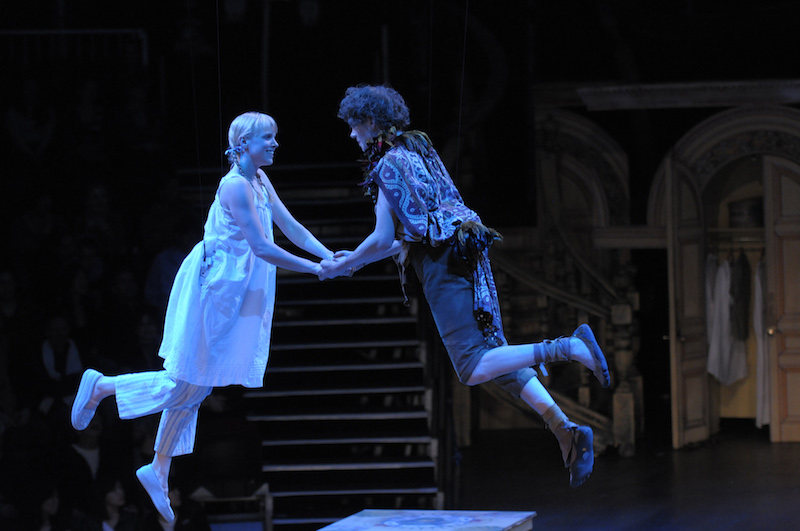 Producers Norton Herrick of Herrick Entertainment and Charlie Burnell of threesixty° Entertainment are pleased to announce casting for the spectacular new stage production of PETER PAN, which makes its Washington area premiere beginning June 24. The engagement has been extended through August 16. All additional performances go on sale Monday, May 4.
The national tour will include Daniel Rosales (Peter Pan), Stephen Carlile (Captain Hook/Mr. Darling), Liam Fennecken (Smee), Annapolis native Sarah Charles (Wendy Darling), Scott Weston (Michael Darling), John Alati (John Darling), Jessie Sherman (Tinker Bell), Hannah Jane McMurray (Mrs. Darling), and Silas Moores (Bill Jukes/Skylights).
Rounding out the cast are Mark Curtis Ferrando, Megan Godin, Ryan Halsaver, Adam Kezele, Gabe Martinez, Elisa Penello, Porsha Putney, Joshua Redfield, Taylor Simmons, P. Tucker Worley, and Dan Wilt.
Tickets for PETER PAN in the threesixty° Theatre are on sale now. Prices start at $25 for weekday performances and at $45 for weekend performances. Premium and VIP ticket packages will be available. Tickets are available for purchase online at peterpan360.com or Ticketmaster.com, at any Ticketmaster retail location, or by calling (800) 745-3000. Discounts are available for groups of 10 or more by calling (877) 407-8497. For more information, visit peterpan360.com.
Featuring 20 actors, stunning puppets, epic music, dazzling flying sequences, and the world's first 360 degree CGI (computer-generated imagery) theatre set, this unique production of PETER PAN is presented in the striking setting of the threesixty° Theatre at Tysons Corner Center (1971 Chain Bridge Road at International Drive, Tysons Corner, VA). The show is performed "in the round" in a 1,500-seat theatre-tent. The entire interior is lit with more than 15,000 square feet of Hi Resolution video, so that both cast and audience are immersed in a virtual Neverland.
This remarkable and beautiful production premiered in London's Kensington Gardens, the original home of Peter Pan. Seen by more than 750,000 theatregoers worldwide to date, Peter Pan – The Boy Who Wouldn't Grow Up was created by Scottish novelist and playwright J.M. Barrie. One night, Peter flies into the London nursery of the Darling children, Wendy, John and Michael, teaches them to fly and leads them to the magical Neverland, "second to the right and straight on till morning," where they live with Tinker Bell, the Lost Boys and meet the notorious Captain Hook. The tale of PETER PAN has been adapted many times, including a Walt Disney animated film, a Broadway musical, and an Emmy Award-winning TV special. However, it was not until this production, presented by threesixty° entertainment, that PETER PAN was performed in London's Kensington Gardens, where Barrie was first inspired to create the character and where the original statue of Peter Pan has stood since 1912.
PETER PAN has dazzled audiences and critics alike. The San Francisco Chronicle called it "Spectacular" and the Boston Globe said, "Captivating wonder of PETER PAN hooks all ages. Truly Jaw-dropping." Making its triumphant return to the United States, PETER PAN features all new direction by award-winning director Thom Southerland and new set designe by seven-time Olivier Award winner, William Dudley. Thom Southerland and Tanya Ronder are co-adaptors of PETER PAN from the J.M. Barrie story, with original music composed by Benjamin Wallfisch and additional music by Howard Herrick. Choreography and movement creator is Gyspy Snider, co-founder of the internationally acclaimed Les 7 Doigts de la Main.
About PETER PAN in the threesixty° Theatre:
· The world's first fully 360-degree projected backdrop for live theatrical performance
· The largest surround CGI (computer-generated imagery) venue in the world
· 12 projectors, delivering 360-degree projection
· 10 million pixels
· 15,000 square feet of CGI
· 400 square miles of virtual London were rendered
· 100 computers took four weeks to create the images (it would have taken 8 years for a single computer to render)
PETER PAN Performance Schedule June 24 through August 16
Tuesday through Friday at 7:30 pm
Saturday at 11:30 am, 3:30 pm, and 7:30 pm
Sunday at 1:30 pm and 5:30 pm
A limited number of Thursday 10:30 am performances are available, and a special holiday schedule is set for July 4th weekend. Please visit peterpan360.com or Ticketmaster.com for show times.
For more information about PETER PAN in the threesixty° Theatre, please visit peterpan360.com.