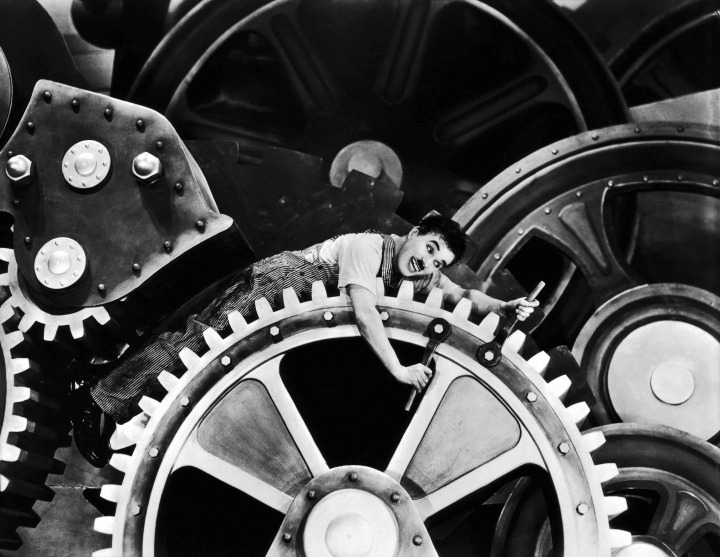 There is no name more synonymous with silent film than that of Charlie Chaplin in my opinion one of the greatest film stars ever. His expressive acting, over the top antics and physical comedy was hysterical and is something that I would best describe as a live action cartoon. Tonight at The Music Center at Strathmore the Baltimore Symphony Orchestra conducted by Marin Alsop would present the musical scores of Modern Times synchronized live to the full length motion picture.
Watching a full length synchronized orchestrated film score live is remarkable. I've seen plenty of concerts where live multimedia synchronization is prevalent. Cueing beats to lights, mixed media and motion has become very common place in music today. But even in those instances the sound is only synced to clips and excerpts, not full length motion pictures and usually it's all digital. It can be entertaining, yes but fails in comparison to what I had seen tonight. I felt Modern Times was the perfect film in which to sync live. There was little dialogue and the scores were incredible. Who would have thought a silent film would have such good music, it kind of sounds like an oxymoron.
I give Marin Alsop a lot of credit. The conductor in this instance has two duties! Cueing various sections of the orchestra and putting it in sync with the film; I have never seen an instance where the conductor is more important. Her symphony is depending on her, especially with a film like Modern Times. There were various tempo changes to match the pace of factory conveyor belts, repetitive motions and even sound effects such as violins mimicking the sound of a bee whilst it landed on the Little Tramps nose. This was frequent all throughout the film and to me it was like listening to a Tom & Jerry or Looney Tunes score. Once again I give major credit to Marin for the execution of these sequences. They often have stop on a dime so to speak rests that required perfect timing to match the film and Marin conducted this magnificently.
As well as the conducting the sound was as equally to match. At the onset of the opening credits grand horns sounded off clamorously to be met with the sight of big industry. Talk about surround sound! I felt as if I was engulfed in the film. Every single action was enhanced through the live orchestration. It even enhanced the comedy and drama as well. I laughed a little harder and even shed a few tears and it was all contributed to the story and beautiful music provided by the orchestra.
I really enjoyed this concert! I like the idea of orchestrations accompanying mixed media. I liked the use of digital sound (mostly dialogue) edited into the program. Marin Alsop was amazing! I laughed, I cried. There wasn't a moment were I wasn't fully entertained. This concert was absolutely tremendous! It was a true Masterpiece in every sense of the word.