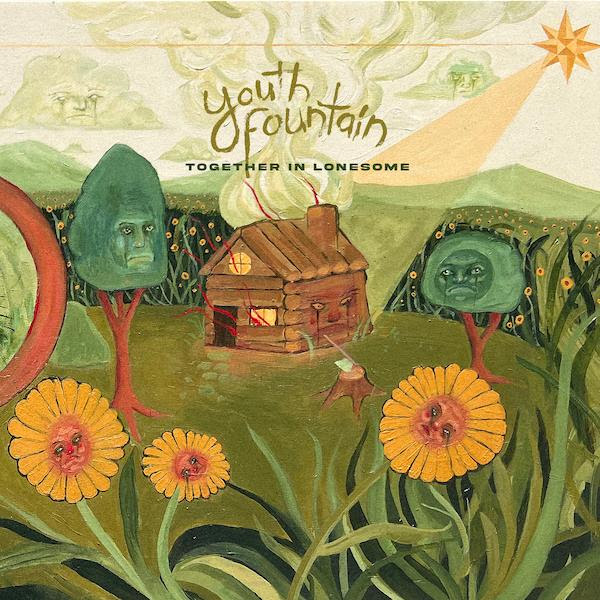 Youth Fountain, the emo / pop-punk project from guitarist/vocalist Tyler Zanon, is thrilled to share its new single "Roses In My Backpack", out now via Pure Noise Records. A vulnerable new track that was written during a particularly difficult time in Zanon's life, "Roses In My Backpack" is a song about feeling like there's no way out. Stream the single now, here: https://lnk.to/youthfountain and check out the lyric video here: https://youtu.be/7Bu5Df5G91k. Youth Fountain will release its highly anticipated 3rd studio album, Together In Lonesome, on November 3rd. Pre-save / pre-order the album now at https://purenoiserecs.lnk.to/YFstore.
"'Roses In My Backpack' is a personal favorite of mine," shares Zanon. "This track is all about the feeling of losing everything that ever mattered to me in life – being at a major breaking point and wanting to give up."
He continues: "I originally wrote this song in 2010 and it went through many different versions. I had it on the back burner for years, once as an old demo I tracked with a friend of mine that never really saw the light of day. I managed to upload an acoustic version of it to YouTube around 2014, and some very die-hard super fans really loved this track. I brought the song idea to Anton and he really made the whole thing come to be what you hear now. I couldn't be happier with how it turned out. It's a very sentimental and special song to me."
Youth Fountain will be on the road this fall with Story Of The Year, who are celebrating the 20th anniversary of their album Page Avenue. The tour kicks off on October 26th and continues into early 2024, with stops in Dallas, Anaheim, Las Vegas, Portland, Minneapolis, Detroit, Toronto, New York, Chicago, and more. For a full list of upcoming shows, please see below or visit: www.youthfountainmusic.com.
Upcoming Tour Dates
10/22 – Helena, MT @ Windsor Ballroom (Youth Fountain headline show)
10/24 – Colorado Springs, CO @ Black Sheep (Youth Fountain headline show)
10/25 – Wichita, KS @ Temple Live – Lodge Room (Youth Fountain headline show)
10/26 – Oklahoma City, OK @ Diamond Ballroom
10/28 – San Antonio, TX @ Paper Tiger
10/29 – Dallas, TX @ Studio @ Bomb Factory
10/31 – Albuquerque, NM @ Sunshine Theater
11/1 – Mesa, AZ @ Nile Theatre
11/2 – Tucson, AZ @ Encore
11/3 – Anaheim, CA @ House Of Blues
11/4 – San Diego, CA @ Observatory
11/5 – Las Vegas, NV @ Brooklyn Bowl
11/7 – Sacramento, CA @ Ace of Spades
11/9 – Portland, OR @ Crystal Ballroom
11/10 – Seattle, WA @ Showbox Sodo
11/11 – Spokane, WA @ Knitting Factory
11/12 – Boise, ID @ Knitting Factory
11/14 – Salt Lake City, UT @ The Complex
11/15 – Denver, CO Ogden Theater
11/17 – Lawrence, KS @ Liberty Hall
11/18 – Minneapolis, MN @ Uptown Theater
11/19 – Milwaukee, WI @ The Rave
1/5 – Detroit, MI @ Majestic Theater
1/6 – Cleveland, OH @ Agora Theater
1/7 – Philadelphia, PA @ Union Transfer
1/8 – Pittsburgh, PA @ Roxian Theater
1/10 – Toronto, ON @ Opera House
1/11 – Montreal, QC @ Club Soda
1/12 – Boston, MA @ House of Blues
1/13 – Sayreville, NJ @ Starland Ballroom
1/14 – New York, NY @ Palladium Times Square
1/16 – Baltimore, MD @ Rams Head Live
1/17 – Norfolk, VA @ Norva
1/19 – Charlotte, NC @ Underground
1/20 – Atlanta, GA @ Masquerade (Heaven)
1/21 – Tampa, FL @ The Ritz Ybor
1/22 – Ft. Lauderdale, FL @ Revolution
1/24 – Nashville, TN @ Brooklyn Bowl
1/25 – Cincinnati, OH @ Bogarts
1/26 – Chicago, IL @ Concord Music Hall
For More Info on Youth Fountain