(Desi Oakley as Jenna in the National Tour of WAITRESS – Credit: Joan Marcus)
The new musical "Waitress", based upon the motion picture written by Adrienne Shelly, is "peachy" as well as several other flavors. It is based on a book by Jessie Nelson. Tickets are available at the National Theatre until June 3.
The smell of pies baking fills the theatre. The cast has baked some pies so that the aroma sets the stage. Pies are also being sold in cute little jars to eat. A giant pie curtain rises to reveal Jenna (Desi Oakley) making pies. The set of Joe's diner rolls in with seated customers. The customers dance in place during the opening number choreographed by Lorin Latarro and directed by Diane Paulus.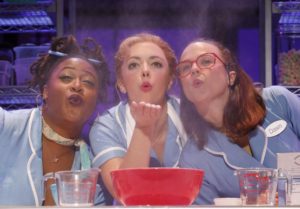 The employees of the diner and the customers interact like old friends. Even insults exchanged appear to be part of a daily ritual in this town. Jenna and her waitress friends Dawn (Lenne Klingaman) and Becky (Charity Angél Dawson) crowd in the bathroom together singing to focus on "The Negative", as they discover that Jenna is pregnant. Jenna escapes into her pie analogies thinking, "I don't want Earl's baby pie".
In the background the faint singing of "Sugar, Butter, Flour" wafts in each time Jenna escapes to create new types of pies and remembers her mother teaching her this skill. "Where there's a whisk there's a way pie" she says.
Jenna heads off to the doctor's office to discover a group of pregnant women who sing her a welcome to "club knocked up". The pregnant performers do a lovely and hilarious harmony as they sing. Once in the office she meets her new doctor, Dr. Pomatter (Bryan Fenkart). His scenes were a joy to watch, as he has great inflections, comedic timing, and facial expression. His character is a bit quirky. For example, he tried to high five Jenna and quickly changed it to swatting flies. He hasn't eaten a pie in years, but when given the opportunity to try one, digs in with his stethoscope for lack of a fork. His awkward character adds to the show. He also has a beautiful singing voice which harmonizes well with Jenna's voice. "It only takes a taste" to know you want more they discover in song. Their relationship blossoms.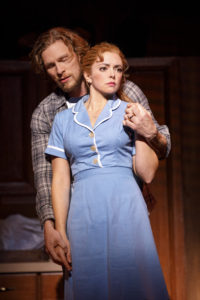 In the meantime, Jenna is thinking about the "betrayed by my eggs pie" special as she thinks about her husband Earl (Nick Bailey). The best compliment of his performance was when some audience members actually booed him when he took his curtain call at the end. His character is incredibly self-centered. He wants her to promise that she won't love the baby more than him. Naturally Jenna wants to leave her abusive husband. Jenna and her friends hatch a plan for her to save enough money to enter a pie contest to win enough money to leave.
Meanwhile, love is baking at the restaurant. Dawn, the nerdy waitress, is looking for a guy. She sings "when he sees me" while the cast does a great dance number. Dawn dances with the male customers while others dance in their chairs. The band being part of the diner set adds to the fun. When she finally meets her fella, Ogie (Jeremy Morse), the audience is in for a treat. Ogie sings that she is "Never Ever Getting Rid of Me" as he woos her in a stalker-ish way. The audience laughed at his cartwheels and other amateur magician antics. Becky is also having a surprising romance. She has a fabulous voice as she sings, "I Didn't Plan It". One number shows a vinette of scenes featuring all three romances. Dawn and Ogie steal the scene in their humorous Revolutionary War reenactment costumes.
Another humorous customer is the elderly character Joe (Larry Marshall). He often reads Jenna her horoscope. He seems to know everything that is going on at the restaurant. His line delivery is fabulous. He keeps the audience laughing. Joe sings "Take It from an Old Man" as he tells Jenna that "No one ever sees what falls through the cracks" when she is confused about being more scared of losing or winning the contest.
Everything changes once the baby arrives. There are many surprises in store. I highly recommend seeing the show as the ending is unexpected.